London ranked world's top city for leading universities
London is the city with the highest number of top rated universities in the world, with five making the global 100, according to the QS World University Rankings released today (Tuesday 16 September).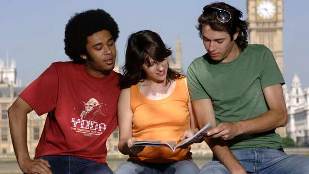 Imperial College London has jumped up the rankings to claim second place joint with Cambridge, while University College London ties with Oxford for joint fifth.

The capital's other world-beating universities include King's College London at 16, London School of Economics at 71, and Queen Mary University of London at 98. No other city has as many universities in the overall rankings, with London topping the table with 18.  

The city also performs exceptionally strongly across all the disciplines assessed by QS, including life sciences, natural sciences, engineering and technology, social sciences and arts and humanities.

Welcoming the results, Mayor of London Boris Johnson said: "These rankings consolidate London's position as the education capital of the world. Nowhere else will you find such a critical mass of top universities within just a few miles of each other, all providing an excellent education and producing graduates who go on to be leaders in their fields. From accountants to zoologists, I'm proud to say that London universities are at the forefront of teaching and research."

Professor Alice Gast, President of Imperial College London, rated the world's second best university with Cambridge, said: "Imperial has a rare ability to turn outstanding research into discoveries that have a real impact on the world. To achieve this, our scientists, engineers, medics and business scholars reach out and collaborate with academic and industry partners across the globe. This engagement coupled with our entrepreneurial culture creates enormous academic, social and economic impact."

Dr Eliot Forster, Executive Chair of MedCity, launched by the Mayor of London in April 2014 to promote life sciences investment and entrepreneurship in the London-Oxford-Cambridge golden triangle, added:  "Our world-leading research-intensive universities are the engines that drive economic growth, better healthcare and improved quality of life, so it's terrific to see them get the recognition they deserve. The huge strength of the golden triangle is that we have a strong, innovative, diverse science ecosystem within a comparatively small region, creating a wealth of specialist expertise and facilities that makes this an unbeatable place to do both business and research."

A separate study this week also confirms London's place as a leading centre for business education. The Financial Times ranking of Masters in Management, published on Monday, places three London business schools in the world's top 25 - London Business School at 10, Imperial College Business School at 19, and Cass Business School, part of City University London, at 24.
For more information about studying in London, see www.studylondon.ac.uk or www.studylondon.cn.
The full results of the QS World University Rankings 2014/2015 is available on www.TopUniversities.com/Rankings2014
Notes to Editors
About London & Partners
London & Partners is the official promotional organisation for London. Our company attracts and delivers value to business, students and visitors. London & Partners is a not-for-profit public private partnership, funded by the Mayor of London and a network of commercial partners.
Our remit is to drive leisure and business visitors as well as bidding to secure major events in London, to unlock the city for overseas businesses who want to set up or expand in London and to promote the capital's world class universities to international students.
About MedCity
Established by the Mayor of London with the capital's three Academic Health Science Centres - Imperial College Academic Health Centre, King's Health Partners, and UCL Partners - MedCity is a unique collaboration that brings together the outstanding life sciences strengths of London and the greater south east.
Over the next 20 years, MedCity will position the region as a world-leading, interconnected hub for research, development, manufacturing and commercialisation by championing collaboration and entrepreneurship, promoting a joined up and globally distinct life sciences offer, and providing a visible 'go-to' point for industry and investors.
www.medcitylondon.com
QS Quacquarelli Symonds
Since 1990, QS has become established as the world's leading network for top careers and education. Producers of the QS World University Rankings®, QS's innovative research, events, publications and university solutions provide new ways of bringing universities into contact with the best and brightest students worldwide.
QS World University Rankings ®
The QS World University Rankings is an annual league table of the top universities in the world and is arguably the best-known and respected ranking of its kind. Compiled by the QS Intelligence Unit in close consultation with an international advisory board of leading academics, the QS World University Rankings ® is widely referenced by prospective and current students, university professionals and governments worldwide. The purpose of the rankings has been to recognize universities as the multi-faceted organizations they are and to provide a global comparison of their success against the notional mission of remaining or becoming world-class.  Now in their 10th year, the QS World University Rankings 2014/2015 rank the world's top 863 universities (out of over 3,000 considered) adding 100+ new universities into the current list of the world's best institutions.  The QS World University Rankings are based on four key pillars, research, teaching, employability and internationalization and the methodology consists of six indicators: academic reputation (40%), employer reputation (10%), and faculty student ratio (20%), citations per faculty (20%), international students (5%) and international faculty (5%).
This year, 63,676 academic and 28,759 employer responses contributed towards the results, making both surveys the largest of their kind in the world.
Global impact of the QS World University Rankings
IREG approval
QS Quacquarelli Symonds is the first compiler of global and regional university rankings to receive the "IREG Approved" label for three of its research outputs. The Observatory on Academic Rankings and Excellence (IREG) Executive Committee, at its meeting in Warsaw on 15th May 2013, decided to grant to QS the rights to use the "IREG Approved" label in relation to the following three rankings: QS World University Rankings, QS University Rankings: Asia, and QS University Rankings: Latin America. More information on its correct usage is available here.
The Global Innovation Index
The QS World University Rankings has been used as one of the indicators for the GII since 2013. The QS ranking is the only ranking of its kind to be used for the study.  The GII is co-published by Cornell University, INSEAD and the World Intellectual Property Organization (WIPO, a specialized agency of the United Nations).  The annual report consists of a ranking of world economies' innovation capabilities and results.
The Bank of Communication Sea Turtle Index
The Bank of Communications Sea Turtle Index was developed and produced by The Economist Intelligence Unit (EIU), which benchmarks the potential returns—academic, financial and social—on an international undergraduate education in 80 cities worldwide. These were chosen first by clustering the top 300 universities from the QS World University Rankings into major cities, allowing for richer data and greater regional diversity in results. EIU analysts then used OECD statistics on the percentage of international students going to each country to decide on the number of cities to feature per country.
Scopus Database from Elsevier
QS Rankings use citation data from Scopus which is the largest abstract and citation database of peer-reviewed literature and quality Web sources. Its unique database contains abstracts and references from over 18,000 titles from more than 5,000 international publishers, ensuring broad interdisciplinary coverage. Scopus is a trusted source of bibliometric data, also used by many other organisations including: the OECD, the Australian Research Council, iFQ (Institut für Forschungsinformation und Qualitätssicherung) and ISTEP (National Institute of Science and Technology Policy of Japan).
Contact
For more information contact Phil Nettleton or Abigail Smith at London & Partners on 020 7234 5860/5787 or asmith@londonandpartners.com / pnettleton@londonandpartners.com