Leading London visitor attractions experience record numbers
London's visitor attractions have experienced a 12% increase in visitor numbers, according to statistics, released by the Association of Leading Visitor Attractions (ALVA) today (Wednesday, March 5, 2014). With the top ten attractions being based in London, and the city on course to welcome more than 16 million overseas visitors in one year, 2013 has been a record-breaker for the capital.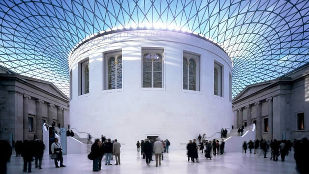 The most popular visitor attraction in 2013 remained The British Museum which saw a 20% increase in its visitor numbers to 6,701,036 – making it the museum's most successful year on record. In 2nd place, was the National Gallery, which saw a 14% increase to 6,031,574 and in 3rd place, was the Natural History Museum, with 5,356,884.
Julie Chappell, Director of Consumer Marketing and Digital Channels at London & Partners, said, "London's cultural offering is unparalleled. We have a fantastically diverse range of attractions that showcase not only the history and heritage of our city, but also the wide range of cultural attractions. As the home to some of the most significant museums and landmarks in the world, it's not surprising that 76% of visitors to London come to enjoy its world-class museums and galleries."
Bernard Donoghue, Director, ALVA - The Association of Leading Visitor Attractions, noted that: "London's attractions had a fantastic year last year: new must-see exhibitions, great weather, superb new facilities like Tiger Territory at London Zoo, all contributed to record tourism figures – tipped to be nearly 16 million visitors in one year - for London. Overseas visitors especially love their time at London's attractions and tell us that our museums, galleries and heritage are the number one reason to visit our city."
The top ten attractions, amassing more than 34 million visits, are:
British Museum – 6,701,036

National Gallery – 6,031,574

Natural  History Museum – 5,356,884

Tate Modern – 4,884,939

Science Museum – 3,316,00

V & A – 3,290,500

Tower of London – 2,894,698

Somerset House Trust – 2,398,066

St Paul's Cathedral – 2,138,130

Westminster Abbey – 2,020,637
Notes to Editors
Notes to editors:
The full table of ALVA member visitor figures for 2013 is available here.
About London & Partners
London & Partners is the official promotional organisation for London, attracting and delivering value to business, students and visitors. We work to maintain London's position as the best international visitor destination in the world by marketing to established and emerging markets. We work with the travel industry to promote London to individual leisure travellers and groups worldwide.
For more information on London attractions visit www.visitlondon.com
About ALVA
ALVA's 56 members are the UK's most popular, iconic and important museums,
galleries, palaces, castles, cathedrals, zoos, historic houses, heritage sites, gardens
and leisure attractions. They comprise over 2000 tourist sites, hosting over 100
million domestic and overseas visitors each year - around 25% of the visits made annually in the UK.
Contact
London & Partners contact details:

Rebekah Clement, Media & PR Manager – Leisure Tourism
Tel: +44 (0)20 7234 5861 / +44 (0) 7826 907 415
rclement@londonandpartners.com

London & Partners Media & PR Team
Tel: +44 (0)20 7234 5710
Switch: +44 (0)20 7234 5800
Twitter: @London_PR

ALVA contact details:
Rachel Aked
Rachel@rachelaked.co.uk
Tel: 07790 732448