Rugby World Cup 2015 marks 500 days to go as ticket sales dates announced
• Tickets for all 48 matches will go on general sale September 12 – September 29 2014
• 500,000 tickets go on sale to rugby fans this month through the Rugby Community Ticket programme
• England Rugby 2015 launch the International Rugby World Cup Trophy Tour with Land Rover and DHL
• 20,000 applications received to join The Pack; the volunteer programme for RWC 2015
• Tournament plans are in great shape and on track with 500 Days to Go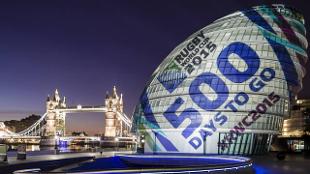 England Rugby 2015, the Organising Committee for Rugby World Cup 2015, has today announced the dates of the general ticket sales window. Tickets for all 48 games will go on sale via an application window which opens on September 12 and closes on September 29, 2014, a year in advance of the Tournament.   From September 12, members of the public will be able to select the matches they want to attend across the country and in Cardiff, with any oversubscribed matches balloted.
In advance of the general sale, 500,000 tickets will go on sale to rugby fans this month through the Rugby Community Ticket Programme launched earlier this year. All clubs and RFU affiliated organisations in England will, from today, be able to register their nominated members to purchase tickets from May 16, 2014. The programme gives clubs the opportunity to recognise and reward loyal fans who support the game week in week out in the host country for Rugby World Cup 2015.  A similar programme has also launched today in Wales giving Welsh rugby club members the chance to purchase tickets for the eight matches at the Millennium Stadium, given the important role the stadium will play at RWC 2015.
England Rugby 2015 today also announced details for the international Rugby World Cup Trophy Tour, celebrating rugby and taking the Webb Ellis Cup to 15 countries in the build-up to the Tournament. The tour will be delivered in partnership with Land Rover and DHL and will depart for Japan on May 20, 2014 for the first leg of the tour. In addition to Japan, the route will include visits to Australia, Fiji, Madagascar, Kenya, South Africa, Argentina, Uruguay, China, USA, UAE, Italy, Germany, Romania, France before returning to England on 100 days to go  (June 10, 2015) for a tour of the UK and Ireland.
As Tournament planning progresses at pace, the search to find the 6,000 volunteers to welcome the world to England and to rugby in 2015 is well underway with over 20,000 applications received to join 'The Pack'. Try-Outs (selection events) will be held between June and December 2014 in every RWC 2015 Host City with members of the 'The Pack' confirmed in January 2015. 
Debbie Jevans, England Rugby 2015 CEO, said: "Our plans are right on track with 500 days to go. We are pleased to announce the dates of the general sale today, allowing fans to save the date and plan.
"We have seen a very strong response to the Rugby Community Ticket Programme and we are pleased we have enabled clubs to recognise their loyal fans with access to tickets for Rugby World Cup 2015 on home turf.   From today, members are being registered and 500,000 tickets will go on sale from May 16 – June 30.
"We are very excited to announce the Rugby World Cup Trophy Tour plans. This gives us a unique opportunity to celebrate rugby around the world in the lead up to 2015, engaging and exciting rugby fans and potential new audiences ahead of the Tournament. Visiting 15 countries, including nations qualified for RWC 2015 and emerging rugby markets, gives us an opportunity to showcase the global game and its shared values.  In Land Rover and
DHL, we have two brilliant partners who are longstanding supporters of rugby, and we look forward to the start of the tour in Japan later this month.
"Everything is in place now for a great Tournament as we move into the delivery phase of our major campaigns. We can already see the great enthusiasm for RWC 2015 500 days out, with over 20,000 applications to join The Pack and the positive response to the Rugby Community Ticket programme."
RWCL Chairman Bernard Lapasset said: "With 500 days to go, everything is in place to ensure that Rugby World Cup 2015 is an unforgettable experience for players and fans, delivering a record-breaking platform for the promotion and growth of rugby worldwide. The vision and dedication of the event organisers has driven great excitement and enthusiasm across the 13 venues and 11 host cities and this is being reflected across the global rugby community as we count down to what I am confident will be the biggest and best Rugby World Cup yet, furthering the profile and growth of rugby in the host nation and worldwide."
Ian Ritchie, RFU Chief Executive said: "When we launched our legacy vision with 3 years to go, we talked about inspiring people and bringing rugby to more people across the country. The countdown today marks another important milestone on that journey and there is a real sense of excitement as the Tournament gets closer. We are investing in people and facilities to make sure that the legacy from hosting the tournament is real and lasting – we want more people playing, coaching, refereeing and volunteering, watching and talking about rugby - and we are on our way to delivering that vision."
Helen Grant MP, Minister for Sport and Tourism, added: "Rugby World Cup 2015 is another massive sporting event being hosted in the UK and will be a fantastic opportunity to showcase the very best the country has to offer to an international audience and inspire greater sports participation. As we mark 500 days until the start of the Tournament I'm in no doubt that England Rugby 2015 will continue to do a tremendous job in making sure it is an outstanding event with thrilling rugby and fantastic atmospheres in the stadiums generated by passionate fans."
Notes to Editors
General Ticket Sales:
• The general sale application window for tickets for all 48 matches opens September 12, closes September 29
• Matches that are oversubscribed will be balloted
• Members of the public will be advised of tickets successfully purchased in October 2014
• Full details on the process, allocation and dates will be announced ahead of September 12, 2014
• Remaining tickets on sale in November 2014, sold on a first come, first served basis
Rugby Community Tickets:
• 500,000 tickets will be made available to nominated members of RFU clubs and affiliated organisations, as selected by the club or organisation directly
• Members can be registered to purchase tickets from May 6 and tickets go on sale May 16 – June 30, 2014  through the official RWC 2015 ticketing website
Rugby World Cup Trophy Tour:
• The Tour will depart for Tokyo Japan, on May 20, 2014
• The route will also include visits to Sydney, Australia (June 2014),  Suva, Fiji (June 2014), Antananarivo, Madagascar (July 2014), Nairobi, Kenya (August 2014), Johannesburg and Cape Town, South Africa (August 2014), Buenos Aires, Argentina (October 2014), Montevideo, Uruguay (October 2014), Hong Kong and Shanghai, China (October 2014), New York, USA (November 2014), Dubai, UAE (November 2014), Milan and Rome, Italy (January 2015), Bonn and Frankfurt, Germany (February 2015), Bucharest, Romania (March 2015), Paris, France (May 2015).
• The Webb Ellis Cup will then tour the UK and Ireland from 100 days to go in the countdown to the Tournament
The Pack – Volunteering:
• 6,000 volunteers will make up The Pack – 75% will be recruited through the Rugby Community
• Try-Out selection events will be held: (The home of Saracens Rugby (June), Score Centre, Leyton  (June), University of Brighton (July), University of Exeter (July), Millennium Stadium (July/August), Solihull College (August), Media City UK (September), GL1 Sports Centre (September), Newcastle Racecourse (September/October), Leeds Metropolitan University (October), University of Leicester (October/November), Bletchley Leisure Centre (November), Richmond Upon Thames (November/December).
Contact
For more information please contact:
Ellie Wilson
Media & PR Manager – Major Events & Business Tourism
Tel: +44 (0)20 7234 5709
Mobile: +44 (0)7595 654 085