100 days to go until Prudential RideLondon!
Today marks just 100 days to go until the second Prudential RideLondon two-day festival of cycling on the weekend of 9-10 August.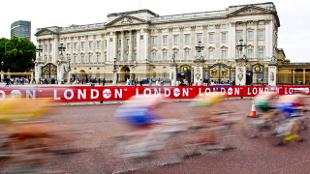 The Mayor of London's festival kicks off on Saturday 9 August with Prudential RideLondon FreeCycle – an eight-mile traffic-free route suitable for all ages and abilities that passes many of the capital's famous landmarks.
This year, the route is even bigger and better and will build on the success of the inaugural event in 2013. Two new areas have been added to the Festival Zones, which will be brimming with fun cycling activities, entertainment and music. The route and further details will be launched later this month, so watch this space!
If you haven't already registered for this brilliant family-friendly event, sign up now for Prudential RideLondon FreeCycle and get set for a great day out in the capital on Saturday 9 August. More information can be found here.
Places for the Prudential RideLondon-Surrey 100 have increased by 50 per cent this year with 24,000 riders expected to cross the start line in Queen Elizabeth Park Olympic Park to take on the epic 100-mile challenge on Sunday 10 August.
We're expecting even bigger crowds to line the routes of the two pro races this year so if you're looking for a slightly less strenuous weekend, head to St James's Park on Saturday evening to catch the pro women's race or make a day of it along the route of the Prudential RideLondon-Surrey Classic on Sunday afternoon.
Prudential RideLondon Event Director Hugh Brasher said: "Last year's Prudential RideLondon was the largest inaugural mass-participation sports event in the world. With only 100 days to go to this year's event, we are looking forward to delivering the greatest cycling festival in the world."
In its first year, riders in the Prudential RideLondon-Surrey 100 raised more than £7 million for charity, setting a new record for a UK one-day cycling event. The goal for 2014 is to raise a massive £12 million.
Notes to Editors
1. Prudential RideLondon comprises four separate events: the Prudential RideLondon FreeCycle, the Prudential RideLondon Grand Prix, the Prudential RideLondon-Surrey 100 and the Prudential RideLondon-Surrey Classic. Find out more at www.PrudentialRideLondon.co.uk.
2. Prudential RideLondon is a world-class weekend cycling festival developed by the Mayor of London, London & Partners and Transport for London in partnership with Surrey County Council and is sponsored by Prudential. The event is managed by the London & Surrey Cycling Partnership.
3. The inaugural Prudential RideLondon in August 2013 has won a total of six awards to date:
UK Event Awards: Large Event of the Year and Sports Event of the Year
2013 Cyclosport Industry Award, given for an outstanding contribution to the cycling industry
Most Innovative Cycling Event and Favourite British Cyclo-Sportive in the Cycling Weekly readers' annual poll
UK Cycling Event of the Year in the Total Women's Cycling readers' awards
Contact
For more information please contact:
Ellie Wilson
Media & PR Manager – Major Events & Business Tourism
Tel: +44 (0)20 7234 5709
Mobile: +44 (0)7595 654 085