Pivotal year for technology sector as investment financing doubles
Technology companies across the UK have attracted record levels of venture capital funding in 2014, with London-based tech firms securing more than 60 per cent of the total according to new figures released this morning.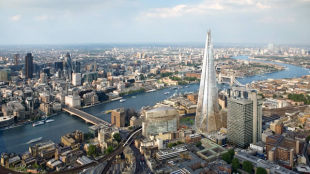 The data, which is compiled by London & Partners, the Mayor's promotional company for London, show that technology firms in the capital have secured more than $1.35 billion in venture capital financing during 2014, more than the amount raised in 2013 ($756 million). However, taking into account technology companies across the rest of the UK, including emerging tech hubs in cities such as Sheffield, Leeds and Manchester, VC investment rises to more than $2.1 billion¹ (for detailed chart click here).
The money raised demonstrates just how quickly the technology sector is growing in London and the UK. Just four years after the Prime Minister and the Mayor of London launched the Tech City initiative, venture capital investment into London's tech sector is now more than 10 times greater than in 2010².
The Mayor of London Boris Johnson said: "Our tech sector has fostered bucket loads of innovation and entrepreneurialism, and is now becoming an industry that's changing the way the world does business, creating real jobs and economic growth both in London and across the entire country."
Eileen Burbidge, London technology ambassador and Partner at Passion Capital, which invests in technology startups, said: "London is rapidly becoming one of the most exciting tech markets in the world.  Too many people still believe that tech innovation and investment is centred around the US.  In fact entrepreneurs, companies and investors are all gravitating to London to set up shop and launch products, lured by a rich talent pool and a vibrancy and dynamism that simply doesn't exist elsewhere."
Gerard Grech Chief Executive of Tech City UK, which is leading initiatives to drive growth in tech clusters across the UK, said: "The record level of investment in Britain's tech sector is proof that the UK is well on its way to becoming a world leader in digital technology innovation. These numbers are testament to the skillsets and the increasingly strong digital clusters across the UK, coupled with improving policy conditions. Building on London's success and creating connectivity between different cities and clusters will continue to drive the overall health of this fast growing sector."
As the tech sector in London and the UK continues to mature companies are beginning to secure larger funding rounds. During 2014 a dozen deals each worth more than $40 million have been closed, that's up from just four in 2013.
One of the largest investments ($130 million) was secured by Momondo Group, which operates the travel search websites Cheapflights.co.uk and momondo.com.
Hugo Burge, CEO Momondo Group said: "We started up from an attic in London over 18 years ago, and London remains very much a part of our DNA – and core to our success. The backing we've received from Great Hill Partners will enable us to continue to expand our global footprint, build our mobile services and reach even more travellers around the world.  More than 86 per cent of our revenues now come from outside the UK, but we remain committed to our mission to 'open our world' and to London as the place where it all started.  London's entrepreneurial drive, dynamic business environment, source of diverse amazing talent and global outlook has been the perfect foundation for us."
Other companies that have secured investment in 2014 include Carwow, the online car buying platform, which has closed two funding rounds worth a total of more than $9 million.  James Hind, CEO of Carwow said: "This has been an amazing year for us. The fundraisings have had a massive impact on our ability to grow the business, to hire new people and connect the car-buying public with dealers. With the experience of Balderton Capital behind us we're now ideally placed to take the company to the next level."
In addition to the individual funding deals in 2014, London has also seen new VC funds base themselves in London in 2014 to invest in tech opportunities around the world. According to London & Partners, new funds worth than $1.5 billion have set up in the capital during 2014, with firms including Balderton Capital, Index Ventures, Google, Santander and the new London Co-Investment Fund, which is backed by the Mayor of London, creating new investment vehicles.
Over the next ten years the number of digital technology companies in London is expected to rise to 45,000 adding 46,000 new jobs in the process and creating more than £12 billion of economic activity, according to research by Oxford Economics³.
Notes to Editors
¹ Source: CB Insights deals from 1/1/2014 – 19/12/2014
² Source: CB Insights VC investment into London tech firms in 2010 -2014
³ Source: Oxford Economics
The above figures contain corrections from originally published data owing to a change in methodology. 
About London & Partners.
London & Partners is the official promotional company for London. We promote London and attract businesses, events, congresses, students and visitors to the capital. Our aims are to build London's international reputation and to attract investment and visitor spend, which create jobs and growth.
London & Partners is a not-for-profit public private partnership, funded by the Mayor of London and our network of commercial partners.
For more information visit www.londonandpartners.com   
About Passion Capital.
Passion Capital is the premier early-stage venture fund in London, established by former entrepreneurs and operators who apply their experiences to helping founders and early-stage teams build hugely valuable digital media/technology companies. Passion Capital general partners have been personally involved in the largest European technology exits of the past decade, including the biggest exits of the year for 4 of the past 10 years by market value (Ricardo.de acquired by QXL, Skype purchased by Ebay, Last.fm acquired by CBS, and QXL/Tradus acquired by Naspers) — and look forward to being involved in many more. For more information, visit passioncapital.com or @passioncapital
About Tech City UK.
Tech City UK started life in 2010, with a mission to support the emerging Silicon Roundabout tech cluster in East London. Anchored in Shoreditch, we've grown into an organisation which delivers programmes focused on accelerating the growth of digital businesses, in London and cities across the UK, at all stages of their development. Examples include Future Fifty, Digital Business Academy and the Tech City UK Cluster Alliance.
A publicly funded organisation with a private sector mentality, we also provide a voice of advocacy for digital entrepreneurs. We feed back our findings to policy-makers to influence change and we are dedicated to fostering the right conditions to start, grow and scale a digital business in the UK. We aim to make life better for digital entrepreneurs.
www.techcityuk.com | @TechCityUK
About Momondo Group: 
Momondo Group is an online travel media and technology company that is driven by the belief that an open world is a better world.  The group now serves travel search and inspiration to over 17.5 million visitors a month – plus 7 million travel newsletter subscribers – via its Cheapflights www.cheapflights.co.uk/) and momondo (www.momondo.com) brands.  Skygate began the sourcing of complex air-travel data in 1992, whilst Cheapflights pioneered the online comparison of flight deals for users in 1996 and momondo launched meta-search in the Nordic countries from 2006.  The Group has offices in London, Copenhagen and Boston, with a consumer base across more than 30 core international markets and engaged travellers, explorers and holiday-makers all over the world.
Contact
Martin Greig, PR Manager - Technology
Tel: 020 7234 5779, 07920 759019
Email: mgreig@londonandpartners.com
London & Partners Media & PR Team
Tel: +44 (0)20 7234 5710
Switch: +44 (0)20 7234 5800
Twitter: @London_PR