Visitor numbers to London's West End set to soar this Christmas
Visitor numbers to London are set to reach an all-time high, with predictions of 40 million visitors flocking to London's West End over the festive season, and retail sales forecasted to increase by up to 7 percent*.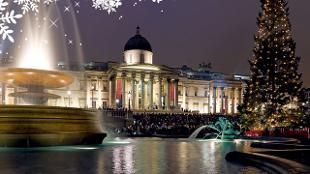 This rise in visitor figures is supported by recent news from Transport for London (TfL) who revealed that last week was the busiest on record for the Tube, with 28.3 million journeys made across seven days.
VisitLondon.com, the official city guide, in conjunction with West End partners and @London Instagram, is celebrating another successful year for the capital by launching its own Christmas video to showcase the capital in a unique way.
The video, entitled 'A Christmas Story' explores London through the eyes of a child and a free-runner, played by Champion free-runner Tim Shieff, as they make different journeys into the heart of London against a backdrop of iconic West End Christmas locations including Regent Street, Bond Street, Oxford Street, and Carnaby Street, featuring festive shots of Trafalgar Square, Piccadilly Circus and other famous locations.
VisitLondon.com worked with video production company Fruitmedia and influential Instagramer @London to organise and film an Instagram gathering (instameet) in Trafalgar Square for the final scene.
Director of VisitLondon.com, Julie Chappell, comments, "We are thrilled to be able to showcase the festive magic of London with this innovative film, and working with @London Instagram has allowed us to bring together a social media community to tell London's 'Christmas Story' to the rest of the world.
"VisitLondon.com continues to be a vital tool for millions of visitors to the city, and it's great that we are able to bring London to life with this exciting and creative collaboration – it's the perfect way to end what is set to be another record-breaking year for London's visitor economy, with visitor figures for 2014 projected at a whopping 18.7 million international visitors."
Karen Baines, Head of Marketing & Communications – Heart of London Business Alliance, said, "It's fantastic to see the dazzling lights and bustling streets of London's West End brought to life in such a creative way. This film encapsulates the visitor experience of exploring this wonderfully festive area, famous for shopping, entertainment, dining and culture."
Notes to Editors
*Source: New West End Company (NWEC)
'A Christmas Story' is available for embedding via the following link:
https://www.youtube.com/watch?v=bvOmMO3V5Wo
Still images and b-roll are available for download via: http://bit.ly/1w2h8kO
Credit: VisitLondon.com
If you would like to download a copy film, please email rclement@londonandpartners.com
Social: @visitlondon, #christmaslondon
Music - "Bright City" by Martin Smith, Paul Nelson & Sarah Bird - Copyright- 2014 ThankYou Music/Gloworks/Shout!
 
About London & Partners
London & Partners is the official promotional company for London. We promote London and attract businesses, events, congresses, students and visitors to the capital. Our aims are to build London's international reputation and to attract investment and visitor spend, which create jobs and growth.
London & Partners is a not-for-profit public private partnership, funded by the Mayor of London and our network of commercial partners.
For more information visit www.londonandpartners.com      

About West End Partners: 
Heart of London Business Alliance (Leicester Square, Piccadilly Circus, Piccadilly and St James's)
New West End Company (Bond Street, Oxford Street and Regent Street)
Regent Street Association (Regent Street)
Shaftesbury Plc (Carnaby, Seven Dials, St Martin's Courtyard, China Town, Berwick Street)
The Crown Estate (Regent Street, St James's)
London's West End is the world's top shopping, entertainment and cultural destination, with a world-class mix of 600 shops, 40 renowned theatres, 30 museums and galleries, 17 Michelin star restaurants and 7 tranquil green spaces.
There are 200 million visits to London's West End each year spending over £8.5bn.
About @London Instagram
@London Instagram is one of the UK's most popular Instagram channels with over 800,000 followers. It nets over 4.6 million views a month and has a highly engaged international audience that have great affection for London. The channel aims to celebrate "all things London" in terms of the destination, tourism, fashion, events, music, arts and life-style. It features beautiful imagery and innovative video content and works with a network of over 1,300 Instagram users in London. It has a strategic partnership with video production company Fruitmedia.
About Fruitmedia
Fruitmedia is a video production company founded in 2004, with a passion to create beautiful and powerful film that leaves a lasting impression. Fruitmedia is a highly creative team, skilled in all aspects of video production.
Today Fruitmedia embraces video innovation, creating and capturing exceptional content for online and broadcast. Client list includes: Esure, Nokia, Microsoft, NHS, Verizon, Sheila's Wheels and Dogs Trust.
For more information visit http://fruitmedia.co.uk/about/

 
Contact
Rebekah Clement, Media & PR Manager – Leisure Tourism
Tel: +44 (0)20 7234 5861 / +44 (0) 7826 907 415
rclement@londonandpartners.com
London & Partners Media & PR Team
Tel: +44 (0)20 7234 5710
Switch: +44 (0)20 7234 5800
Twitter: @London_PR