NFL contributed £32m to the London economy
With two games already played in 2014, a new study carried out by the Sports Business Group at Deloitte has found that the two NFL International Series Games played in autumn 2013 contributed £32m to the London economy. This could increase to £102 million in the event of a London-hosted franchise playing eight regular games a season in the capital.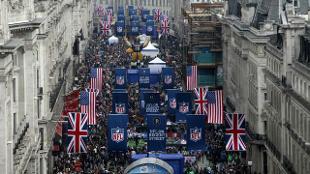 The International Series, which first touched down in the UK in 2007, attracted a cumulative audience of 167,000 across two games played at Wembley Stadium last year. The average attendance for all of the eight games ever held at Wembley is around 15,000 (22%) higher than the league wide average attendance for U.S based games.  As a result of this growing and loyal international fan base, £20m was contributed to the London economy in 2013 through spectator spending, with a large proportion of this coming from retail and entertainment expenditure.
This year, London is hosting three games for the first time. The first two have already taken place – with Oakland playing Miami on September 28th and Atlanta playing Detroit on October 26th. The final game, between Jacksonville and Dallas, takes place on Remembrance Sunday (November 9th).
Sajid Javid MP, Secretary of State for Culture, Media and Sport, said: "The NFL games at Wembley have been a huge success showing that there is a big, growing fan-base for the sport in the UK and generating millions for our economy. A British franchise would be a great success both on and off the field and if the NFL decide that the time is right to base a team overseas, London and the UK will welcome it with open arms."
Boris Johnson, Mayor of London, commented: "It is great to see American Football taking root in London and growing in popularity year-on-year. We have been supporting NFL's plans for expansion here and as these figures show, its presence is not only delighting sports fans but contributing significant amounts to the city's economy with the potential to generate more. This can only be good news for the continued growth of this exhilarating sport."
This continued success and demand for NFL games in the UK presents the NFL with a number of opportunities to explore in terms of international growth and development. Other key highlights in the report include:
An expanded NFL International Series, consisting of four games played at Wembley Stadium, could generate direct economic impact of £58 million to the London economy per season. Spectator spending is estimated to comprise £41 million of this figure.
A London-hosted NFL franchise, playing eight regular-season games a season at Wembley, could generate a direct economic impact to the UK of £102 million a season. Spectator spending is estimated to comprise £68 million of this figure.
The NFL has a significant and growing fanbase in the UK – reported to be more than 13 million, including 2.8 million avid fans. The latter has increased by more than 30% in the last two years.
Of the 167,000 spectators in 2013, over 80% came from outside the capital, with 4% of spectators being from outside the UK. 78% of all spectators had general admission tickets, with 22% in corporate hospitality.
The average size of a travelling NFL team party is 140 people. A typical team might bring up to a further 100 family, friends, support staff and commercial partners with them.
Were the decision ever taken to host the Super Bowl overseas, London's status as a leading world city and its proven track record of hosting successful major events, would make it a leading contender.
Dan Jones, Partner, Head of Sports Business Group at Deloitte, added: "Our analysis demonstrates the impact the NFL International Series has on the London economy. It is a valuable addition to the capital's calendar of major sporting events. If in future the NFL were to have a London hosted franchise we estimate that could deliver at least £100m of direct economic benefit, as well as further reinforcing London's status as one of the world's top cities for sport."
Alistair Kirkwood, Managing Director of NFL UK, commented: "We are pleased with the continued growth of NFL here in the UK and excited about the future of our sport in the UK. We have been delighted with the great response we have seen from our UK fans to the NFL games and events in London. Our focus continues to be on building our fan base by providing them with an unrivalled experience within the stadium and outside."
The report has been produced using an industry-wide standard methodology for calculating economic benefit. There could be an increased economic benefit if other facts, such as multipliers, are taken into account.
-Ends-
Notes to Editors
1. About London & Partners
London & Partners is the official promotional company for London. We promote London and attract businesses, events, congresses, students and visitors to the capital. Our aims are to build London's international reputation and to attract investment and visitor spend, which create jobs and growth. London & Partners is a not-for-profit public private partnership, funded by the Mayor of London and our network of commercial partners. For more information visit www.londonandpartners.com
2. The three NFL International Series Games in London in 2014:
Oakland Raiders v Miami Dolphins: Sunday 28th September
Atlanta Falcons v Detroit Lions: Sunday 26th October (National Game)
Jacksonville Jaguars v Dallas Cowboys: Sunday 9th November 
3. About the Sports Business Group at Deloitte
Over the last 20 years Deloitte has developed a unique focus on the business of sport. Our specialist Sports Business Group offers a multi-disciplined expert service with dedicated people and skills capable of adding significant value to the business of sport. Whether it is benchmarking or strategic business reviews, operational turnarounds, revenue enhancing strategies or stadium/venue development plans, business planning, market and demand analysis, acquisitions, due diligence, expert witness, audits or tax planning; we have worked with more clubs, leagues, governing bodies, stadia developers, event organisers, commercial partners, financiers and investors than any other adviser. For more information visit www.deloitte.co.uk/sportsbusinessgroup
4. About the National Football League
The National Football League is the most-watched sport in the United States, with more than 160 million tuning in annually for Super Bowl, the climax of the season. The league has also been steadily increasing its international fan base, and now counts 124 million fans outside the US. Since 2007, the NFL has been playing sold-out regular-season games in the UK and has a commitment to play games in London through to 2016. The NFL airs on UK television via Sky Sports and Channel 4, both of whom will be airing the 2014 International Series games live.
5. About Deloitte
In this press release references to Deloitte are references to Deloitte LLP, which is among the country's leading professional services firms.
Deloitte LLP is the United Kingdom member firm of Deloitte Touche Tohmatsu Limited ("DTTL"), a UK private company limited by guarantee, whose member firms are legally separate and independent entities. Please see www.deloitte.co.uk/about for a detailed description of the legal structure of DTTL and its member firms.
The information contained in this press release is correct at the time of going to press. For more information, please visit www.deloitte.co.uk.
Member of Deloitte Touche Tohmatsu Limited.