Nowhere on earth beats London for a university education, says influential ranking study
London has the greatest concentration of first class universities of any city in the world, according to a prestigious ranking of higher education institutions.
London has four universities in the top 40, more than any other city, and seven universities in the top 200, which is the same as the whole of France and more than China, Japan, Sweden and Korea.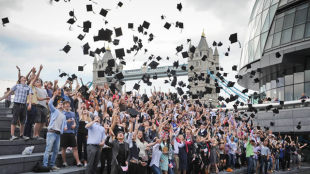 The 'Golden Triangle' of London, Oxford and Cambridge is confirmed as the global hotbed of higher education, offering more top ranked universities than anywhere else, according to The Times Higher Education (THE) World University Rankings.
Kit Malthouse, Chair London & Partners, said: "These rankings underline why more international students choose to study in London than any other city in the world.  With four top class universities in the top 40 of the world rankings, London offers a breadth of courses and quality of teaching which cannot be matched anywhere else.
"Our leading universities are central to London's reputation as an agile, innovative place to do business, because they are making the breakthroughs and producing the talented graduates that gives companies their edge."
London universities in the top 200 are Imperial College London (9), University College London (22), London School of Economics and Political Science (34), King's College London (40), Queen Mary, University of London (107), Royal Holloway, University of London (118) and St George's, University of London (196).
In Life Science subjects the UK capital has three universities in the top 40 and three in the top 20 for Clinical and Medicine – again a greater number than anywhere else.  Overall, the UK has 29 universities in the top 200 - second only to the USA with 74.
The California Institute of Technology retains its place at the top for the fourth consecutive year, with Harvard University retaining second place. The UK's University of Oxford is third, Stanford University holds fourth place and the UK's University of Cambridge moves up two places to fifth.
Phil Baty, Editor of Times Higher Education Rankings, said: "There are many great centres of higher education in the world, including Boston and Paris in the West and Singapore and Hong Kong in the East – but nowhere on earth beats London.
"The Times Higher Education World University Rankings show that London has more world-class universities than any other city, and these great and growing institutions are helping to ensure that the UK capital is one of the strongest and most innovative and dynamic cities on the plant. More importantly, they are providing London with a strong and steady flow of the world's leading talent, promising a continuing bright future."
Professor Alice Gast, President of Imperial College, said: "One need only look across the campuses of universities in the top ranks of these league tables to see that great education by definition is global, with brilliant students flocking to them from all corners of the world. They are attracted to the likes of Imperial, not only because of the opportunities created by excellent teaching and research, but also because of the thriving intellectual and entrepreneurial atmosphere on offer: in our case heightened by being situated in what may be the world's most global city."
Just over a quarter of London's 390,000 students come from abroad, contributing £2.5 billion each year to the economy. There is no cap on the number of overseas students that can study in the UK. Overseas students can work while studying and also undertake work placements. They can remain in the UK to work after graduation if offered a qualifying job, if they have an innovative business idea or stay for a year to find work if they have completed a doctorate.
For the full Times Higher Education World University Rankings go to http://www.timeshighereducation.co.uk/world-university-rankings/
For further information on studying in London visit www.studylondon.ac.uk
Notes to Editors
Methodology key facts
The Times Higher Education World University Rankings 2014-15 draw upon:
The world's largest academic reputation survey (around 10,000 academics in 2014, and almost 70,000 since 2010)
50 million citations analysed and compared with the world average from the same field
Arts, humanities and social sciences placed on an equal footing with science
Thirteen indicators across five areas have been taken into account, making this the ONLY world rankings to examine ALL the core missions of a modern global university: research, teaching, knowledge transfer and international activity

The indicators are:
Industry income – innovation
Research income from industry/academic staff
Teaching – the learning environment
Reputation survey – teaching
Staff-to-student ratio
PhDs/undergraduate degrees awarded
PhDs awarded/academic staff
Institutional income/academic staff
Citations – research influence
Citation impact (normalised average citations per paper)
Research – volume, income and reputation
Reputation survey – research
Research income/academic staff
Scholarly papers/academic staff and research staff
International outlook – staff, students and research
International students/total students
International academic staff/total academic staff
Scholarly papers with one or more international co-authors/total scholarly papers
Terminology and intellectual property
The full title of the tables is "Times Higher Education World University Rankings 2014-15"
Data for the Times Higher Education World University Rankings were provided by Thomson Reuters from its Global Institutional Profiles Project, a multi-stage process that collects and validates factual data about academic institutional performance across a range of aspects and multiple disciplines. http://science.thomsonreuters.com/globalprofilesproject/
Any publication of the "Times Higher Education World University Rankings 2014-15" tables (in full or part) should include full attribution to "Times Higher Education with data supplied by Thomson Reuters"
YOU MUST include the following link when publishing the "Times Higher Education World University Rankings 2014-15" tables (in full or in part): http://www.timeshighereducation.co.uk/world-university-rankings/ 
About Times Higher Education magazine
Times Higher Education is the world's most authoritative source of information about higher education. Designed specifically for professional people working in higher education and research, THE was founded in 1971 and has been online since 1995.  It is published by TES Global.

About Thomson Reuters
Thomson Reuters is the world's leading source of intelligent information for businesses and professionals. We combine industry expertise with innovative technology to deliver critical information to leading decision-makers in the financial and risk, legal, tax and accounting, intellectual property and science and media markets, powered by the world's most trusted news organisation. With headquarters in New York and major operations in London and Eagan, Minnesota, Thomson Reuters employs approximately 60,000 people and operates in more than 100 countries. For more information, see www.thomsonreuters.com
About London & Partners
London & Partners is the official promotional company for London. We promote London and attract businesses, events, congresses, students and visitors to the capital. Our aims are to build London's international reputation and to attract investment and visitor spend, which create jobs and growth.London & Partners is a not-for-profit public private partnership, funded by the Mayor of London and our network of commercial partners.For more information visit londonandpartners.com