New Years Eve fireworks to be ticketed for first time
London's hugely popular and internationally acclaimed New Year's Eve fireworks celebrations, organised by the Mayor of London, have become so successful that the organisers have taken the decision to ticket the event in order to reduce the number of people attending.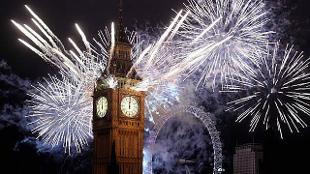 This year 100,000 tickets will be available to the public, which will guarantee good views of the fantastic pyrotechnic display and a better visitor experience. People, from anywhere in the UK or abroad, will be able to book up to four tickets from Friday 26 September at 12 noon (UK time), by going to www.london.gov.uk/nye.
Introducing tickets to popular events, similar to the Edinburgh Hogmanay celebrations, is a recognised way of controlling crowd numbers and not a penny of profit will be made from the £10 fee, which will be used to pay for administration costs and ensuring the event is safe.
The Mayor of London Boris Johnson said: 'London's New Year's Eve fireworks are phenomenally popular, not just in the capital, but across the world and we want to ensure it continues to be a safe, enjoyable and sustainable event for the long-term. After consulting with our partners, we are introducing ticketing to help manage crowd numbers and create a better experience on the night. For anyone without a ticket the fireworks are again being shown live and in full on television, meaning you can watch it in glorious HD colour without missing a single second. And don't forget, there are hundreds of other New Year's Eve celebrations to enjoy in bars, restaurants and clubs across the capital.'
London is a special place at the turn of the year, the city is lit up and there is a sense of optimism for the year ahead. If you can't get a ticket to attend the fireworks there are many other amazing events and experiences to enjoy, so long as visitors plan ahead and book in advance.
The capital's amazing night life is world famous and there are a multitude of ways to celebrate as establishments all over the city will be pulling out all the stops to make New Year's Eve 2014 one of the most memorable ever. London offers the best dining experiences in the world from top class fare at one of the city's Michelin starred restaurants, treating someone special to a romantic supper or taking an unforgettable dinner cruise down the Thames.
Many London pubs and gastro pubs will be staying open past midnight and top comedy clubs and West End theatres will be putting on great performances.  London is also one of the clubbing capitals of Europe and there will be a whole host of specially organised club nights in unique locations around the city or top DJ sets at one of these well-known nightclubs.
Families can also have a great time by taking the children to an afternoon matinee or enjoying skating on the many ice rinks around the capital. While some might still be in bed, the New Year's Day Parade provides a stunning start to the New Year with marching bands, acrobats, cheerleaders and entertainers.
Julie Chappell, Director of VisitLondon.com, said: "London is the best city in the world to see in the New Year because it offers something for everyone. The city's night-life is so vibrant and diverse that there are so many other events and attractions leaving visitors spoilt for choice. Our advice is to plan ahead to come and enjoy the best pubs, clubs, comedy, restaurants and theatre that can be found anywhere. Once you've had a night to remember on New Year's Eve come back and enjoy the New Year's Day Parade which is free for everybody."
Since the fireworks were first staged at the London Eye in 2003, the numbers of people wanting to see them have grown from an estimated 100,000 in the first year to 400,000 in 2012 and 500,000 in 2013.
The prime viewing areas have a capacity of 100,000 people, which means the majority of people wanting to watch the display do not get the best view, or are unable to access the areas altogether. The huge crowds also mean long delays leaving the area at the end of the event as revellers make their way to Tube, rail and other public transport services.
For more information about what's going on in London on New Year's Eve go to www.visitlondon.com/newyearseve
Notes to Editors
Major New Year's Eve celebrations in other cities
Edinburgh: Ticketing the Edinburgh Hogmanay celebrations has led to a steady reduction in crowd numbers to more manageable levels.
Sydney: Ticketing is in place for the prime viewing areas, including Sydney Opera House, Royal Botanic Garden & Domain Trust, Taronga Zoo and National Parks & Wildlife Services, however the wide and harbour location event footprint makes the Sydney celebrations a different operation to London, which is much more compact.
MEDIA ENQUIRIES: Contact Phil Nettleton PR Project Manager London & Partners pnettleton@londonandpartners.com or 020 7234 5787
GENERAL PUBLIC/NON-MEDIA ENQUIRIES. To sign up for information and updates, people should go to www.london.gov.uk/nye.
Contact