Historic vessels dock in London for first Tall Ships Regatta in quarter of a century
Majestic tall ships from across the UK and around the globe have arrived in London for the Falmouth Royal Greenwich Tall Ships Regatta 2014.

Having travelled from Falmouth in Cornwall via the Isle of Wight, London's Royal Borough of Greenwich is hosting 50 tall ships in the capital's first regatta for 25 years.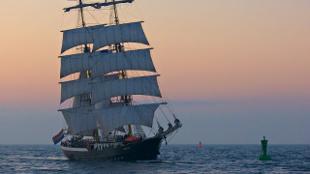 These historic ships are in Greenwich for a four-day nautical celebration from 5 – 9 September, before a Parade of Sail finale travelling east along the River Thames from Royal Greenwich.

Hundreds of thousands of spectators are expected to turn out to watch the vessels sail past famous landmarks including Royal Greenwich, Canary Wharf, the 02, Thames Cable car and the Royal Docks.

Gordon Innes, Chief Executive of London & Partners, the Mayor's promotional company for London, said: "This week's tall ships regatta will see the River Thames celebrate the golden age of sail once again, conjuring scenes that evoke memories of years gone by. As these superb vessels make their dramatic entrance to London, as part of the month-long Totally Thames festival, we will be reminded of the river's historic role in establishing London as one of the world's greatest trading cities. Tens of thousands of visitors are expected to travel to Royal Greenwich for what will be a spectacular celebration of these magnificent vessels and a reminder of the constant revival and reinvention of the world-famous River Thames".

Councillor Denise Hyland, Leader of the Royal Borough of Greenwich added:  "There will be so many highlights to the Tall Ships Festival – from theatre, to boat displays and parades, fireworks, performances and so much more. It will be so thrilling to see the river being used in this way for such a spectacle which really makes the very most of our riverfront here in Royal Greenwich. With our rich maritime history we are the perfect hosts for this event and I am sure all of our visitors will have an absolutely wonderful time".

International ships taking part in the event include:
Polish ships Kapitan Borchardt and Dar Mlodziezy, the largest at the event
14 Dutch vessels including the Urania, the Royal Netherlands Navy's sail training ship
Spanish vessel, the Atyla a classic schooner representing centuries of accumulated knowledge and skills in the art of Spanish shipbuilding and carpentry
Belgian Whitbread Round the World racer, the Tomidi and the Rupel, built on the banks of the river Rupel by unemployed youngsters
Russian ship the Sctandart, a modern replica of a Russian navy flagship that was built for Peter the Great in 1703
Visitors will be able to admire the imposing vessels up close and take part in a range of activities and events. People will also be able to go aboard the ships for sailings along the river to see the beautiful working crafts first-hand.
Highlight events during the Tall Ships Regatta include:

Parade of Sail, 09 September 2014, 13:00-16:00
Location: Along the Thames east of Greenwich
The Tall Ships take to the River Thames in this dramatic finale to the event

River Festival: Royal Pageant, 07 September 2014, 11:30 - 13:00
Location: Maritime Greenwich
See Her Majesty The Queen's row barge Gloriana, with an escort of traditional rowing boats, at Maritime Greenwich

Fireworks Display - Maritime Greenwich, 05 September 2014, 21:15 - 21:30
Location: Maritime Greenwich
Visit the Lebara Festival Village at Maritime Greenwich to see the tall ships with a stunning backdrop of fireworks.

Fireworks Display - Woolwich, 06 September 2014, 21:45 - 22:00
Location: Woolwich Arsenal
See the tall ships sail with a stunning backdrop of fireworks at the Royal Arsenal Woolwich Festival Village

River Festival: Thames barges, 05 September 2014, 15:00 - 16:30
Location: Maritime Greenwich to Royal Arsenal Woolwich
A parade of traditional Thames Barges along the River Thames, from Lebara Festival Village in Maritime Greenwich to the Royal Arsenal Woolwich Festival Village.

Tall Ships Cruises, 05 September 2014 - 09 September 2014 (Every day)
Location: Royal Arsenal Woolwich
Sail up the Thames on a magnificent tall ship, from the Festival Village at Royal Arsenal Woolwich
To apply for a place you will need to seek media accreditation – see details below

The Tall Ships Festival will take place over four sites:
Royal Arsenal Woolwich: See some the largest selections of Class A and Class B Tall Ships
Maritime Greenwich: This site will be the location of the Lebara Tall Ships Village, in the heart of the Maritime Greenwich World Heritage Site. Expect to see a selection of Tall Ships, a maritime restoration zone, as well as live music and entertainment
Greenwich Peninsula: See some of the largest Tall Ships here throughout the event
Wood Wharf, Canary Wharf: Up to 24 of the smaller ships will be located here during the festival
For more information about the Royal Greenwich Tall Ships Regatta go to: http://www.royalgreenwich.gov.uk/tallships
Notes to Editors
To apply for media accreditation, to receive media updates and for details of daily media sailings go to: http://www.royalgreenwich.gov.uk/tallships/info/11/media
High res images available to download from: http://bit.ly/1pMd0Z2
Images available to download via Royal Greenwich Flickr: https://www.flickr.com/photos/royalgreenwich/sets/.
*Images to be updated to above folders during festival*

International ships at Tall Ships Regatta:
Poland:
- The ship Kapitan Borchardt
- The ship Dar Mlodziezy
The Netherlands:
- The ship Urania
- The ship Thalassa
- The ship Tecla
- The ship Oosterschelde
- The ship Morgenster
- The ship Mercedes
- The ship Loth Lorien
- The ship Lady of Avenel
- The ship JR Tolkien
- The ship Jantje
- The ship Iris
- The ship Gulden Leeuw
- The ship De Gallant
Spain:
- The ship Atyla
Belgium:
- The ship Tomidi
- The ship Rupel
Russia:
- The ship Shtandart