$1.4bn of new tech funds set up in London in last 6 months
London's booming technology sector is proving increasingly attractive to venture capital companies keen to access European growth opportunities, with new technology investment funds worth $1.4bn* launched in the capital in the last 6 months.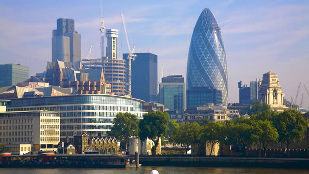 Investment firm DN Capital announced today that it has launched a $200 million venture capital fund that is based in London and will focus on European software, digital media, mobile applications and e-commerce and marketplace companies.
The company joins a prestigious list of firms creating new London-based technology investment funds. Since April, Index Ventures ($543m), Balderton Capital ($305m), Santander ($100m) and Google Ventures ($100m) have all announced new London-based funds that will invest in promising technology companies from the UK and Europe.
In addition, Dan Cobley, former European head of Google, said in August that he plans to start Brightbridge Capital, a financial technology incubator and investment fund, in London. The fund is reported to be worth $84m.
The new funds will give a great chance for London tech firms to access new investment, encouraging job creation and economic growth both in the city and beyond, according to London & Partners, the Mayor's promotional company for the capital.
Gordon Innes, CEO of London & Partners, said: "This new fund highlights that London is increasingly the place to be for investors seeking high-growth tech opportunities. Funds based in London have access to the cream of the European technology scene, meaning they have the opportunity to invest in the great companies being created in booming clusters such as London's Tech City. In addition, the increasing availability of finance will help our innovative technology firms grow and scale up as they seek to become major global players."
Russ Shaw, Founder of Tech London Advocates, said: "There is no question that we are seeing more and more funding flowing into London's tech sector, making it easier for entrepreneurs to turn their great ideas into real businesses that can grow very quickly. This is because investors from across the world are increasingly seeing how attractive the investment opportunities are in the European tech sector, which keeps creating innovative companies with incredible potential."

 
Nenad Marovac, Founder and Managing Partner of DN Capital, said: "London remains firmly at the epicentre of European venture – it is a hub for financing and a source of dynamic startups. We focus on European venture – the UK, Germany and the Nordics – and a base in London is crucial, but there is no doubt that exciting entrepreneurs are global. Judging by the terrific start-ups in the European market at the moment, we are certain that we are meeting some of tomorrow's biggest success stories and our new fund means we are perfectly positioned to support them."
Malcolm Cowley, CEO at Performance Horizon Group, said: "Fundraising is always challenging but it is becoming increasingly apparent that there is more capital available in Europe than there has been for a while. The influx of capital as well as non-financial support we have received from DN Capital has been instrumental in helping us launch our product and grow our company into a global player in the performance marketing solutions space."
Notes to Editors
*1.4 bln figure = London-based investment funds that will invest in tech, announced over the last 6 months, as below:
$543m (Index Ventures)
$305m (Balderton Capital)
$200m (DN Capital)
$100m (Google Ventures)
$100m (Santander)
$84m (estimate, according to media reports) (Brightbridge Capital)
$41m (London Co-Investment Fund)
$30m (Seedcamp)
Contact
Norval Scott, Media & PR Manager – FDI
Tel: 0207 2345 789 / 07720 737 378
London & Partners Media & PR Team
Tel: +44 (0)20 7234 5710
Switch: +44 (0)20 7234 5800
Twitter: @London_PR