Forbes names London as most influential city in world
London has been named as the world's most influential city in a major new study.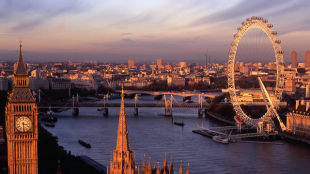 Forbes' "The World's Most Influential Cities 2014" ranks London top over competitors such as New York and Paris on criteria such as amount of foreign direct investment attracted, concentration of corporate headquarters and ease of travel to other global cities.
According to the study, London attracted more than double the amount of foreign direct investment deals than New York, which was ranked second.
Joel Kotkin, author of the study and contributor to Forbes, said: "London is not only the historic capital of the English language, which contributes to its status as a powerful media hub and major advertising center, but it's also the birthplace of the cultural, legal and business practices that define global capitalism... Beyond these traditional strengths, London has become Europe's top technology startup center, according to the Startup Genome project. The city has upward of 3,000 tech startups, as well as Google's largest office outside Silicon Valley.
"Compared to New York, it is also time-zone advantaged for doing business in Asia, and has the second best global air connections of any city after Dubai, with nonstop flights at least three times  week to 89% of global cities outside of its home region of Europe."
Gordon Innes, CEO of London & Partners, the Mayor's promotional company for the capital, said: "London has many outstanding attributes that are recognised worldwide, including a deep pool of talent, superb access to markets and financial backing, and a well-earned reputation for innovation and creativity. I am proud that Forbes has recognized these strengths in this study, and we will continue to showcase London to the outside world, not only helping as many companies as possible to come to our city, but also creating new jobs and economic growth that will benefit both London and the UK."
In May 2014, London claimed top spot in another influential study, PwC's "Cities of opportunity", which analysed the development of 30 global cities. The study found that London is "technologically on top of its game", earning top rankings for software and multimedia development and design, and also performing well in broadband quality and internet access in schools.
According to London & Partners, London has recently seen a major increase in the number of international companies making new investments in the capital.
London & Partners helped 260 international companies establish their businesses in London in the 2013/14 financial year, 16% more than the 224 companies it assisted in 2012/13, according to figures released earlier this year.
The year saw a significant increase in the number of companies arriving from the US and China, highlighting the appeal of being in London to firms seeking access to European markets and talent pools. In addition, the number of companies coming to London from Europe also increased, particularly in the tech and business services sectors, with many European firms viewing London as a launch pad for them to better reach global markets.
Details of the Forbes study are available at: http://www.forbes.com/sites/joelkotkin/2014/08/14/the-most-influential-cities-in-the-world/
The PwC report is available at http://www.pwc.co.uk/government-public-sector/issues/cities-of-opportunity-6-london-takes-the-top-spot.jhtml
Notes to Editors
Contact
Norval Scott, Media & PR Manager – FDI, London & Partners
Tel: +44 207 2345 789 / +44 7720 73 73 78