Olympic riders set to compete at Horse Guards Parade Ground
The Top 10 ranked riders in the world and three of Team GB's Olympic show jumping gold medal-lists will compete on a unique stage in the centre of London next month.

Horse Guards Parade Ground in St James's Park will be the iconic backdrop to what is set to be a crucial round of the 2014 Championship race and a flagship event for the Tour as it returns to the UK for the second time.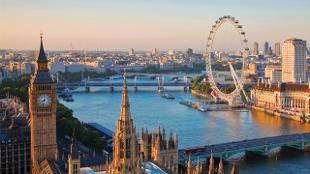 The historic site, which attracts millions of visitors and tourists every year to watch the Changing of the Queen's Guard, will see top-level international equestrian sport for the first time ever.

From 14-16 August, 28 of the top 30 show jumping riders in the world will come together to battle for the Longines Global Champions Tour of London Grand Prix presented by Qatar, in a rare coming together of the very best riders in the sport of show jumping.

Two years after Team GB's gold medal triumph at the London Olympics, World No1 Scott Brash, World No2 Ben Maher and legendary British riders Peter Charles and Michael Whitaker will be among the home riders competing.

The event will see thousands of fans and hundreds of VIPs, including Royals and celebrities, watching the sport only a stone's throw from the back garden of No10 Downing Street and a few hundred metres from Buckingham Palace.

Event organiser Peter Phillips of SEL-UK (Sports & Entertainment Ltd), said: "It is a huge privilege to bring the Longines Global Champions Tour to London again this year. After the success of the inaugural event in 2013 at the Queen Elizabeth Olympic Park, we wanted to build on that and it doesn't get much better than the iconic setting of Horse Guards Parade Ground to host the Dia-mond League of show jumping. We once again welcome back the best riders and horses in the world in what will be their final appearance before heading off to the World Equestrian Games in Normandy at the end of August."

The Tour is the premier circuit in show jumping taking place at spectacular international destinations including Monte Carlo, Shanghai, Doha, Cannes, Paris and Madrid. Hollywood actress Marion Cotillard, style icon Charlotte Casiraghi, rock legend Bruce Springsteen are all avid followers of the Tour, and riders including Michael Bloomberg's daughter Georgina, Bill Gates' daughter Jennifer, Athina Onassis de Miranda, Electra Niarchos and Katia Rybolovleva.

2013 Longines GCT Champion and World No1 Scott Brash (GBR) is heading up the stellar line-up off the back of two Grand Prix wins so far this season in Cannes and Cascais, Estoril, and a Bronze medal finish in Hamburg. Sitting in 6th place and well within striking distance on the overall ranking, Brash is in a great position to make a move on leader Edwina Tops-Alexander (AUS).

Ben Maher (GBR) will be fighting hard to defend his 2013 London Grand Prix winning title on home soil and but he will have, among other stars of the sport, his 2012 Olympic Gold-medal winning teammates to contend with. "There are many, many good riders. Everyone on the Tour is capable of winning the big Grand Prix in London. But at the moment Scott Brash is one of my biggest rivals and on home turf. I would say myself and Scott Brash will be doing our best to get a home win," said Maher.

Hot off the back of his first Aachen Grand Prix win a few weeks ago, Germany's Christian Ahlmann is hitting form just in time to become a serious contender in London. Last year's Bronze medallist
and 2013 Championship runner-up has not yet hit his stride on the Tour this season, but with six events left to go, Ahlmann could still make a big impact on the top ranked riders in the Champion-ship.
Some of the brightest stars of the show jumping world will be in London, all of whom are well in contention for the overall Championship victory - 2012 Olympic Champion Steve Guerdat (SUI), four-time Olympic Gold medallist Ludger Beerbaum (GER), Championship hot-favourite Marcus Ehning (GER), as well as former European Champions Rolf-Goran Bengtsson (SWE) and Kevin Staut (FRA), and reigning European Champion Roger-Yves Bost (FRA). Round 11 of the 2014 Championship will be a real battle of the titans.
Notes to Editors
The Longines Global Champions Tour brings together the Top 30 ranked riders in the world to compete in prestigious locations for unprecedented total season prize money of around €9 million (USD $12.5 million). Our 14 event Tour offers some of the most explosive and exciting competition of any equestrian series. The Longines Global Champions Tour are proud to host Olympic, World and Regional Champions as they battle fiercely for the title of overall season Champion 2014 and the lion's share of the bonus prize pot. Available to watch live online via GCT TV and on Eurosport or national networks, millions of people tune in or visit our events each year to enjoy the thrilling action from the world's premier show jumping series, featuring the biggest stars in the sport.
Contact
For further information please contact:

Jenny Mitton at Synergy Sponsorship
jennifer.mitton@synergy-sponsorship.com
020 3128 6844

Longines Global Champions Tour: Lisa Harris on +31 402 069 111 or +31 630 226662.
press@globalchampionstour.com