New $100m Google Ventures fund to provide boost to capital's tech scene
London's flourishing tech sector is to be boosted further by the launch of a new $100m venture capital fund to be based in the city.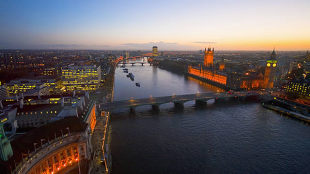 Google Ventures, the venture capital investment arm of Google, today said that it is to launch a new $100m fund, based in London, that will invest in European tech companies, helping firms across the continent to grow.
 
The new fund will also give a great chance to London tech firms to access new investment, encouraging job creation and economic growth both in the city and beyond, according to London & Partners, the Mayor's promotional organisation for London.
 
The Mayor of London, Boris Johnson, said: "As the tech and finance capital of Europe, London is the natural hub for developing the new economy across the continent and provides the perfect ecosystem for investment in new tech, digital and creative firms of all sizes. Google, alongside many other global investors, recognises the incredible skills and opportunities to be found here. Adding the European arm of Google Ventures to London's roster of digital expertise will help create more jobs, drive more investment and inspire even more tech masterminds to head to our great city."
 
Gordon Innes, CEO of London & Partners, said: "We very much welcome the launch of this fund, which is excellent news for Europe's tech companies and for London as a whole. Having the Google Ventures fund based in London further enhances our reputation as a city in which European tech companies can find the investment they need to grow their businesses from our growing portfolio of active venture capital firms. I also anticipate Google Ventures will invest in some exciting tech opportunities here in London, helping innovative companies to further develop and turn their tech ideas and fuelling economic growth in the capital."
 
Earlier this month, Santander UK also said it is to set up a $100m venture capital fund that will be based in London. It plans to invest in financial technology start-ups around the world.
 
Both announcements come shortly after the first-ever London Technology Week, which was showcased the city's technology strengths to the world and was attended by over 40,000 people.
 
Notes to Editors
Contact
For London & Partners, please contact Norval Scott, Media & PR Manager – FDI: nscott@londonandpartners.com, +44 207 234 5789, +44 7720 737 378