London offers increasing scholarships for Indian Students
London universities are offering millions of pounds in scholarships every year to students from India to come and study at some of the world's best higher education institutions, new research has shown.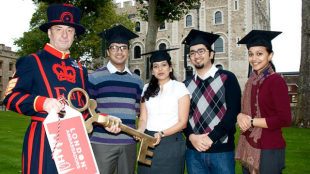 A survey of the 17 universities within the London University International Partnership (LUIP) has found that nearly 250 million INR (£2.5 million) has been awarded to students each year from India and over 700 million INR (£7million) over the last three years.
The scholarships provide a unique opportunity for students from India to come to London and experience a first class education within a diverse and cultural city, providing an excellent investment in their future.
Lord Swraj Paul, Chancellor of the University of Westminster and leading NRI (Non-Resident Indian industrialist), said: "London is one of the best cities in the world to study. London and India have great cultural and business ties and it is testament to the strength of the relationship that London universities offer so many scholarships to students from India. A London education can be a great investment in a young person's future and I believe it really enhances the chances of succeeding in your career."
In a separate survey of Indian students and alumni, also carried out by LUIP, the vast majority (85%) of those questioned said a London education had widened their horizons and given them the opportunity to explore a greater choice of careers.
Over 70 per cent said that studying in London was well worth the investment and nearly three quarters of students said the experience of living in a modern city with a rich history, free museums, and a multi-cultural society was a really significant benefit.
Jennifer Parsons, Chair LUIP India, said: "Studying in London is an investment and not just in terms of money.  As businesses become more and more international, a combination of high quality teaching and critical thinking skills helps set London students apart, making them very marketable in a global market. We really value our special relationship with India and are now investing in a number of long term partnerships and on the ground resources to enhance and develop the relationship for the future."
Student Vinay Menon, studying MSC in Development Economics at SOAS (School of Oriental and African Studies), said: "A London education is definitely an investment worth making and not just in terms of money. For me the whole experience of being a student in London has broken down cultural barriers.  Until you have studied abroad you don't understand how much more comfortable you are dealing with people from all over the world."
The British Council recently announced the biggest number of scholarships in India ever launched in a year by offering 370 scholarships worth almost £1 million across UK universities. London universities are also working closely on a number of educational projects in India.  A number have set up centres to assist prospective students from India through the admission process and to help them with preparations for coming to study in London.
Students are more welcome in London than ever before and the UK Government places no restriction on the number of overseas students that can study in the UK. Overseas students can work while studying and also undertake work placements. International students can remain in the UK to work after graduation if offered a qualifying job, or even if they have an innovative business idea that they want to work on.
Notes to Editors
Notes to Editors
The London Universities International Partnership (LUIP) is made up of 17 universities in partnership with the Mayor of London's International promotional agency, London & Partners. Set up to showcase London as a world-class study destination and the world's knowledge capital, since its effective launch at the House of Lords in March 2012, LUIP has already had a major impact with its social media campaigns and overseas showcase events, including a hugely successful employer and Alumni reception  and showcase with the Mayor of London in Delhi.
LUIP has also just completed its second London Study Ambassadors programme for India, China and the USA. The programme is designed to help the student ambassadors discover the unrivalled opportunities that studying in such a multicultural, vibrant and creative city like London can offer. They have been communicating their experiences to a wider audience in the USA and India, online through their own blogs, tweets and videos. http://www.studylondon.ac.uk
LUIP has been creating materials to help school counsellors in India support their students though the application process and have undertaken research with Indian employers to find out what skills and attributes they feel graduates from London bring back with them.
The number of scholarships being offered by London universities could be three times higher (over £7m per year) as only a third of universities in London took part in the study.
Members:
Brunel University
Goldsmiths University London
Institute of Education
Kingston University
London School of Hygiene and Tropical Medicine
London South Bank University
Queen Mary University London
Royal College of Art
Royal Veterinary College, University of London
Trinity Laban Conservatoire of Music and Dance
School of Oriental and African Studies, University of London
St George's, University of London
University of the Arts London
University of East London
University of Roehampton
University of Westminster
The Partnership aims to:
Showcase London as a world-class study destination and the world's knowledge capital;
Establish collaborations, in each key market, with  stakeholders, partners and businesses;
Raise the profile of London's universities and all their world -class activities and facilities 
Lobby regionally and nationally to raise issues that  affect international students;
Share resources and research.
For more information visit www.luip.co.uk
About London & Partners.
London & Partners is the official promotional organisation for London. Our company attracts and delivers value to business, students and visitors. London & Partners is a not-for-profit public private partnership, funded by the Mayor of London and a network of commercial partners.
Our remit is to drive leisure and business visitors as well as bidding to secure major events in London, to unlock the city for overseas businesses who want to set up or expand in London and to promote the capital's world class universities to international students.
For further information and interview requests please contact London & Partners PR Project Manager Phil Nettleton on +44 (0) 7920 759018 or 020 7234 5787 or email pnettleton@londonandpartners.com
Visit studylondon.ac.uk study guide.
Approximately 105,000 students from 222 countries come to study in London contributing £2.5 billion to the city's economy. London welcomes more international students than any other city in the world.
The Rt Hon Lord Paul of Marylebone
The Rt Hon Lord (Swraj) Paul of Marylebone, PC, Chairman of Caparo Group, is a leading businessman and member of the House of Lords, where he was Deputy Speaker December 2008 – November 2010.   He was appointed to the Privy Council in 2009. 
Lord Paul came to the UK in 1966 to seek medical aid for his seriously ill younger daughter Ambika.  Following her death in 1968 he decided to stay and work in the UK and founded Caparo, the UK based industrial company which specializes in the manufacture and supply of steel-based engineering products for industry.   Caparo now employs some 10,000 people worldwide principally in the UK, USA and India.
Lord Paul was appointed Chancellor of the University of Wolverhampton in 1999 and Chancellor of the University of Westminster in 2006.   
The Government of India awarded him the Padma Bhushan in 1983 and he was granted the Freedom of the City of London in 1998.
Contact