Prince Harry and the Mayor of London join youngsters for sneak preview of Queen Elizabeth Olympic Park
London's newest, biggest green space received the Royal seal of approval today as His Royal Highness Prince Harry and the Mayor of London Boris Johnson joined local youngsters for a sneak preview of Queen Elizabeth Olympic Park, ahead of its official opening on Saturday.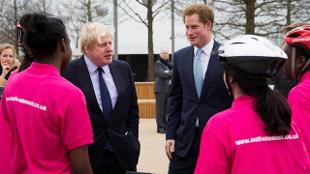 The 560 acre Park has been transformed with newly landscaped parklands, waterways and an action packed adventure playground, and will open to the public from 10am on Saturday 5th April.
Prince Harry and the Mayor enjoyed a tour of the newly landscaped south Park with designer James Corner who also created the High Line in New York. During the visit they also met local construction apprentices, 26-year-old Gintare Butkute and 21-year-old Leanne Doig, who worked hard to help transform the Park, and cyclists from local mobility scheme Bikeworks which is helping people with disabilities to make the most of the Park on specially designed mobility cycles.
Pupils from Carpenters, Gainsborough and Colgrave junior schools, which border the Park, were the first to put the playground - including swings, rope bridge and activity zones - through its paces and showed Prince Harry and the Mayor the new facilities.
New features in the park include a tree-lined promenade strung with a unique globe lighting system; mini gardens representing different climatic regions including South Africa, the Americas and the Mediterranean, interactive water fountains; and four themed walking trails.
The Mayor of London, Boris Johnson, said: "This incredible transformation has created a stunning park that Londoners can be truly proud of. It's a wonderful testament to our Olympic Legacy and it is clear the Park will have a long and thriving future as one of this city's greatest cultural assets."
Dennis Hone, Chief Executive London Legacy Development Corporation said: "We are delighted Prince Harry could come here today to see first-hand what we have done to transform Queen Elizabeth Olympic Park. We have created magnificent new parklands, waterways and world-class sporting facilities. It is truly exciting time and we hope people will come from near and far and enjoy this new part of London."
The size of Hyde Park and Kensington Gardens combined, the Park is the new heart of the east of London, and will continue to transform the local area. It will provide around 10,000 new homes, 20,000 new jobs and a cultural and education quarter using the London 2012 Games to attract investment and offer opportunities for local people. Already the transformation, led by the London Legacy Development Corporation, has included more than 60 apprentices.
To celebrate the Park opening, at 10am on Saturday, 250 local children will take part in a parade, followed by performances from acrobats, choirs and dancers and sporting and fitness 'try-out' sessions lasting all weekend.
Notes to Editors
About London & Partners
London & Partners is the official promotional organisation for London, attracting and delivering value to business, students and visitors. We work to maintain London's position as the best international visitor destination in the world by marketing to established and emerging markets. We work with the travel industry to promote London to individual leisure travellers and groups worldwide.
About Queen Elizabeth Olympic Park
London's newest visitor destination, Queen Elizabeth Olympic Park, will be a place unlike any other. The south of the Park will reopen from 5 April 2014. More than a million visitors have already enjoyed the Park since it started to open in July 2013.
Visitors to the Park will be able to enjoy beautiful parklands and waterways, world-famous sporting venues, arts and events and spectacular views from the ArcelorMittal Orbit. As a new heart for east London, the Park will also provide new homes, jobs and a cultural and education quarter.
The London Legacy Development Corporation promotes and delivers physical, social, economic and environmental regeneration in Queen Elizabeth Olympic Park and the surrounding area, in particular by maximising the legacy of the London 2012 Olympic and Paralympic Games.
For more information visit QueenElizabethOlympicPark.co.uk, follow us on Twitter @noordinarypark and like us on Facebook facebook.com/QueenElizabethOlympicPark
The ArcelorMittal Orbit originated in 2009 when London Mayor Boris Johnson launched a competition to design a sculpture for the Olympic Park.  Sir Anish Kapoor and Cecil Balmond's design of a continually looping red steel tower won the competition.  Its construction was made possible by Lakshmi Mittal who provided sponsorship and all of the 2000 tonnes of steel used. Further funding was provided by the Mayor of London's office and the London Development Agency.  
The viewing galleries are accessed by two high speed lifts.  After leisurely taking in the views, visitors are encouraged to walk down the 455 steps which spiral around the central column so they fully experience the constantly changing perspectives from every angle.  The ArcelorMittal Orbit has full wheelchair access.  For more information visit www.arcelormittalorbit.com 
Images can be downloaded here:
http://www.2012imagelibrary.co.uk/index.php?a=SavedSelections&i=742&signature=RcI9fei-RrkOmT_a_fltSEQqx1lYfjQEQqX1ULvWGfY
For more information on London attractions visit www.visitlondon.com
Contact
London & Partners contact details:
Rebekah Clement, Media & PR Manager – Leisure Tourism
Tel: +44 (0)20 7234 5861 / +44 (0) 7826 907 415
rclement@londonandpartners.com

London & Partners Media & PR Team
Tel: +44 (0)20 7234 5710
Switch: +44 (0)20 7234 5800
Twitter: @London_PR