Diving sensation Tom Daley calls for visitors to be part of the legacy of the 2012 Games as Queen Elizabeth Olympic Park opens
International diving star Tom Daley is calling for Londoners and visitors to the British capital to experience the 2012 legacy by enjoying the world-class facilities on offer at Queen Elizabeth Olympic Park.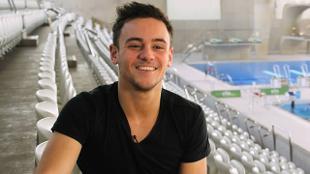 Speaking in a new video released by VisitLondon.com, as the Park fully opens for the first time since London's Olympic and Paralympic Games (5th April), Tom says: "This London Aquatics Centre has so many memories for me. To be able to train here full time is just amazing and I really do hope that lots of people are inspired to get involved in different sporting events and activities within the Park. The facilities we've got here are second to none. Even if people just want to come and have a swim and stay fit and active, that's hopefully what the Olympic legacy has left behind."
The London 2012 Bronze medalist, who now trains full-time at the Aquatics Centre, also highlights his favourite parts of Queen Elizabeth Olympic Park and talks about what makes London the best big city in the world to visit. Reminiscing on the 2012 Games, the diving star talks about the floods of memories that return every time he steps through the doors of the Aquatics Centre, and the inspiration this gives him during his training sessions.
Highlighting what there is to see and do in the Park, Tom adds: "There are so many places to come and explore around Queen Elizabeth Olympic Park. You can go and chill out on some of the green spaces, you can walk past the Olympic Stadium, the Velodrome, Copper Box and the Aquatics Centre. You can also go up to the top of the Orbit and enjoy panoramic views of the city."
Tom who can be seen training at the Aquatics Centre by visitors to the pool, moved to Stratford in London earlier this year. Since moving to the capital the keen foodie has enjoyed exploring the city's famous restaurants. He says: "I'm a massive fan of Beef Wellington and I had an amazing one at Bob Bob Ricard. And I've loved Inamo in Soho; that's a really cool place where they project the menu onto the table!"
VisitLondon.com, the official city guide, has spoken to a range of celebrities and proud Londoners about what fascinates and excites them about living in the capital and how they spend their free time. Whether it's Gordon Ramsay's reflections on the Royal Albert Bridge, Joanna Lumley's love of duck ponds or Boris Johnson cycling to Hackney, east London and then on to the Queen Elizabeth Olympic Park – The London Story – now featuring Tom Daley's personal reflections on the city, reveals a new and intimate side to the British capital.
Gordon Innes, Chief Executive of London & Partners, the promotional organisation for the city, added: "Tom is a fantastic example of the enduring legacy of the 2012 Olympic Games and with the reopening of Queen Elizabeth Olympic Park, people from across the country and around the world can now come to London and experience this legacy first-hand. We hope to see millions of people come to the Park to explore this inspirational new part of the city."
In 18 months, the London Legacy Development Corporation has led the transformation of the former Olympic Park into London's newest Park with beautiful parklands and waterways, world-class sporting venues, arts and events. More than a million visitors have already enjoyed the Park since it began to open in July 2013 with concerts and the Anniversary Games. The Copper Box Arena was the first former Olympic and Paralympic venue to open to the public and has already had more than 100,000 visitors. This success continued with the opening of the iconic London Aquatics Centre on 1 March, which has already had over 55,000 visitors, and Lee Valley VeloPark which opened its doors for public use for the first time this week (31 March). Lee Valley Hockey and Tennis Centre will open in June 2014.
Dennis Hone, Chief Executive, London Legacy Development Corporation, said:
"In the 18 months since the end of the Paralympics, we have created a magnificent new Park for London with beautiful parklands and waterways and world-class sporting facilities. We want people to come and enjoy this new destination, whether they are reliving the memories of the golden summer of 2012 or experiencing it for the first time."
Later this month Tom Daley will be in action for the first time in his new home pool. He will take to the Aquatics Centre boards in the men's 10m Platform at the FINA/NVC Diving World Series on Sunday 27 April and is likely to face strong competition from world and Olympic medallists. Fellow British team mates will be in action throughout the weekend (25-27 April). Tonia Couch and Sarah Barrow will be back in both the women's 10m Platform events, while Chris Mears and Jack Laugher make up the British team's new 3m Synchro pairing. Laugher will also compete in the 3m Individual on 26 April. World Series medallists Rebecca Gallantree and Alicia Blagg are lining up in the women's 3m Synchro on 25 April while the men's 10m Synchro sees a new pair of Matty Lee and Daniel Goodfellow stepping out on to the boards. Tickets are available at www.swimming.org/FinaDiving.
VisitLondon.com is also telling the stories of a number of other passionate Londoners, including Rebecca Holmes, a make-up artist at Madame Tussauds London, Beefeater Barney Chandler, Chris Gibbons, a tour guide at Wembley Stadium, Royal London Parks Manager Mark Wasilewski and Richard Clayforth, a senior manager at perfumer, Penhaligon's.
Watch and share their 'London Story' at VisitLondon.com/story.
Notes to Editors
The London Story videos are HD broadcast quality, access media worldwide, free of charge, rights cleared and music rights cleared.
HD and SD Broadcast quality TV footage, audio and high res images of Tom Daley, other celebrities and original Londoners can also be accessed  via: www.thenewsmarket.com/londonandpartners
        Host: ftp.thebrooklynbrothers.com
         Username: londonandpartners.bb
         Password: lon56734
         File location: Tom Daley Final/
A compilation film of the well-known Londoners' highlights (featuring Gordon Ramsey, Boris Johnson, Joanna Lumley and Twiggy) can also be accessed via the above links.
About London & Partners.
London & Partners is the official promotional organisation for London, attracting and delivering value to business, students and visitors. We work to maintain London's position as the best international visitor destination in the world by marketing to established and emerging markets. We work with the travel industry to promote London to individual leisure travellers and groups worldwide.
About Queen Elizabeth Olympic Park
London's newest visitor destination, Queen Elizabeth Olympic Park, will be a place unlike any other. The south of the Park will reopen from 5 April 2014. More than a million visitors have already enjoyed the Park since it started to open in July 2013.
Visitors to the Park will be able to enjoy beautiful parklands and waterways, world-famous sporting venues, arts and events and spectacular views from the ArcelorMittal Orbit. As a new heart for east London, the Park will also provide new homes, jobs and a cultural and education quarter.
The London Legacy Development Corporation promotes and delivers physical, social, economic and environmental regeneration in Queen Elizabeth Olympic Park and the surrounding area, in particular by maximising the legacy of the London 2012 Olympic and Paralympic Games.
For more information visit QueenElizabethOlympicPark.co.uk, follow us on Twitter @noordinarypark and like us on Facebook facebook.com/QueenElizabethOlympicPark
The ArcelorMittal Orbit originated in 2009 when London Mayor Boris Johnson launched a competition to design a sculpture for the Olympic Park.  Sir Anish Kapoor and Cecil Balmond's design of a continually looping red steel tower won the competition.  Its construction was made possible by Lakshmi Mittal who provided sponsorship and all of the 2000 tonnes of steel used. Further funding was provided by the Mayor of London's office and the London Development Agency. 
The viewing galleries are accessed by two high speed lifts.  After leisurely taking in the views, visitors are encouraged to walk down the 455 steps which spiral around the central column so they fully experience the constantly changing perspectives from every angle.  The ArcelorMittal Orbit has full wheelchair access.  For more information visit www.arcelormittalorbit.com
* Concessions on production of suitable ID:  Students – valid UK student card; 60+ – Freedom Pass/driving licence/passport; local residents – photo ID plus utility bill/bank statement confirming residency in Barking and Dagenham, Greenwich, Hackney, Newham, Tower Hamlets or Waltham Forest.

Find out more at QueenElizabethOlympicPark.co.uk, @noordinarypark or facebook.com/QueenElizabethOlympicPark. For more information and to book tickets visit www.arcelormittalorbit.com.
Images can be downloaded here:
http://www.2012imagelibrary.co.uk/index.php?a=SavedSelections&i=742&signature=RcI9fei-RrkOmT_a_fltSEQqx1lYfjQEQqX1ULvWGfY
For more information on London attractions visit www.visitlondon.com
Contact
Ellie Wilson, Media & PR Manager – Major Events & Business Tourism
Tel:   +44 (0)20 7234 5709
Mob: +44 (0) 7595 654 085
London & Partners Media & PR Team
Tel: +44 (0)20 7234 5710
Switch: +44 (0)20 7234 5800
Twitter: @London_PR