Big wheel keep on turning!
To celebrate the Tour de France coming to London on 7 July 2014, Londoner Joff Summerfield (46) is undertaking a unique and gruelling challenge as he prepares to ride the Spring Classics road bike races on his very own Penny-farthing!
Summerfield rose to prominence in 2006 when he became the second person in history to circumnavigate the globe on a Penny-farthing, following fellow Brit Thomas Stevens who set off on his own incredible journey in 1884. The London-based athlete spent two and a half years travelling through 23 countries on four different continents riding a Penny-farthing that he built himself – but even that does not prepare him for the bone-shaking cobbles, steep hills and daring sprints that lie ahead.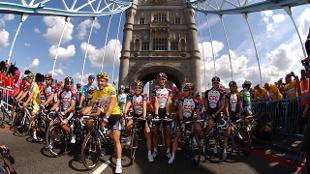 For his latest challenge, Summerfield and his high wheel bicycle will attempt to ride the punishing short stage Sportives at some of the most famous one-day cycling road races in the world including the Tour of Flanders, Paris-Roubaix and Leige-Bastogne-Leige – all in celebration of the Tour de France Stage 3, which will see the world's cycling elite take to the iconic streets of London this July.  
Joff Summerfield says, "The famous cobbled roads and the steep hill climbs of these European Spring Classics are going to test me and my Penny-farthing to the limit.  I am really looking forward to taking on these very challenging routes and meeting some of the pro riders along the way.  The Tour de France coming to London is going to be an incredible celebration of cycling. I'm proud to be doing my bit to inspire and invite people to come to the capital this summer to see the world's cycling elite take to the city's iconic streets, and perhaps go even further and take on the same route as the pros with RideLondon."
Cycling fans are invited to enter a competition to win a trip to London to watch Stage 3 of the Tour de France by tweeting a picture of Joff on his Penny-farthing, themselves with our Tour de France picture board or on their own bicycle to @visitlondon using #letourinlondon or via www.visitlondon.com/letourinlondon.
Boris Johnson, Mayor of London, says, "Joff is a supreme athlete and we are delighted that he has taken on this exceptional challenge in celebration of London's hosting of the Tour de France this summer. The Penny-farthing is the perfect metaphor for the Anglo/French rivalry we will witness in the Tour De France - even now no one can decide which nation invented the bike!'
'It's absolutely fantastic to welcome back Tour de France to London.  The capital is fast becoming a beacon of cycling following the extraordinary triumphs of the 2012 Olympics and of course the inaugural RideLondon last year.  What could be better than watching top class pro cyclists as they compete in the world's most famous road race, with our incredible London landmarks providing the breath-taking backdrop?"
The Mayor remains committed to ensuring London retains its status as the world capital of sport, but recognises the need for a balanced approach to ensure everyone can benefit from major events whilst keeping London moving. That is why he has set up a Major Events Oversight Board to assess and monitor the impact of major sporting events in the capital. This will ensure that any major events that we decide to host in our city will not only have a clear and demonstrable benefit to London, but also that any resulting disruption will be kept to an absolute minimum.
The Tour de France Grand Départ 2014 sets off from Yorkshire on Saturday 5 July and Sunday 6 July, with the peloton of 200 pro riders speeding into London via Cambridge and Essex for the finish of Stage 3 on Monday 7 July.  A million cycling fans are expected to line the route which takes in world-famous sites including Queen Elizabeth Olympic Park, the Tower of London, Big Ben, the Houses of Parliament and Westminster Abbey. The final stretch will travel through St James's Park before a spectacular finish on The Mall in front of Buckingham Palace.
Spectators will be able to watch the elite cycling action along the route and also at three official Tour de France fan parks sites at Green Park, Trafalgar Square and Queen Elizabeth Olympic Park. The fan park sites will feature a wide range of different activities such as live Tour de France racing on the big screen, a French-style food market, a Tour de France Museum, interactive cycling activities, an outdoor cinema, live music, celebrity appearances and shops showcasing all of the latest bike equipment and accessories. Team London volunteers will also be on hand across all the fan park sites to help spectators with local travel information and directions.

As he rides across Europe, Joff will also be challenging cycling fans to ride past the same famous landmarks as the pro's by entering Prudential RideLondon-Surrey 100, which takes place on Sunday 10 August 2014.  The ride starts in Queen Elizabeth Olympic Park, then follows a 100-mile route on closed roads through the capital and into Surrey's stunning countryside. With leg-testing climbs and a route made famous by the world's best cyclists at the London 2012 Olympics, it's a truly spectacular event for all involved.  Prudential RideLondon-Surrey 100 finishes on The Mall in central London, shortly before 150 professional cyclists race in the Prudential RideLondon-Surrey Classic on a similar route.
On completion of his Spring Classics challenge, Summerfield plans to travel the world again in May this year – on his Penny-farthing of course.
The Tour de France comes to London on Monday 7 July 2014 (Stage 3) – for advice on where to stay and where to watch please go to www.visitlondon.com/letourinlondon
Notes to Editors
Joff Summerfield is available for interview

*trip includes VIP access to the Tour de France Stage 3 finish, return travel for two, 4* accommodation for two nights at a Radisson Blu Edwardian hotel and a trip for two on the EDF Energy London Eye
About Tour de France Stage 3

Tour de France – Stage 3: Cambridge – Essex - London
On Monday 7 July, the cyclists of the 101st Tour de France will line up in the historic city of Cambridge ready to take on the fast flat dash to London via Essex. They will cover roads and lanes which are normally the domain of commuters and day trippers as they travel nearly 100 miles through the south of the country. The peloton will begin their ride by parading through Cambridge, taking in the world famous colleges of St Johns and Trinity, before they officially start the stage as they leave the city. Travelling through Cambridgeshire they will pass through a number of small villages including Great Shelford, which is not only mentioned in the Doomsday Book, but is also home to some of Barack Obama's ancestors from over 400 years ago. The Tour will then leave Cambridgeshire travelling on to Saffron Walden and through Essex towards London. The Tour enters London from the north east, via Epping Forest, before passing through the Queen Elizabeth Olympic Park and heading into central London. Racing alongside the world famous River Thames, the peloton will pass a host of iconic London locations including the Tower of London, Big Ben, the Houses of Parliament and Westminster Abbey. As with the prologue of the Tour de France in 2007 and the 2012 Olympic cycle road races, the final stretch will travel through St James's Park before a spectacular finish on The Mall in front of Buckingham Palace. The UK is the number one destination for world-class sport and we are honoured to welcome Stage 3 to the streets of Cambridge, Essex and London.  
The Mayor is committed to ensuring London retains its status as the world capital of sport, and has recently set up the Major Events Oversight Board to advise the Mayor on major events in the capital. The board will be chaired by Sir Edward Lister, and will comprise of TfL, the emergency services and other key partner agencies to provide strategic direction and advice to the Mayor in the approach to bidding, staging and evaluating major events in London. The board will ensure that all major road events continue to be carefully considered and tightly managed to ensure that we get the full benefit from the event without undue impact on Londoners and London's transport. Further, this Board will look at ways to ensure that there is effective communication of the major events programme with Londoners, visitors, businesses and stakeholders alike, to allow sufficient notice and forward planning for everyone.

TfL is undertaking an extensive programme of public engagement and communication regarding the arrival of the Tour de France.  This is designed to ensure people living and working in London can understand the potential impacts of the Tour and plan ahead to avoid unnecessary inconvenience.  The engagement activities include leaflet drops to residents and businesses along the route, work with the local boroughs, local business engagement events and public information sessions.

Tube and rail will be the best way to get around the affected areas of London on the day, although stations along and around the route, particularly the finish at the Mall, will be extremely busy.

The detailed route is now available on the TfL website at tfl.gov.uk/tourdefrance. In early summer the website will be updated to include a full list of road closures and timings. To avoid delays drivers are advised to, wherever possible, avoid areas near the event routes in the affected parts of Cambridgeshire, Essex and London. For up to date information on how transport services are operating, check before you travel at

tfl.gov.uk

and follow @TfLTravelAlerts (Tube, DLR and London Overground), @TfLTrafficNews (roads) and @TfLBusAlerts (bus).

The Tour de France will kick off a spectacular summer of cycling in London, with the exciting event followed by Prudential RideLondon on the 9th and 10th August and then the Tour of Britain, which traditionally finishes in the capital, taking place between 7th – 14th September.

This summer's cycling windfall is likely to inspire thousands more Londoners to take to two wheels, building on the Mayor's ambition for cycling to be an integral part of the transport network. As part of his cycling vision, the Mayor is already engaging in a vast £1billion programme of improvements  - creating a series of enhanced cycling superhighways, urban 'quietways' for more cautious cyclists, and turning some outer boroughs into mini-Hollands.

The Tour de France is the world's largest annual sporting event and covers approximately 3,500kms. A worldwide television audience of 3.5billion people watch the event annually. 190 countries around the world broadcast the Tour de France and there are 5,000 hours of TV coverage annually. The last time the Tour visited England was in 2007 when London hosted the Grand Départ, which is the opening of the race.

For more information on the Mayor's Vision for Cycling visit http://www.tfl.gov.uk/corporate/about-tfl/how-we-work/planning-for-the-future/vision-for-cycling

About Prudential RideLondon
Prudential RideLondon on 9/10 August 2014 is a world-class annual two-day cycling festival developed last year by the Mayor of London and his agencies in partnership with Surrey County Council. It combines the fun of a free family ride in central London with the excitement of watching the world's best professional cyclists race the following day. Taking a cue from the London Marathon, 24,000 amateur cyclists will ride a 100-mile challenge on the same closed roads as the professionals, many raising millions for good causes. The best action will be broadcast live on TV both on BBC TV in the UK and internationally.To apply for a place in the 2014 race visit www.sportstoursinternational.co.uk
About visitlondon.com
visitlondon.com is a comprehensive guide to everything that's happening in and around London. Search hotels, attractions, travel and events and plan your perfect trip. Browse through Discover London for inspiration when planning your trip to London, whether you're a first-time visitors or old friends with the city. Things to Do is the best place to plan your leisure time in London, with thousands of listings and new events added daily. Where To Stay helps you find accommodation in London to suit any taste or budget. Traveller Information has all you need to get here and then get around. Our Special Offers give you great deals on loads of London attractions, activities, food & drink and accommodation.
Contact
Ellie Wilson - Media & PR Manager - Major Events & Business Tourism
0207 234 5709 / 07595 654 085
ewilson@londonandpartners.com