London has more top universities in the world than any other city
London has more of the world's most prestigious universities - including some of the best medical and business schools - than any other city in the world, according to a respected global ranking of higher education institutions.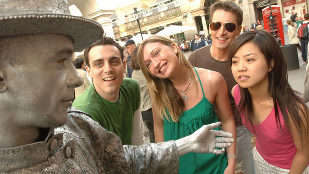 The capital boasts six universities in the top 100 of The Times Higher Education World Reputation Rankings 2014, which, according to research, are used as one of the most important considerations for students choosing where to study, above fees and even course content.
London centres of academic excellence in the rankings include four centres of expertise carrying out groundbreaking work in the fields of medicine and science and two top class business schools.
Kit Malthouse, Deputy Mayor for Business and Enterprise and Chairman of London & Partners, the Mayor of London's promotional organisation, said: "It  is heartening to once again see so many of London's universities ranked in the top 100 institutions worldwide. 
"London continues to give young people a student experience like no other city on earth, both in terms of lifestyle and stimulation, and in the quality of the academic offer.  I am particularly proud of London's strong science base – it is truly a world hub for all the sciences, for students, researchers and investors alike."
Phil Baty, Editor of Times Higher Education Rankings, said: "These results are fantastic news for London. Today's rankings confirm London's status as the undisputed centre of the world when it comes to global higher education and research. London has six of the world's 100 most prestigious universities, and no other city comes even close to that.
"Cambridge in Massachusetts, home to Harvard and MIT, does well, but it is simply no match for London in terms of the sheer number and diversity of top-class institutions, which range from giants like UCL and King's to highly specialist centres of excellence like LBS and the London School of Hygiene & Tropical Medicine. London is a great melting pot of top talent across the disciplines.
"This ranking is based on nothing more than subjective opinion, but it is the expert opinion of experienced scholars from all over the world – those who know most about excellence in teaching and research. And reputation is everything in higher education – drawing in top student and academic talent, inward investment and philanthropy."
Imperial College London and the London School of Economics and Political Science move up one place to 13th and 24th respectively, while University College London is 25th. However, King's College London, which boasts Professor Peter Higgs and the Most Reverend Desmond Tutu among its alumni, is Europe's biggest riser up from around 70 to 43.
The city can now also claim two new specialist entrants in the London Business School and London School of Hygiene & Tropical Medicine (LSHTM) which are ranked between 91-100.
The Times Higher Education also publishes the World University Rankings which have cemented London's place as one of the best cities in the world for higher education. The capital boasts four top 40 universities, which is more than any other city in the world. London also has six in the top 200, which is more than the whole of Japan, China, Sweden and South Korea. Overall the UK has 31 universities in the top 200 – second only to the USA.
In Life Sciences the UK capital has three universities in the top 40 and three in the top 20 for Clinical and Medicine – again a greater number than anywhere else.
The London School of Hygiene & Tropical Medicine is widely recognised as a world-leading research centre and school of public and global health. In 2013, it was named the world's leading research-focused graduate school by Thomson Reuters and Times Higher Education. 
Professor Peter Piot, the School's Director said: "As the world continues to face complex health and development challenges, our work is in the spotlight as never before, with increased focus from governments, funders and the media. Reputation can be an elusive quality, but the School is known as one of the very best centres for research and postgraduate education in public and global health, and it is good to see this reflected in these tables."
Professor Sir Rick Trainor, Principal, King's College London, said:  'Our international strategy is not just about student recruitment but a broad range of activities with emphasis on mutuality and reciprocity. We aim to build long-term mutually beneficial relationships of educational exchange and collaboration.
'Our London-based Global Institutes – for Brazil, India, Russia, China and International Development  – are deepening understanding of fast changing parts of the world and building connections. For example we bring King's to India through Summer and Winter School programmes held each year in Mumbai and Delhi.'
After the United States, the UK has the most top 100 representatives - 10 up from nine last year – while Germany has six and Japan and Australia both have five.
The other UK universities in the top 100 include University of Cambridge (4), University of Oxford (5), University of Edinburgh (46) and University of Manchester ranked (51-60).
Notes to Editors
For more information on studying in London visit www.studylondon.ac.uk or www.London.cn
To see the full UK and global results of the Times Higher Education Reputation Rankings visit www.thewur.com
For more information please contact Phil Nettleton PR Project Manager London & Partners on 0207 234 5787 or 07920 759 018 or pnettleton@londonandpartners.com
The Times Higher Education World Reputation Rankings.
Methodology key facts
The World Reputation Rankings are based on the results of the Academic Reputation Survey carried out by Ipsos MediaCT for Thomson Reuters, data supplier to the Times Higher Education rankings. The 2014 World Reputation Rankings are based on 10,536 responses from 133 countries to the survey distributed in March-May 2013.
The survey is available in 10 languages and is distributed based on United Nations data to ensure that it accurately reflects the global distribution of scholars. Times Higher Education does not allow volunteers to take part in the survey and accepts no nominations from institutions or any third party.
The poll asks academics to nominate no more than 15 of the best institutions in their narrow field of expertise, based on their experience and knowledge, making it a rigorous global measure of academic prestige.
For the 2014 table, some 30 per cent of responses were from the Americas, 34 per cent from Europe, 26 per cent from Asia Pacific and 9 per cent from the Middle East, North Africa and Central Asia (figures rounded).
Twenty-two per cent of respondents hail from engineering and technology, 22 per cent from the social sciences, 18 per cent from the physical sciences, 16 per cent from clinical subjects, 13 per cent from the life sciences and 9 per cent from the arts and humanities.
The full methodology of the survey, and a copy of the survey instrument, are available at: http://ip-science.thomsonreuters.com/globalprofilesproject/gpp-reputational/methodology/
For more information, please contact: Fran Langdon or Matt de Leon on +44(0) 20 7079 9222 / timeshighereducation@vancomms.com
Contact