London and Paris celebrate an increase in international visitor figures
The official tourist organisations for Paris and London are celebrating record numbers of international holidaymakers visiting their capitals. In a joint statement today, the tourist boards praise the work being carried out in each city to attract a growing number of visitors.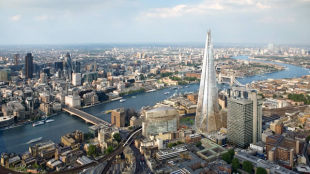 Last week, the latest set of official tourism figures from the Office for National Statistics in the UK showed a record increase in international visitors in London from January to September 2013. At the same time, international visitors to Paris also increased (source: Paris Tourism Research Department).
In a press release last week, London & Partners released only UK specific data and did not draw any comparison with any other capital city or destination.
Gordon Innes, Chief Executive of London & Partners, the mayor's promotional organisation for London, says: "London and Paris are clearly experiencing a surge in visitor numbers from abroad which is positive news for both capitals and their economies. Many long-haul visitors travel to both London and Paris during their holiday and we intend to continue working tirelessly to promote our cities."
Nicolas Lefebvre, Managing Director of the Paris Convention and Visitors Bureau, declares: "Both London and Paris, two great tourism capitals, benefited from a growth in international arrivals in 2013. In the face of global competition, it is an enormous advantage to have two such exciting cities to visit and discover within only 2 hours by train or a short-haul flight from one another."
The Paris Convention and Visitors Bureau and London & Partners are due to meet in early 2014 to share best practice ensuring an increasing number of tourists continue to visit both thriving cities.
Notes to Editors
About London & Partners.
London & Partners is the official promotional organisation for London, attracting and delivering value to business, students and visitors. We work to maintain London's position as the best international visitor destination in the world by marketing to established and emerging markets. We work with the travel industry to promote London to individual leisure travellers and groups worldwide. For more information on London attractions visit www.visitlondon.com
About The Paris Convention and Visitors Bureau 
The Paris Convention and Visitors Bureau is a non-profit making association. Its missions are to welcome and provide visitors with information; to promote the capital's attractions, in France and abroad; and to provide assistance to Paris tourism professionals. The Bureau, which federates some 2,200 professional members, is a platform for networking, dialogue and for creating partnerships for tourism sector professionals. For more information on Paris attractions visit www.parisinfo.com
Contact
London Tourist Board                                                        Paris Convention and Visitors Bureau
Jill Duffell, PR Manager – Leisure Tourism                             Marie-Christine Rabot - Institutional Communications Manager
Tel: +44 (0)20 7234 5893 / 07815 111 958                          Tel: +33 (0) 1 49 52 53 68