Trafalgar Square is transformed into Triathlon Square
London's iconic Trafalgar Square has been transformed into "Triathlon Square" to celebrate the PruHealth World Triathlon Grand Final which takes place in Hyde Park until Sunday 15 September. The event – the first World Championships to be held in London since last year's Olympic and Paralympic Games – will see Olympic Champion Alistair Brownlee return to the scene of his 2012 victory.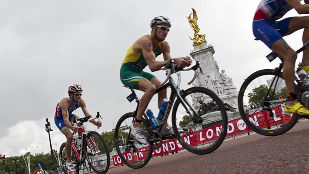 The Mayor of London has also opened up Triathlon Square to members of the public to experience the event and the sport first hand as part of his 2012 legacy programme. Visitors can take part in a whole host of activities each day from watching the action on the big screen to hitting the water in the endless pool, hopping onto static bikes and running on treadmills in the Triathlon England 'live site'.
The Mayor of London, Boris Johnson, said: 'One of the many golden moments of last year's summer of sport was the spectacular triathlon threading its way through many of London's most iconic sights. It is a huge honour to welcome the cream of the world's triathletes back to our city. This is one of a series of elite fixtures that is sealing London's status as world-class sporting venue. We've made Trafalgar Square available to host a celebration of this thrilling sport and I wish all the competitors the best of luck in the exciting days of competition ahead.'
There will be a specially designed kids triathlon for 8 to 14-year-olds in the Square as well as virtual races where anyone can get involved and compete for cash prizes.
Triathlon Square hosted last night's Opening Ceremony with stunning performances from Stomp and soprano singer Laura Wright, giving athletes and members of the public something to savour before competitive triathlon racing begins in Hyde Park.
Ian Braid, Director for Major and National Events at British Triathlon said: "London 2012 produced so many stunning moments for Britain to enjoy, and amongst the most enduring memories were those that unfolded in Hyde Park during the triathlon events.
"Once more, the sporting action in Hyde Park is free to enjoy, so fans can once again see Olympic Champion Alistair Brownlee and his GB teammates aiming for world titles. This year we have transformed Trafalgar Square into Triathlon Square to help generate a carnival atmosphere around the PruHealth World Triathlon Grand Final London. 
"London 2012 left us with a great sporting legacy, and we hope to get as many families, children and fans involved in the sport. We take great pride in putting on a show in London, and we hope to make this Grand Final event - which will see the finest elite, age-group and paratriathletes from across the world come together - the biggest in history." 
Follow British Triathlon on Twitter @BritTri and join the conversation #LiveTRI. Like the Facebook page and get all event updates at www.facebook/BritishTriathlon
Notes to Editors
About UK Sport
UK Sport is the nation's high performance sports agency responsible for the strategic investment of a record £355million of National Lottery and Exchequer funding in 44 Olympic and Paralympic sports preparing for Rio 2016
UK Sport's Gold Event Series will invest £27million of National Lottery funding to support the bidding and staging costs of major events on home soil, as well as providing specialist support to organisers.Events are supported for their likely performance impact on GB athletes, but also to maximise the wider sporting, social, cultural, economic and environmental benefits.
The Gold Event Series will aim to bring over 70 of the world's most prestigious sporting events to the UK, including 36 World and European Championships. This ambitious programme will support British athletes' preparation and qualification for Rio 2016, while generating approximately £287 million of additional expenditure in host cities and regions and bringing over 250,000 overseas visitors to the UK. Events already secured include the 2017 World Athletics and IPC Athletics Championships to be staged in the London Olympic Stadium and the 2015 World Artistic Gymnastics Championships at theHydro Arena in Glasgow. www.uksport.gov.uk/events
Major Events team at London & Partners 

The major events team at London & Partners provides advice and support at every stage of the process – from bidding, to event delivery, to evaluation – with a specially dedicated team to help rights holders from around the globe 'unlock', secure or choose London as their venue for their event.  The London & Partners Major Events team is also developing a programme of major events for the city which build on the legacy of the Olympic & Paralympic Games, including Prudential RideLondon.
For more information visit http://www.londonandpartners.com/majorevents
About British Triathlon
British Triathlon is the Governing Body for the sport in Great Britain. It is responsible for raising the profile and delivering elite performance for Triathlon, Paratriathlon, Duathlon and Aquathlon in Great Britain. Triathlon is a fast growing, dynamic and modern Olympic sport with talented world class athletes, coaches and support staff, focused around delivering world-class events and medal winning performances. 
Great Britain is home to the 2012 Olympic Champion (Alistair Brownlee) and bronzemedallist (Jonathan Brownlee) as well as numerous current world champions www.britishtriathlonmedia.org/current-world-champions amongst a strong squad of world ranked elite triathletes, and emerging talent from our youth development programmes. British Triathlon enables paratriathletes to deliver world-class success, raising the profile of paratriathlon in the build up to the Rio 2016 Paralympic Games.
There are over 850 triathlon events conducted in Great Britain eachyear including the British Triathlon Super Series, which attracts athletes from all over the world. British Triathlon is committed to being a leader in environmental awareness in sport, protecting the environment in which we operate today and in the future.
British Triathlon aims to promote excellence in our sport, and create opportunities for everyone to achieve their persona triathlon challenges. Tata Steel is the Corporate Partner of British Triathlon and is proud to be enabling the sport of triathlon. www.britishtriathlon.org
British Triathlon is a beneficiary of the UK Sport Lottery funded World Class Programmes (WCP). The programmes focus on performance sport with the aim ofachieving sporting excellence on the world stage. Further information can be found on the UK Sport website at www.uksport.gov.uk. 
Visit www.britishtriathlonmedia.org for downloadable image galleries, detailed athlete profiles, results, stats and information.
About PruHealth
PruHealth is a leading private medical insurance and Vitality wellness programme provider which launched in the UK in 2004 in response to a growing need for consumer-directed private medical insurance products. It is a joint venture between UK insurer, Prudential and Discovery, a listed company operating in the health, wellness, life, investment and financial services markets in South Africa, UK, USA and China.
The Vitality programme helps people understand how they can improve their own personal health, makes it cheaper and easier for them to get healthy and gives rewards to keep them motivated, through a range of tools and discounts.
PruHealth has received many industry awards, including the Best Individual PMI Provider and Best OnlineIntermediary Service (Health Insurance Awards 2012), Best Group PMI Provider (Cover Excellence Awards 2012), Most Innovative New Product (Health Insurance Awards 2011), Best Use of Marketing to Intermediaries (Health Insurance Awards 2011), Most Trusted PMI Provider (Moneywise Awards 2010), Best Individual PMI Provider (Health Insurance Awards 2010 and Cover Excellence Awards 2010) and Best PMI Provider (Moneyfacts Awards 2009).
Siobhan Griffiths, Head of PR, Tel: +44 207 133 8726, siobhan.griffiths@pruhealth.co.uk
About Upsolut Sports UK
Upsolut is one of the world's leading sports marketing and event management agencies and part of the Lagardère Unlimited group (IEC in Sports, SPORTFIVE and World Sport Group). Upsolut specialises in the promotion, marketing, organisation and delivery of televised mass participation endurance sports (triathlon, cycling and swimming) for elite and age-group participants. Upsolut supports the ITU World Triathlon Series and shares its knowledge to ensure high standards and quality. In addition to providing the ITU World Triathlon Series with marketing expertise, Upsolut produces live TV coverage and international TV distribution through the worldwide sales network of Lagardère Unlimited.
For more information visit: www.upsolut.de
About the International Triathlon Union (ITU):
The International Triathlon Union is the world governing body for the Olympic sport of Triathlon and all related MultiSport disciplines including Duathlon, Aquathlon, Cross Triathlon and Winter Triathlon.  ITU was founded in 1989 at the first ITU Congress in Avignon, France. It has maintained its headquarters in Vancouver, Canada since then and also has offices in Lausanne, Switzerland and Madrid, Spain. It now has over 167 affiliated National Federations on five continents and is the youngest International Federation in the Olympic Games.  Triathlon was awarded Olympic Games status in 1994 and made its Olympic debut in Sydney 2000.
Triathlon is also featured in the Asian Games, Pan American Games and Commonwealth Games. Paratriathlon was accepted into the Paralympic Games in 2010 and will make its Paralympic debut in Rio 2016.  ITU is proudly committed to supporting the development of the sport worldwide through strong relationships with continental and national federations, working with its partners to offer a balanced sport development programme from grassroots to a high-performance level. 
For more information, visit: www.triathlon.org
Contact