Virgin Atlantic, VisitBritain and London & Partners join forces to link Australia to Britain
Virgin Atlantic, VisitBritain and London & Partners announced today a new partnership between the three organisations to entice more Australians to visit Britain. Following strong numbers from Australia over the last five years with high spend levels (up 52%); the partners have now combined to continue to drive more tourism to London and beyond.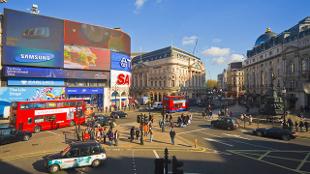 The partnership launches with a co-branded marketing campaign 'Flying in the face of ordinary to Britain' on 02 September 2013, offering a special fare to London with a bonus trip to Manchester, Edinburgh or Aberdeen. Fares start from $1799 per person, including taxes.

Virgin Atlantic General Manager Australia and New Zealand, Luke Fisher commented: "Last year was a record year for Virgin Atlantic on the Kangaroo route. Our passenger numbers travelling through to the UK increased by more than 20,000 people and we saw a marked improvement in our market share to London. We have developed a strong partnership with Visit Britain in this time and we are excited to be working with Visit Britain again this year and to also welcome London & Partners on-board for this year's campaign as well. I look forward to the possibilities the partnership can offer."
Virgin Atlantic celebrated a landmark year in 2012 with the Australian dollar at an all-time high against the British pound. With significant opportunities in the Australian market to grow holiday tourism to Britain; Virgin Atlantic and VisitBritain stood strong in market with the co-branded 'Britain is GREAT campaign. 
VisitBritain's Marketing Director, Joss Croft, commented: "We've seen spend levels grow 52% from the Australian market over the last five years so it's hugely important to extend our partnership with Virgin Atlantic, our key  airline partner linking the UK to Australia."
"London is one of the most inspirational and diverse capitals in the world and the gateway to Britain. Visit Britain and London & Partners are the perfect partners to help Virgin Atlantic capitalise on the increased global awareness and attention this exciting destination has received following the success of the London Olympics and the Diamond Jubilee celebrations."

In the last five years the price tag on a London trip from Australia has become more affordable,  allowing more travellers to venture further afield to destinations within Great Britain. We've seen more than 3 million Australian visits to London over the past five years, spending around £2.2 billion in the capital.
London & Partners Director Consumer Marketing and Digital Channels, Julie Chappell commented: "The kangaroo route has brought many millions of Australian residents to London since the 1930s and last year Australia was London's 4th biggest market for tourism expenditure, generating £470 million and the 7th biggest visitor market with 600,000 visitors coming to London from Australia. This new partnership with Virgin Atlantic and Visit Britain will further build on our strong ties with Australia by attracting more visitors keen to experience London's rich cultural offering, world class events and shopping." 
The bespoke multi-platform, integrated marketing campaign has been designed by Virgin Atlantic's creative agency RKYR London and GPYR Sydney, with media planning and buying by OMD Sydney.
The campaign will feature;
•             Online primarily with Yahoo! 7, BBC.com and Ninemsn Gourmet Traveller
•             Weekend travel sections of all major metropolitan newspapers
•             Radio live reads
•             Social media presence on Facebook
•             Travel trade media
Through this collaboration, the 'Flying in the face of ordinary to Britain' campaign communicates each organisations' commitment of inspiring Australian travellers to visit London and Britain not just in 2013 but beyond into 2014.
Notes to Editors
Notes to Editor 
Creative available upon request
Interviews with Margy Vary, Virgin Atlantic Marketing Manager, Julie Chappell, London & Partners Director Consumer Marketing and Digital Channels available on request
About Virgin Atlantic
Virgin Atlantic was founded by Sir Richard Branson in 1984. The airline flies over 5.5m passengers every year to 35 destinations worldwide, including locations across North America, the Caribbean, Africa, south and east Asia, and Australia.  Some of its most recent additions to its flying network include Cancun, Vancouver and Mumbai. 
Virgin Atlantic has enjoyed huge popularity, winning top business, consumer and trade awards from around the world and was recently awarded Best Long Haul Airline and Best Airline Lounge at The Daily Telegraph Ultratravel awards. The airline has pioneered a range of innovations setting new standards of service, which its competitors have subsequently sought to follow. Despite Virgin Atlantic's growth the service still remains customer driven with an emphasis on value for money, quality, fun and innovation.
Virgin Atlantic currently has a fleet of aircraft which includes 747-400s, A340-300s, A340-600, A330-300s and A320s. The airline is expecting delivery of 16 Boeing 787 Dreamliners from 2014. 
About London & Partners
London & Partners is the official promotional organisation for London attracting and delivering value to businesses, students and visitors. London & Partners is a not-for-profit public private partnership, funded by the Mayor of London and our network of commercial partners.  Our remit is to drive leisure and business visitors as well as bidding to secure major events in London, we can unlock the city for overseas businesses who want to set up or expand in London and we promote the capital's world class universities to international students.
About VisitBritain
VisitBritain is the national tourism agency, responsible for marketing Britain worldwide and developing Britain's visitor economy.
A non-departmental public body, funded by the Department for Culture, Media and Sport, we work with partners in the UK and overseas to ensure that Britain is marketed in an inspirational and relevant way around the world. Our partners include government agencies such as UKTI and British Council, airlines and operators, global brands such as Samsung and the English Premier League as well as the official tourism bodies for London, England, Scotland and Wales.
Our priority is to deliver a four-year match-funded global marketing programme which takes advantage of the unique opportunity of the Royal Wedding, the Queen's Diamond Jubilee and the London 2012 Games. Our objective is to showcase Britain and attract new visitors from the tourism growth markets of Asia and Latin America and to reinvigorate our appeal in core markets such as the USA, France and Germany. This campaign aims to secure an additional £2 billion in visitor spend.