London wins two top travel awards
London continues to bask in its post-Olympic glow winning two top destination awards overnight with readers from Conde Nast Traveller and Food and Travel Magazine.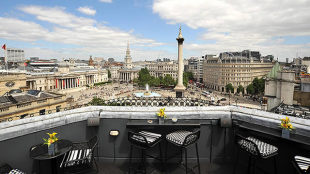 London has been awarded Favourite UK City for the third year running in the Conde Nast Traveller Readers Travel Awards. The capital also won City of the Year at the Food and Travel Magazine Awards 2013.
These awards follow on from the announcement yesterday by Ipsos MORI that London has been voted one of the world's favourite cities in the largest ever global survey conducted of its kind.  A total of 18,000 people were surveyed across 24 countries and London was voted top city in Europe and the second best city in the world after New York. It follows the news that record numbers of tourists have visited the capital this year with numbers up 4% and spend up 11%.
Julie Chappell, Director of Consumer Marketing and Digital Channels at London & Partners said: "We are delighted London has won these prestigious awards and is continuing to attract more visitors who consider this city the best in the world to visit.  London has so much to offer travellers from our rich cultural heritage to world class museums and restaurants and unrivalled shopping experiences. London & Partners is working hard to capitalise on the Olympic legacy and we're seeing a real buzz in the capital that includes an increase in visitor numbers, increased hotel occupancy, more visitors to tourist attractions and a major resurgence in the London food and dining and scene. There's no doubt London is the place to be."
This month alone 20 new restaurants are opening in London including Gordon Ramsay's new restaurant Union Street Café, backed by David Beckham, Angela Hartnett's Merchant's Tavern in Shoreditch and Richard Caring's Grillshack in Soho.
Adam Hyman, publisher of the London restaurant industry newsletter, The CODE Bulletin added: "London has long been seen as the financial and cultural capital of the world and we can now finally call ourselves the restaurant capital too. We are experiencing a restaurant revolution in the city that has seen chefs and restaurateurs from all around the world wanting a piece of the action, as well as our homegrown talent."
Michelin-starred chef Nuno Mendes from Viajante restaurant in Bethnal Green said:
"London has become one of the most exciting cities for food around the world. Chefs and diners are happy to continue to develop and support new trends in the field and they are also pushing for a constant increase in the quality and diversity of the offering. Every year we see more restaurant concepts burst onto the scene, and our clientele seems to be always supportive which also promotes growth and development. It's an exciting time!"
For more information on London www.visitlondon.com
Notes to Editors
Contact