Major US tech firm Box Inc. chooses London for international HQ
A major US company has chosen London as its international headquarters, boosting the city's position as Europe's leading technology centre.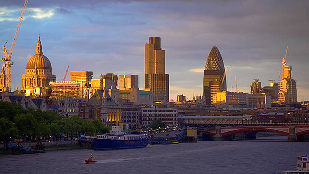 Box Inc., which provides online file sharing and cloud content management services, will make London the centre for all of its activity outside the US, including sales and marketing and technical services.
Box is used by more than 180,000 individual businesses and has more than 20 million users worldwide. Since first opening an office in London in June 2012, Box has more than doubled its user growth outside of the US and has continued to expand in Europe.
With the opening of the London headquarters, Box now plans to increase its number of employees in the UK and Europe. The company currently employs 80 staff in the region.
David Quantrell, Box senior vice president and general manager for EMEA, said London's supportive business environment was a key reason behind the company's choice.
He said: "As we expanded in Europe and witnessed growing demand for Box, we decided that London was not just an ideal location for an office, but also a great place to establish an official headquarters for our international operations. London is a central hub in the world economy and home to a fantastic pool of talent, and the UK government's Patent Box regime and other recent economic initiatives provide us with a supportive environment for continuing to grow and expand aggressively around the world."
Box, which was one of the firms that participated in the Mayor of London's 2012 Olympic business hosting programme, joins several other technology companies from the US Bay Area to have a significant presence in London, adding to the momentum behind the city's growing technology cluster.
The Mayor of London, Boris Johnson, said: "'It is fantastic news that one of Silicon Valley's finest, Box Inc., has opted to locate their EMEA headquarters in London. This comes after Box took part in my programme held during the Olympic Games last year that gave investors a taste of all that London has to offer. This arrival is further welcome evidence of London's status as a leading tech capital helped by the availability of a talented workforce, the work space and world-beating universities."
London's advantages include the Tech City initiative, launched by Prime Minister David Cameron and Mayor of London Boris Johnson in November 2010 to support the growth of the technology cluster in East London. Since its launch, the number of digital companies in East London has grown from 200 to more than 1,300, creating a cluster of expertise attracting investment from across the world.
Box's move was in part facilitated through the work of London & Partners, the Mayor's official promotional organisation for London.
David Slater, London and Partner's Director of Trade and Investment, said: "This choice by Box shows how London is becoming the international centre for high-growth US and international technology businesses, and demonstrates the growth and increased sophistication of the London tech sector."
Notes to Editors
Contact
For London & Partners, please contact Norval Scott, Media & PR Manager – FDI, nscott@londonandpartners.com, +44 207 234 5789, +44 7527 286 552
For Box, please contact Meghan Hughes, PR Group Manager – meghan@box.com, +1 415-963-2552