British Cycling wins bid to host 2016 UCI Track World Championships in London
British Cycling has been awarded the 2016 Track World Championships to be staged at the London velodrome, it has been announced today.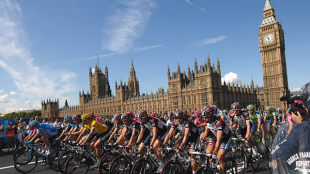 The decision, made by the UCI management committee in Florence, Italy, means many of Britain's track cyclists will have the chance to compete at a venue where they enjoyed amazing success winning nine Olympic medals in 2012. The 2016 Track Cycling World Championships will take place between 24 and 28 February.
Forming part of UK Sport's Gold Event Series which aims to bring 70 world class events to this country by 2019, the Track Championships will also be a great opportunity for the public to show their support for Great Britain's cyclists in the final stage of the Olympic qualification process for Rio 2016.
For the National Lottery funded British Cycling athletes the event will be the final milestone on the countdown to the Rio Olympics, providing an inspirational send off for the British riders as well as a morale boosting opportunity to perform in front of a home crowd.
The process to bring the UCI Track Cycling World Championships to London began in 2012 in the run up to the Olympic Games and has involved a partnership between British Cycling, UK Sport, London Legacy Development Corporation, Lee Valley Regional Park Authority, London & Partners and the Mayor of London.
Speaking at the time of the announcement, British Cycling's Chief Executive, Ian Drake, said:
"Winning the bid to host the final Track Cycling World Championships of the next Olympic cycle is important strategically for us, it's good for the current generation of athletes, but it's also an important tool for inspiring the next generation who will follow in their footsteps.
"The events we've delivered over the last decade in the UK have rightly been regarded as world class but the delivery of a World Championships in this iconic venue will be the biggest task we've taken on to date."
Minister for Sport, Hugh Robertson, said:
"This is another great coup for British sport and a real legacy from London 2012. The capital's velodrome is a stunning, world-leading venue and I am sure the 2016 Track World Championships will have capacity crowds supporting our best cyclists ahead of the Rio Games. UK Sport's Gold Event Series is helping to cement this country's reputation as a leading destination to host the biggest events in world sport."
Boris Johnson, Mayor of London, said:
 "This is absolutely fantastic news for London, marking the arrival of yet another thrilling world class sporting fixture to our city. These prestigious championships will be centred around our stunning Olympic velodrome, a remarkable venue that saw such awe-inspiring performances from British cyclists last summer. Interest in cycling is rocketing in this city and I've no doubt London's 2016 Track World Championships help will propel this even further."
The World Championships in 2016 will take place in the velodrome at Lee Valley Velo Park, currently undergoing transformation in preparation for its handover from the London Legacy Development Corporation to Lee Valley Regional Park Authority who will be responsible for the long term management of the facility for the people of London. The Track World Championships forms part of a much wider calendar of sport in the capital that build on the legacy of the 2012 Games throughout the next Olympic cycle.
Notes to Editors
About British Cycling
British Cycling is the national governing body for cycling as recognised by the UCI – the international federation for the sport. Based in Manchester at the National Cycling Centre, British Cycling works across all levels and six disciplines of the sport (BMX, Mountain Bike, Cyclo-Cross, Road, Track and Cycle Speedway), from providing the support and encouragement people need to get riding their bikes for the first time, to being home to the hugely successful Great Britain Cycling Team. Continued success at the highest level is inspiring a boom in participation across the nation. There have never been more opportunities to ride a bike, be it for fun or sport, and British Cycling is at the heart of this growth. British Cycling also works hard to represent cyclists' interests at all levels, including campaigning on important issues including road safety. As a membership organisation, British Cycling provides a suite of benefits and support to its members who currently number over 81,000. All membership revenue is invested back into cycling. British Cycling was named Governing Body of the Year at the 2013 Sports Industry Awards. For more information, visit www.britishcycling.org.uk
About UK Sport
UK Sport is the nation's high performance sports agency responsible for the strategic investment of a record £369million of National Lottery and Exchequer funding in Olympic and Paralympic sports preparing for Sochi 2014 and Rio 2016.
UK Sport's Gold Event Series will invest £27million of National Lottery funding to support the bidding and staging costs of major events on home soil, as well as providing specialist support to organisers. Events are supported for their likely performance impact on GB athletes, but also to maximise the wider sporting, social, cultural, economic and environmental benefits.
The Gold Event Series will aim to bring over 70 of the world's most prestigious sporting events to the UK, including 36 World and European Championships. This ambitious programme will support British athletes' preparation and qualification for Rio 2016, while generating approximately £287 million of additional expenditure in host cities and regions and bringing over 250,000 overseas visitors to the UK. Events already secured include the 2017 World Athletics and IPC Athletics Championships to be staged in the London Olympic Stadium and the 2015 World Artistic Gymnastics Championships at the Hydro Arena in Glasgow. More@uksport.gov.uk/events
About Lee Valley VeloPark
For the first time anywhere in the world - track, BMX, road and mountain biking will come together at Lee Valley VeloPark in London's new Queen Elizabeth Olympic Park. It opens on 4 March 2014, and consists of the Olympic Velodrome and remodelled Olympic BMX circuit alongside brand new mountain bike trails and a floodlit road circuit. It will be owned and run by Lee Valley Regional Park Authority which runs Lee Valley White Water Centre, the only new London 2012 venue to open before the Games, and Lee Valley Hockey and Tennis Centre which opens next year. The 10,000 acre Lee ValleyRegional Park stretches 26 miles from the Thames in east London to Hertfordshire and comprises of a diverse mix of heritage sites, nature reserves and green spaces alongside world class sports venues, attracting nearly five million visits a year.
Major Events team at London & Partners 
The major events team at London & Partners provides advice and support at every stage of the process – from bidding, to event delivery, to evaluation – with a specially dedicated team to help rights holders from around the globe 'unlock', secure or choose London as their venue for their event.  The London & Partners Major Events team is also developing a programme of major events for the city which build on the legacy of the Olympic & Paralympic Games, including Prudential RideLondon.
For more information visit http://www.londonandpartners.com/majorevents  
The event is part of The Mayor of London securing and promoting a dynamic calendar of international major events following the 2012 Games, seen atwww.visitlondon.com/events.
Contact
Kirsty McCaskill, Corporate Communications Manager
+44 (0) 161 274 2115
+44 (0) 753 808 9527 
kirstymccaskill@britishcycling.org.uk 
Rob Meaden, Communications Officer
+44 (0) 161 274 2116
+44 (0) 792 040 7754