UK's biggest ever cycling festival gets underway in London
Double Olympic champion Laura Trott will set off a world-record attempt to kick-start the Prudential RideLondon FreeCycle this morning, the first of four events that form the capital's Prudential RideLondon festival of cycling this weekend.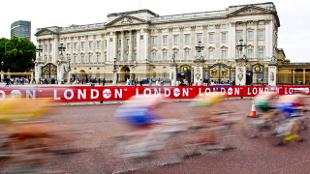 Trott, who won two track cycling golds at the London 2012 Olympic Games last summer, will sound a klaxon at 08:30am when former England rugby union captain Martin Johnson will lead thousands of riders off in single file from Bank Junction as they attempt to make history with a Guinness World Record for the highest number of cyclists to ride in a continuous line.
The current figure of 916 bikes was set in Davis, California, in 2010, and more than 2,000 eager cyclists have pre-registered to take part in the attempt.
"Britain is the leader of the pack when it comes to record-breaking cycling," said Guinness World Record's Editor-in-Chief, Craig Glenday. "Now everyone has the chance to get on their bikes and join the spectacular Sir Bradley Wiggins, Sir Chris Hoy and Victoria Pendleton in the record books."
The record attempt will open the action at Prudential RideLondon FreeCycle, which gives riders of all shapes, sizes, ages and abilities the chance to enjoy an eight-mile traffic-free loop on closed roads through central London, passing some of the capital's most iconic landmarks, such as Buckingham Palace, the Houses of Parliament, St Paul's Cathedral and the Tower of the London.
Some 50,000 cyclists are expected to take part in the family-friendly seven-hour event, the UK's biggest festival of cycling. They will be able to cycle the course at any pace and go round the loop as many times as they like, stopping en route to enjoy a range of bike-based entertainment and activities.
A further 20,000 cyclists – both amateur and professional will be taking part in three other events in central London and also Surrey over the weekend.
To be held on 3-4 August 2013, Prudential RideLondon is expected to give a major boost to the number of active cyclists in the UK, while attracting hundreds of thousands of visitors to London and Surrey.
Iain Edmondson, Head of Major Events at London & Partners, said: "Prudential RideLondon is a key event for the city, delivering on the Olympic legacy promise not only for athletes but also for our sports-captivated nation to stay inspired following London 2012. The Prudential RideLondon-Surrey Classic will be a key event on the global cycling calendar, with the best cyclists in the world descending on the capital a year on from the Games. We look forward to welcoming our visitors, both those competing and spectators, to what is set to be an incredible cycling festival which will entertain audiences across the world through extensive live international broadcast."
Events on Saturday 3 August are:
Prudential RideLondon FreeCycle - an eight-mile mass-participation ride on closed roads in central London which is free to enter and open to everyone.
Prudential RideLondon Grand Prix – featuring the world's best women, such as double Olympic champion Laura Trott, as well as junior and hand cyclists competing on a 1.3 mile circuit in and around St James's Park. It is designed to inspire the future generation of world-class cyclists, as well as providing spectators with the opportunity to witness 2012 heroes in action a year on from the Games.
Events on Sunday 4 August are:
Prudential RideLondon-Surrey 100 - starting from Queen Elizabeth Olympic Park, a 100 mile route on much of the 2012 Olympic road race course which is predicted to become the largest charity cycling fundraiser in the world. 20,000 amateur cyclists will tackle the 100 mile route across London and into the Surrey Hills to return for a triumphant finish on The Mall.
Prudential RideLondon-Surrey Classic – starting from Queen Elizabeth Olympic Park and following part of the 2012 Olympic Road Race route, this is Britain's biggest ever one day race, ranked at 1.1 level on the UCI official race calendar, and will see 150 of the world's best men race over 140 miles of London and Surrey roads with an iconic finish on The Mall in front of Buckingham Palace.
To find out more about each event, please visit www.prudentialridelondon.co.uk
Notes to Editors
The Prudential RideLondon FreeCycle is part of the two-day world-class cycling festival Prudential RideLondon, taking place over the weekend of 3-4 August 2013. Prudential RideLondon comprises four separate events: Prudential RideLondon FreeCycle, Prudential RideLondon Grand Prix, the Prudential RideLondon-Surrey 100 and the Prudential RideLondon-Surrey Classic. Find out more at www.PrudentialRideLondon.co.uk.
Prudential RideLondon is a new weekend cycling festival developed by the Mayor of London, London & Partners and Transport for London in partnership with Surrey County Council. The event is managed by the London & Surrey Cycling Partnership.
The public is advised to plan ahead to avoid road delays over the weekend of Prudential RideLondon. The Prudential RideLondon cycling festival will mean road closures in central London on Saturday 3 August and a large number of road and bridge closures across east, central and southwest London and parts of Surrey on Sunday 4 August. If you plan to drive in the affected areas over the RideLondonweekend, you'll need to plan your route carefully or consider using Tube or rail services instead. Maps and details of road and bridge closures and estimated re-opening times are available at www.tfl.gov.uk/prudentialridelondon and www.gosurrey.info
The Prudential RideLondon Cycling Show takes place at ExCeL from 1-3 August
Contact
For further information, please contact:
Jonathan Edwards or Sarah Gasson – Mayor of London's Press Office jonathan.edwards@london.gov.uk / 0207 983 4337