Attendance at London tourist attractions up 22 per cent in May
A London & Partners survey, the London Attractions Monitor has seen a 13.8% increase in attendance at London's tourist attractions in the period March to May 2013.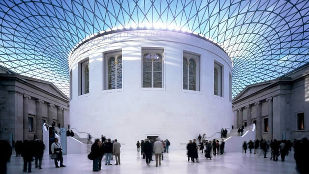 Attendance at the 33 attractions surveyed including the British Museum, London Eye, National Gallery, Tower of London and St Paul's Cathedral increased by a 22% in May, a big rise after an 0.7% increase in April and an equally outstanding 22% rise in March.
In May alone two-thirds of London attractions in the sample reported double-figure percentage increases in attendances.
Julie Chappell, Director of Consumer Marketing and Digital Channels from London & Partners said: "This is an unprecedented trend for any single quarter and shows just how popular London's attractions are for visitors to the city. An early Easter, two Bank holidays in May, improving weather and hugely popular exhibitions helped boost attendance at London's amazing world class attractions.  In 2012 our Olympic year 27.7 million people visited London alone up 5% overall and it's clear London is still benefiting hugely from a post Olympic bounce. The quality and popularity of exhibitions during the Olympic year has continued into 2013 with "David Bowie Is" at the Victoria & Albert Museum and Life and death in Pompeii and Herculaneum at the British Museum boosting visitor numbers."  
Based on figures from 33 London attractions, London & Partners publishes the London Attractions Monitor every month, giving an overview of the current state of London's visitor attractions.
London & Partners is the official promotional organisation for London, attracting and delivering value to business, students and visitors.  We work to maintain London's position as the No 1 international visitor destination in the world by marketing to established and emerging markets. We work with the travel industry to promote London to individual leisure travellers and groups worldwide.
For more information on London attractions visit www.visitlondon.com
Notes to Editors
Contact