Major Chinese businesses back scheme to drive Chinese students to London
A group of Chinese and UK companies are today launching a drive to encourage more students to come to study here in London and the UK.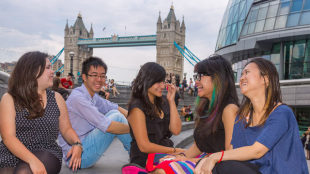 The Bank of China, China Telecom and the media platform Okhiwi.com are all backing a scheme to help Chinese students prepare for and adapt to life and study in the UK. From now on, students who are preparing for their overseas studies in the UK can register for the Fresher's Gift Bag on Okhiwi.com and collect it with their admission letter at more than 100 collecting points, including international airports Beijing Capital and Shanghai Pudong.
Kevin McCarthy, Head of Study London at the Mayor's promotional organisation, London & Partners, said:
"As the top international destination for Chinese students, we welcome the news of the scheme which will enable Chinese students to settle into London quicker and help them get the most from their time living in the city. As a young person in London, there is so much to do outside the class room. London is one of the most diverse cities in the world and it is this world-class variety and multiculturalism that helps international students feel right at home."
Fan Bai, CEO of Okhiwi.com, acknowledged a variety of difficulties from personal life to school study that students face when they first arrive in the UK which could potentially affect the quality of their studies. The Fresher's Gift Bag is launched exclusively to Chinese students coming to study in the UK not only to assist them in preparing for their studies, but also to adapt to their new environment.
Fan Bai, CEO of Okhiwi.com and C Cubed Media, said: "The real value of studying in the UK is definitely not an academic certificate. The long history of the country, those famous tourist attractions, the world-leading creative economy and the cultural heritage are also valuable treasures for Chinese students."
Fresher's Gift Bag includes a Student Guide Book on life and study in the UK, a pre-paid UK SIM card and a student calendar. It is hoped to serve as a reliable and systematic guide for Chinese students to begin their life and a motivation to build their experience here.
International students to London benefit from additional online resource when choosing their destination and seat of learning from studylondon.com as well as valuable insight from official visitor guide visitlondon.com into everything that is happening in London right now.
Okhiwi.com will continually develop their digital platform in order to deliver more qualified content and services in different forms of media. The next step is to make use of WeChat (okhiwi) to build closer relationships with students.
Notes to Editors
About London & Partners
London & Partners is the official promotional organisation for London. Our company attracts and delivers value to business, students and visitors. London & Partners is a not-for-profit public private partnership, funded by the Mayor of London and a network of commercial partners.
Our remit is to drive leisure and business visitors as well as bidding to secure major events in London, to unlock the city for overseas businesses who want to set up or expand in London and to promote the capital's world class universities to international students.
Our intention is to work in partnership with organisations in London and across the world to deliver our goal - that London be globally recognised as the best big city on earth.
For more information visit www.londonandpartners.com