And London's Winner Is….The Muse
The Mayor of London's official promotion organisation, London & Partners, has today announced the winner of its SXSW Competition as part of the Imagine London campaign, which was created to find the next U.S. tech company looking to invest in London.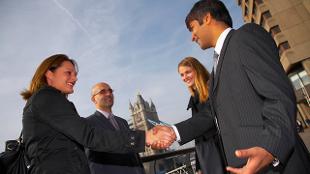 The winner, The Muse, is a global career platform connecting one million professionals monthly to job opportunities, expert advice, and a peek behind the scenes into fantastic companies and career paths. Originally started by ex-McKinsey analysts Kathryn Minshew, Alexandra Cavoulacos and Melissa McCreery to advance the cause of women in business, the company has found broader adoption among a passionate audience of those seeking to find work they love in the new digital economy.
The South by Southwest Festival Competition as part of the Imagine London campaign which launched back in March at this year's SXSW Festival will give The Muse an exclusive business trip to London, including a bespoke business programme hosted by London & Partners to showcase the city as the world capital of business. The programme will also be hand-tailored to provide The Muse team with a vast array of meetings, introductions to global businesses and insight into how they can set-up and grow their business in London.
Upon hearing the news that her company had won, Kathryn Minshew from The Muse said, "We couldn't be more excited to enter the London market at a time when our community's demand for international options is skyrocketing. Having the support of London & Partners to do so is an incredible opportunity."
David Slater, Director of Trade & Investment at London & Partners said, "We are delighted that The Muse has won our SXSW competition as part of the Imagine London campaign and will be flying over to London in the next few months. The U.S. remains our strongest market for foreign direct investment, and we know London is still recognised by U.S. businesses as the ideal next-step to grow their brand or business at an international level. The Muse is a truly exciting and creative company which I'm sure will realise the huge benefits that London has to offer. With the likes of tech giants, such as Google, Amazon and Yammer already calling London their home, I'm confident that they will see the vast potential from their prize-winning trip."
The Daily Muse has won the following prize package:
Flights from any of British Airway's 20 US gateway cities to London, kindly provided by British Airways
A two night stay in the Guoman Hotel, central London, kindly provided by Guoman
A bespoke business tour of London tailored to your expansion requirements, hosted by London & Partners
Meetings with professional service advisers who can guide you through the steps you need to take to set up business in London
Visits to potential areas in London to locate your business, including serviced offices and co-working spaces
Accounting and legal package including two free hours of legal time and two free hours of accounting and fiscal time combined with company incorporation, kindly provided by Oury Clark
Unlimited free classes, workshops and events kindly provided by General Assembly during your prize trip in London
More information on the competition can be found at www.londonandpartners.com/sxsw.
Notes to Editors
The exclusive SXSW competition is open to US companies only looking to expand their business overseas.
Further details of the Imagine London campaign from London & Partners can be found at www.londonandpartners.com/imagine