Prudential RideLondon-Surrey 100 route profile revealed
Every up, down, twist and turn of the Mayor of London's Prudential RideLondon-Surrey 100 is now revealed with the publication of the route profile and detailed map.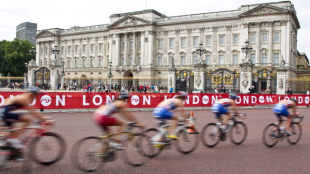 With just over two months to go until the Prudential RideLondon weekend festival of cycling on 3-4 August, the 25,000 entrants in the sportive now have the chance to study the route profile and fine-tune their training to ensure they are fully prepared for the challenges of the 100 mile event.
The route profile shows the numerous ups and downs of the route which starts in Queen Elizabeth Olympic Park, goes out through the streets of the capital and into the stunning Surrey countryside before returning to London for the spectacular finish in The Mall. The route includes not only the testing climb of Box Hill, made famous during the London 2012 road cycling events, but the even steeper lung-busting 14 per cent gradient of Leith Hill, the highest point in South East England.
Also revealed are the locations of the three Hubs where riders can seek mechanical and medical assistance, find food and drink and use the toilet facilities. The hubs are located at Hampton Court, Newlands Corner and Leatherhead. Also shown are the locations of the drinks stations, distance markers and towns and villages en route to a spectacular finish on The Mall.
"The route profile shows exactly how testing this challenge will be," said Prudential RideLondon Event Director Hugh Brasher. "The three Hubs on the route – all set in scenic locations – will offer extensive support services that will be essential to help riders complete their ride."
Notes to Editors
Prudential RideLondon-Surrey 100 is part of the two-day cycling festival Prudential RideLondon, taking place over the weekend of 3 and 4 August 2013. Prudential RideLondon is comprised of four separate events, the Prudential RideLondon-Surrey Classic, the Prudential RideLondon-Surrey 100, the Prudential RideLondon Grand Prix and Prudential RideLondon FreeCycle. Find out more at www.PrudentialRideLondon.co.uk.
Prudential RideLondon is a new world-class weekend cycling festival developed by the Mayor of London, London & Partners and Transport for London in partnership with Surrey County Council, an sponsored by Prudential. The event is managed by the London & Surrey Cycling Partnership.
The Prudential RideLondon Cycle Show takes place at ExCel from 1-3 August.
Contact
Jonathan Edwards or Sarah Gasson – Mayor of London's Press Office
jonathan.edwards@london.gov.uk/ 0207 983 4337
Follow us on Twitter: @ridelondon