London once again plays host to UEFA Champions Finals
London is once again gearing up to play host to major sporting event the UEFA Champions League Final following the huge success of the event which took place in the capital in 2011. Both Londoners and international fans will have a chance to enjoy a host of free fan activities taking place across the city including a four day UEFA Champions Festival based in the International Quarter situated just next to the Queen Elizabeth Olympic Park, an interactive fan zone in Trafalgar Square as well as the celebrations taking place around the men's and women's finals in two of London's most iconic sporting venues.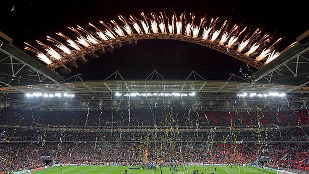 The UEFA Champions League Final is Europe's largest football event and is a major coup for London to host the final so soon after the 2011 event. In a report created by MasterCard in 2011 it was estimated that London, as the host city, scoops an economic windfall of €52 million for each final. The €52 million comes from football fans flocking to watch the match, spending money in the city's bars, clubs, hotels and at Wembley Stadium itself. By hosting the event for a second time it highlights London's major strength for staging world-class major events especially so soon after the success of the Olympic and Paralympic Games.
London hotels also expect to see a major visitor boost from the event, with the potential of 150,000 ticket holding and ticketless fans descending on the capital. Hotels bookings will be up on 2011 figures especially as all teams playing in the men's and women's finals come from Europe. Based on 2011 figures (from hospitality research company STR Global) hotels in the capital could be running at occupancy levels of 96% and above.
The Mayor of London, Boris Johnson said: "London is once again gearing up to host two major great sporting events with The UEFA Champions Men's and Women's finals. There is a wondrous week ahead for our football mad city with the Champions' Festival in East London and activities in Trafalgar Square. This really will be a true celebration of the beautiful game and I'd like to warmly welcome to our German visitors and wish them "Ich wünsche Ihnen eine wunderbare Zeit hier in London.".
UEFA is inviting fans and families to visit the Champions Festival in the new International Quarter and take part in a series of free activities including the opportunity to have photos taken with the UEFA Champions League and UEFA Women's Champions League trophies. Festival attendees will also have the chance to visit the UEFA Champions League museum to experience all the memories of past tournaments with children able to take part in a variety of skills clinics and coaching courses led by professional coaches throughout the week.
As well as the activities to the East of the city, London's iconic Wembley Stadium will stage the first all-German UEFA Champions League Final on the 25th May as Bayern Munich take on Borussia Dortmund.The UEFA Women's Champions League Final, taking place at Stamford Bridge, the home of Chelsea Football Club, on 23rd May will see Olympique Lyonnais fight to retain their title for the third year running against VfL Wolfsburg. The game will kick off at 7.30pm and there is still the opportunity to buy tickets for the women's final, with ticket prices starting from as little as £5.
Trafalgar Square in Central London will also be celebrating the build-up to the 2013 UEFA Champions League men's and women's Finals, with freestyle footballers and an AstroTurf football pitch. In the evenings from 9.30pm, there will be three showings of the never-seen-before UEFA Champions League 3D film.
Iain Edmondson, Head of Major Events at London & Partners - the official promotional organisation for London - added: "This is a fantastic opportunity for Londoners and visitors to enjoy a great day out to the International Quarter, close to the Queen Elizabeth Olympic Park. The celebrations will combine iconic landmarks Trafalgar Square, the Queen Elizabeth Olympic Park and Wembley with community activity – connecting people to football and connecting communities across the world. With tickets to the UEFA Women's Champions League Final selling at such a reasonable price it's a great way to see a world-class event in one of London's most iconic football grounds"
Champions Festival details
The first day of the festival, 23rd May, will be dedicated to women's football, with girls' training sessions led by UEFA Women's Champions League ambassadors including Faye White. Friday 24th May will see the festival focus on futsal, the small-sided format of football.
Saturday 25th May will be the build-up to the 2013 UEFA Champions League Final, including an Ultimate Champions Match as UEFA Champions League legends go head-to-head in a five-a-side game. The final day of the festival will focus on grassroots sports participation encouraging those at the festival to take up football, as well as a demonstration of disability football. Festival goers will have the opportunity to try out an unsighted penalty shoot-out with Dave Smith, an unsighted footballer, and Mark Hunter, an Olympic gold medallist rower. One of the highlights of the final day will be the opportunity to watch the world's top 16 freestylers battle it out in the final of the World Freestyle Championships.
Further to the festival activity, the 'Kings of Europe – UEFA Icons' exhibition showcases 160 iconic photographic images at Westfield, Stratford City, until Sunday 26th May, and entrance is free of charge. The collection includes an exclusive, never-seen-before exhibition and images from UEFA European club competitions dating back to 1955, with European legends such as Ruud Gullit, Ryan Giggs, Sir Bobby Charlton, Eusébio, George Best and Zinédine Zidane at many iconic games.
To give German visitors a warm welcome to the capital, German speaking Team London volunteers (who welcomed visitors during the 2012 Olympic Games) will be positioned in key areas across London – including Heathrow, St Pancras Station, the International Quarter and at Wembley Stadium. Team London is the Mayor of London's volunteering initiative http://volunteerteam.london.gov.uk
Notes to Editors
Notes to editors:
UEFA Champions Festival Opening times:
23 May: 12.00-21.00
24 May: 12.00-21.00
25 May: 09.00-18.00
26 May: 12.00-18.00
For further information, please visit www.UEFA.com/championsfestival
UEFA ambassadors, including Faye White and Steve McManaman, will be on hand to meet and greet festival visitors, who will also be invited to participate in an exciting schedule of entertainment hosted by UEFA Champions League partners.
Info about visitors - Where to watch
Zeitgeist-London
Vauxhall's famous German pub just a stonesthrow from the river is always a hive of activity during days of German sporting endeavour! IF this is your location of choice, get there early and set up camp as they do not sell tickets and it gets VERY busy, but as a result the atmosphere is second to none! Our tip is to get there by 2pm at the latest, and enjoy some good German nosh washed down with their finest beers.
http://zeitgeist-london.com/gastropub  
Contact:  info@zeitgeist-london.com
Other good sports bars where you can watch the UEFA game can be found on
http://www.visitlondon.com/things-to-do/activities/food-and-drink/pub-and-bar/sports-bar
Contact
Kirsten Ferguson
PR Manager – Business Tourism, FDI & Major Events
Tel:  +44 (0)20 7234 5861