Finishing Touches set to host the Culinary Crème de la Crème in London
Last opportunity for Londoners to be part of the 3rd annual Dîner des Grands Chefs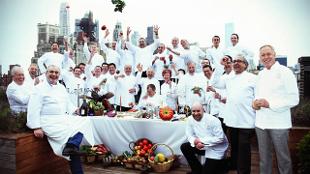 18th April 2013 – 11am - London: Only a few tickets are left for what is set to be one of London's most exciting culinary events to be hosted in the capital. This coming Monday (22nd April) London will welcome the brightest stars of the culinary world when they will unite to celebrate the best of British produce at a dinner themed "The World's Kitchen by the Thames". The annual Dîner des Grands Chefs which has previously taken place in Versailles and New York has chosen London as the perfect culinary destination for their third event.
The main aspect of the annual meeting will be a grand dinner for 600 people which will take place at Old Billingsgate (formerly the world's largest fish market). At the lavish event guests will be able to soak up stunning views of both the River Thames and Tower Bridge while enjoying a once-in-a-lifetime gastronomic experience. Around 45 Grands Chefs from all over the world will work in three groups to create fifteen different bespoke menus, never seen before.
The delicious menus will be prepared live in front of guests and paired with the finest vintage Pommery Champagne. All menus will highlight the vast array of Britain's fresh produce available including fish and seafood which will play a starring role at the dinner. The Grands Chefs will have a huge amount of local London ingredients to fuel their extraordinary culinary imaginations.
The UK contingent will be led by Raymond Blanc and Gary Jones (Le Manoir aux Quat' Saisons), Andrew Fairlie (Restaurant Andrew Fairlie) and Claude Bosi (Hibiscus) who will set the tempo for the other Grands Chefs with their surprising and innovative  take on "food Britannia" inspired by the spirit of London. Other talents from further afield include Patrick O'Connell (The Inn at Little Washington, USA), Emmanuel Renaut (Flocons de Sel, France) and Lanshu Chen (Le Moût Restaurant, Taiwan). 
Grand Chef Raymond Blanc said of choosing London as the event's destination: "Relais & Chateaux has chosen London to celebrate the extraordinary changes which have taken place in British gastronomy. The quality of produce and dedication to responsible luxury are core to this reconnection with their craft. London has established itself as a world gastronomical destination where chefs' creations mirror its multicultural heart. Having worked in Great Britain for the past 30 years, I have always celebrated this as well as Relais & Chateaux's values of L'Art de Vivre and respect for biodiversity and the environment."
David Heath Minister for Food said: "This event showcases everything that's GREAT about British food. We produce some of the world's most iconic foods, from Whitstable Oysters to Rutland Bitter and Stilton Cheese. "I want to see more of these products inspiring people around the world, from the grandest chef to the everyday cook, to choose British ingredients."
The Mayor of London, Boris Johnson welcomed the news that London has been chosen as the destination to bring the prestigious annual event added: 'London has all the vital ingredients to make it the ideal venue for this gastronomic feast prepared by the cream of the world's chefs. This city is home to a mouth-watering 37,000 restaurants and food markets representing every corner of the globe. I am delighted to welcome the the Dîner des Grands Chefs to the capital as further evidence of why London's food sector is world-beating.'
The Dîner des Grands Chefs will be working in partnership with Action against Hunger – which is an international charity committed to ending child hunger. A silent auction is set to thrill foodies and connoisseurs of all tastes with the proceeds going to support this cause close to the hearts of the Chefs.
Only 100 tickets are left for the The Dîner des Grands Chefs. For more information and pre-registration: Diner des Grands Chefs 2013
Notes to Editors
London & Partners is the official promotional organisation for London. We attract and deliver value to business, students and visitors. London & Partners is a not-for-profit organisation, funded by the Mayor of London and a network of commercial partners. Our remit is to drive leisure and business visitors as well as bidding to secure major events in London, to unlock the city for overseas businesses who want to set up or expand in London and to promote the capital's world class universities to international students. Our intention is to work in partnership with organisations in London and across the world to deliver our goal - that London be globally recognised as the best big city on earth.
For more information visit www.londonandpartners.com
Contact
Head of Communications – Business & Major Events
London & Partners
T: +44 (0)207 2345727
M: +44 (0)7764 633071