Art and Culture drives visitors to London's Attractions
Today, the Association of Leading Visitor Attractions (ALVA) announced the 2012 visitor attraction figures revealing that nine of the top ten attractions are found in the capital.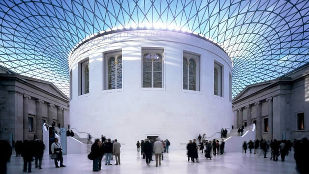 The figures show that British art and design has had a positive effect on driving visitors to London's attractions with 'Grayson Perry: The Tomb of the Unknown Craftsman' helping the British Museum remain the most popular visitor attraction for the 6th consecutive year attracting 5,575,946 visitors.
Other cultural winners include the Tate Modern which moved into 2nd place on the ALVA rankings with its Damien Hirst retrospective, while the Lucian Freud Portraits at the National Portrait Gallery helped increase visitors by 12%.
The V&A had its best ever year attracting 3,231,700 visitors (up 16%) with exhibits such as 'Hollywood Costumes' pulling in the crowds.
Commenting on the ALVA figures, London & Partners CEO, Gordon Innes said:
"London's attractions offered visitors an incredible range of cultural treats throughout 2012 and this year looks to be just as exciting with fantastic exhibitions such as Manet (Royal Academy), Man Ray (National Portrait Gallery) and Roy Lichtenstein (Tate Modern) all coming to the capital."
For more information about what's on in London go to www.visitlondon.com
Contact