Ballot opens for public entry into the 2013 PruHealth World Triathlon Grand Final London
Only one year after the London 2012 Olympic Games, world class triathlon will return. London will host the Grand Final of the ITU World Triathlon Series known as the PruHealth World Triathlon Grand Final London. The event, which is part of the prestigious UK Sport Gold Event Series, will be hosted over five days from 11-15 September at the Olympic triathlon venue in Hyde Park and will see the likes of Olympic Gold Medalist Alistair Brownlee and his younger brother, the reigning World Champion, Jonathan, battle for the World Championship title.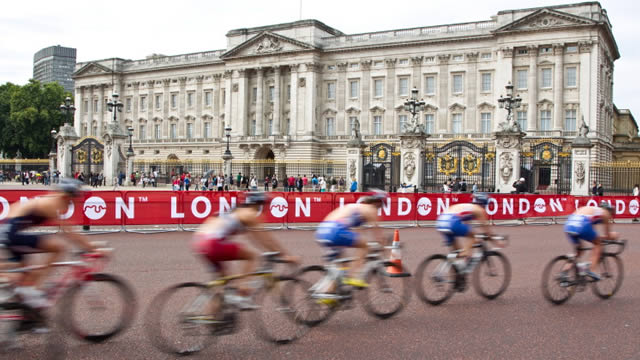 Alongside the Senior Elite events will be further World Championship races for Junior, U23 and Paratriathletes as well as an Age Group World Championship race for club level athletes from all around the world. Nearly 5,000 international athletes are expected to compete for World Championship titles across 5 days in Hyde Park.
Whilst all of the above races require pre-qualification the organisers have announced today that on Saturday 14 September an open triathlon race will also be held in Hyde Park. No entry standard or pre-qualification is required for this Open Age Group race but entries will be limited to 2,000 people. As one of the key legacy events of the London Olympic Games, the event is expected to be heavily oversubscribed as it provides the unique opportunity to finish on the same line as the Olympic Champions at the London 2012 triathlon venue.
For a chance to secure a place, applicants need to enter a ballot at http://london.triathlon.org/
The ballot will run from 21 February to 5 March 2013.
Timeline for the ballot is as follows:
Thursday 21 February at 10:00 - Ballot Opens
Tuesday 5 March at 23:59 - Ballot Closes
Thursday 7 March - All applicants informed if they have been successful or not
More details are available on www.london.triathlon.org
The Mayor of London, Boris Johnson, said: "Following the inspirational performances of team GB's Brownlee brothers last summer we're absolutely delighted that the World Triathlon Grand Final is coming to London. Nearly 7,000 people of all fitness levels will be able to take part in this fantastic event, which will no doubt build on the inspiration and the legacy of the London 2012 Games."
Jonathan Brownlee, Bronze medal winner at London 2012 said: "It will be so special coming back to London only a year after the Olympics. Hosting the Grand Final is such a great legacy of the Games, and of course I hope to be in a position to defend my World Champion title on home soil."
Simon Morton, Director of Major Events and International Relations at UK Sport said: "The unique nature of this event which will welcome 5,000 athletes across various age groups and levels plus the truly unique opportunity for 2,000 members of the general public to race on the Olympic triathlon venue of Hyde Park clearly demonstrates that the legacy of the London 2012 Olympic Games is being brought to life. UK Sport is proud to support the event as a part of the Gold Event Series, a spectacular series of events being held in the UK from 2013 to 2019."
Iain Edmondson, Head of Major Events for the city's promotional organisation London & Partners added:
"As well as being shown on national and international TV, the event will have a huge number of international competitors including hundreds travelling from as far afield as Australia, USA and Brazil. The city will be helping to replicate the atmosphere from last year's successful Games by using volunteers to make the competitors and spectators welcome to our streets."
The event being organised in partnership between Upsolut Sports UK and British Triathlon and is part of UK Sport's Gold Events Series, the UK's legacy programme of major international sporting events,  and is supported by the Mayor of London being one of the first major Olympic legacy events happening in London post the London 2012 Olympic Games.
To enter the ballot for this race visit http://london.triathlon.org
Notes to Editors
About British Triathlon
British Triathlon is the current National Sports Governing Body of the Year. It is responsible for raising the profile and delivering elite performance for Triathlon, Paratriathlon, Duathlon and Aquathlon in Great Britain. Triathlon is a fast growing, dynamic and modern Olympic sport with talented world class athletes, coaches and support staff, focused around delivering world-class events and medal winning performances. 
Great Britain is home to the 2012 Olympic Champion (Alistair Brownlee) and bronze medallist (Jonathan Brownlee) as well as numerous current world champions www.britishtriathlonmedia.org/current-world-champions amongst a strong squad of world ranked elite triathletes, and emerging talent from our youth development programmes. British Triathlon enables paratriathletes to deliver world-class success, raising the profile of paratriathlon in the build up to the Rio 2016 Paralympic Games.
There are over 700 triathlon events conducted in Great Britain each year including the British Triathlon Super Series, which attracts athletes from all over the world. British Triathlon is committed to being a leader in environmental awareness in sport, protecting the environment in which we operate today and in the future.
British Triathlon aims to promote excellence in our sport, and create opportunities for everyone to achieve their personal triathlon challenges.
Visit www.britishtriathlonmedia.org for downloadable image galleries, detailed athlete profiles, results, stats and information.
About Upsolut Sports UK
Upsolut is one of the world's leading sports marketing and event management agencies and part of the Lagardère Unlimited group (IEC in Sports, SPORTFIVE and World Sport Group). Upsolut specialises in the promotion, marketing, organisation and delivery of televised mass participation endurance sports (triathlon, cycling and swimming) for eliteand age-group participants. Upsolut supports the ITU World Triathlon Series and shares its knowledge to ensure high standards and quality. In addition to providing the ITU World Triathlon Series with marketing expertise, Upsolut produces live TV coverage and international TV distribution through the worldwide sales network of Lagardère Unlimited.
For more information visit: www.upsolut.de
About London & Partners
London & Partners is the official promotional organisation for London attracting and delivering value to businesses, students and visitors. London & Partners is a not-for-profit public private partnership, funded by the Mayor of London and our network of commercial partners.  Our remit is to drive leisure and business visitors as well as bidding to secure major events in London, we can unlock the city for overseas businesses who want to set up or expand in London and we promote the capital's world class universities to international students.
Major Events team at London & Partners 
The major events team at London & Partners provides advice and support at every stage of the process – from bidding, to event delivery, to evaluation – with a specially dedicated team to help rights holders from around the globe 'unlock', secure or choose London as their venue for their event.  The London & Partners Major Events team is also developing a programme of major events for the city which build on the legacy of the Olympic & Paralympic Games, including Prudential RideLondon.
For more information visit http://www.londonandpartners.com/majorevents
About UK Sport
The Gold Event Series will invest £27million of National Lottery funding to support the bidding and staging costs of major events on home soil, as well as providing specialist support to organisers. Events are supported for their likely performance impact, but also to maximise the wider sporting, social, cultural, economic and environmental benefits.
The Gold Event Series will aim to bring over 70 of the world's most prestigious sporting events to the UK, including 36 World and European Championships. This ambitious programme will support British athletes' preparation and qualification for Rio 2016, while generating approximately £287 million of additional expenditure in host cities and regions and bringing over 250,000 overseas visitors to the UK. Events already secured include 2017 World Athletics Championships and 2015 World Artistic Gymnastics Championships. More @ www.uksport.gov.uk/events
Uk Sport strategically invested a record £313million of National Lottery and Government money in preparing the British Olympic and Paralympic team for London 2012 where they achieved incredible success winning 65 and 120 medals respectively.

About the International Triathlon Union (ITU):
The International Triathlon Union is the world governing body for the Olympic sport of Triathlon and all related MultiSport disciplines including Duathlon, Aquathlon, Cross Triathlon and Winter Triathlon.  ITU was founded in 1989 at the first ITU Congress in Avignon, France. It has maintained its headquarters in Vancouver, Canada since then and also has offices in Lausanne, Switzerland and Madrid, Spain. It now has over 167 affiliated National Federations on five continents and is the youngest International Federation in the Olympic Games.  Triathlon was awarded Olympic Games status in 1994 and made its Olympic debut in Sydney 2000.
Triathlon is also featured in the Asian Games, Pan American Games and Commonwealth Games. Paratriatlon was accepted into the Paralympic Games in 2010 and will make its Paralympic debut in Rio 2016.  ITU is proudly committed to supporting the development of the sport worldwide through strong relationships with continental and national federations, working with its partners to offer a balanced sport development programme from grassroots to a high-performance level. 
For more information, visit: www.triathlon.org