London gives 100 event organisers an exclusive trip to Queen Elizabeth Olympic Park and ArcelorMittal Orbit as part of Confex 2013.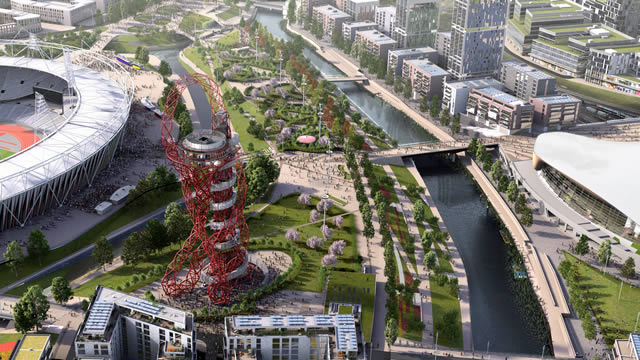 As part of the business focused trade show International Confex 2013 London's official promotional organisation and CVB London & Partners have teamed up with the London Legacy Development Corporation and Confex to give 100 event planners, media and corporate buyers a chance to go behind the scenes and visit one of the most eagerly awaited events venues in Europe.
The trip, which will take place on the eve Confex opening, will showcase the venues around Queen Elizabeth Olympic Park which last summer played host to sporting legends such as Mo Farah, Sir Chris Hoy and Usain Bolt.
As well as the exclusive tour of Queen Elizabeth Olympic Park, the group will also be given an opportunity to visit Britain's tallest sculpture The ArcelorMittal Orbit which opens to the public as part of 'Park In Progress' tours from 29 March 2013. At 114.5-metres-high (377 ft) it is the UK's tallest sculpture and offers fabulous views across the Stadium, Queen Elizabeth Olympic Park and London.  Th e ArcelorMittal Orbit's split level venue which will be able to host 300 guests for a cocktail reception and will start to host corporate events from summer 2014. Once the group have enjoyed the 360 degree views from the ArcelorMittal Orbit a special evening reception will be held at Forman's Fish Island which overlooks both Queen Elizabeth Olympic Park and the stunning ArcelorMittal Orbit.
Tracy Halliwell, Director of Business Tourism and Major Events at London & Partners said of motivation behind the trip: "London's reputation from last summer's Olympic and Paralympic Games was hugely successful but rather than just sitting back and basking in the glory of what many have described as 'greatest games ever'. At London & Partners we are already striding towards further improvements. We know how crucial it is to show the MICE industry the new venues and hotels London has, including the opportunities in Queen Elizabeth Olympic Park. By hosting events like this Confex tour we hope to ensure that the next accolade we receive is 'the city which truly made legacy a reality'."
Dennis Hone, Chief Executive, London Legacy Development Corporation, said:
"Staging the Games has given London a unique opportunity in the global spotlight to showcase all it has to offer. This summer Queen Elizabeth Olympic Park will begin to open as one of the premier sites in Europe for corporate events. Visitors on the Confex tour will be able to share in the excitement by getting an exclusive peek at where they can host future events."
This will be the first business tourism focused trip co-hosted by London's CVB and the Legacy Corporation. The purpose for the trip is to engage corporate clients to find out more about the opportunities at the Park and create jobs and growth for London.
Notes to Editors
About London & Partners:
London & Partners is the official promotional organisation for London attracting and delivering value to businesses, students and visitors. London & Partners is a not-for-profit public private partnership, funded by the Mayor of London and our network of commercial partners. Our remit is to drive leisure and business visitors as well as bidding to secure major events in London, we can unlock the city for overseas businesses who want to set up or expand in London and we promote the capital's world class universities to international students. For more information, please visit http://www.londonandpartners.com/convention-bureau/
About the London Legacy Development Corporation
The London Legacy Development Corporation promotes and delivers physical, social, economic and environmental regeneration in Queen Elizabeth Olympic Park and surrounding area, in particular by maximising the legacy of the Olympic and Paralympic Games. Queen Elizabeth Olympic Park will begin to open from July 2013 and will be fully open from spring 2014, it will be a whole new part of the city to enjoy and will provide jobs and homes for east London.
For more information about the Legacy Corporation visit: www.londonlegacy.co.uk/about-us
For more information about Queen Elizabeth Olympic Park visit: www.NoOrdinaryPark.co.uk
Contact
Chloe Couchman
Head of Communications - Business & Major Events
London & Partners
ccouchman@londonandpartners.com / +44 20 7234 5727