The Scramble Begins, As The World's Biggest Egg Hunt Takes London By Storm
Over 200 giant eggs have been hidden in secret locations throughout central London (Tuesday 21st February) as part of 'The Fabergé Big Egg Hunt', a magical event challenging the public to take on the world's biggest Easter egg hunt, whilst raising vital funds for charity.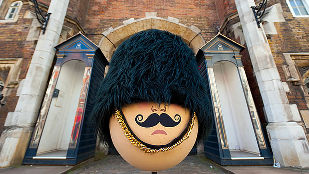 The Fabergé Big Egg Hunt is set to smash Guinness World Records for the Most participants in an Easter egg hunt and the world's Most expensive non-jewelled chocolate egg sold at auction, as designed by William Curley. The two Guinness World Records attempts are part of "World Record London", which will see the most exciting capital in the world attempt over 20 Guinness World Records to make London a multi record-breaking city.
To celebrate the magical year as host city of the 2012 Olympic and Paralympic Games, the London & Partners' campaign will highlight unique and one off events available to Londoners and everyone visiting the capital between now and July 2012.
Members of the public are racing to find the giant eggs, which have been exclusively designed, embellished and decorated by some of the world's leading artists, architects, jewellers and designers including Mulberry, Sir Ridley Scott, Zandra Rhodes, Diane Von Furstenberg, Marc Quinn, Bruce Oldfield, the Chapman Brothers, Theo Fennell, William Curley, Candy and Candy, Zaha Hadid, Bompas and Parr and Polly Morgan.
A highlight of The Fabergé Big Egg Hunt, is the chance to win the world's most extraordinary prize, the Diamond Jubilee Egg, a fabulous creation valued at over £100,000. Crafted from 500 grams of 18 carat rose gold, the design is based on Fabergé's much loved Matelasse jewellery collection. It features 60 gemstones – one for each year of Her Majesty's reign – set in a quilted rose gold surface and comprising of diamonds, emeralds, rubies and sapphires.
Gordon Innes, ceo London & Partners, said: "This cracking event is just one of the many that London will be host to over the next few months. There is an egg-cellent array of activities for all ages and budgets across the capital and with events like this London is the best place in the world to visit, study or do business in during this magical year."
To enter to win the Diamond Jubilee egg prize, and raise money for the charities at the same time, hunters need to locate the unique SMS keyword displayed on each of the eggs and text the keyword to a dedicated text number, 80001  (1). For each keyword participants text in, they will be entered into the prize draw. The more eggs they find, the more chances to win and the winning entry will be drawn at random.
The hand-crafted eggs, which are destined to become highly collectible works of art, are available to bid for online and at auction, with proceeds going to Action for Children and Elephant Family. The jewel in the crown of the auction will be an exclusively designed, stunning 127ct emerald and gold egg pendant 'Le Collier Plume d'Or' created by Fabergé.
The Fabergé Big Egg Hunt is seeking to raise up to £2 million for leading children's charity, Action for Children, and Elephant Family, the UK's biggest funder for the endangered Asian elephant.

Action for Children's Chief Executive, Dame Clare Tickell, said: "The Fabergé Big Egg Hunt is an enchanting event, which will capture the hearts, imagination and interest of everyone taking part. It's particularly heartening to know that money will be raised thanks to an event which will be hugely enjoyable for the thousands of children and families who will be taking part."
Elephant Family Founder, Mark Shand, said: "The firing gun has sounded! Let the hunt begin - here's to an Olympic effort to win that Diamond Jubilee Egg!"
Sarah Fabergé, great granddaughter Peter Carl Fabergé said: "Today sees the streets of central London host the world's most prestigious Easter egg hunt and our Diamond Jubilee design will be the winner's prize. We are thrilled to be involved in what promises to be a fun-filled, public event celebrating creativity across so many artistic disciplines and most importantly, raising funds for two exceptionally deserving charities. I would personally like to congratulate all the artists involved."
ENDS
Notes to Editors
(1) It costs £3 to enter the hunt, plus 25p per additional egg code collected, plus standard network rate for each text. For 25p, the charities combined (Elephant Family and Action for Children) will receive at least 10.3p, depending on network provider. For £3 the charities combined (Elephant Family and Action for Children) will receive at least £1.72 of the cost of the premium message depending on the network provider. 
For full terms and conditions please visit www.thebigegghunt.co.uk 
About London & Partners
London & Partners is the official promotional organisation for London attracting and delivering value to businesses, students and visitors. London & Partners is a not-for-profit public private partnership, funded by the Mayor of London and a network of commercial partners.
Our remit is to drive leisure and business visitors as well as bidding to secure major events in London, to unlock the city for overseas businesses who want to set up or expand in London and to promote the capital's world class universities to international students.
Our intention is to work in partnership with organisations in London and across the world to deliver our goal - that London be globally recognised as the best big city on earth.
For more information visit www.londonandpartners.com
The Fabergé Big Egg Hunt
For more information about The Fabergé Big Egg Hunt, please visit www.thebigegghunt.co.uk
About Action for Children
Action for Children supports and speaks out for the most vulnerable and neglected children and young people, for as long as it takes to make a difference in their lives
Action for Children works with the most vulnerable and neglected children and young people: whose families need support; are in care; who are disabled; who experience severe difficulties in their lives
Action for Children is a national charity delivering services that respond to the local needs of children, young people, their families and communities
Children are at the centre of everything Action for Children does. For more information on our work, please visit www.actionforchildren.org.uk
About Elephant Family
i. Elephant Family is the world's leading Asian elephant conservation charity. Founded in 2002 we are active in five countries and have invested over £5 million into their conservation.
ii.
iii. In the past 100 years, the population of the Asian elephant has plummeted by 90%. Without action this iconic animal of global importance may cease to exist in the wild by 2050. Elephant Family is racing against the clock to address their major threats which include massive habitat loss, poaching and human encroachment.
iv.  
Best known for Elephant Parade London 2010, we are racing against the clock to raise funds and awareness before it is too late.
About Fabergé
Fabergé is one of the most revered names in history, synonymous with consummate design and craftsmanship.
Fabergé was founded in Russia's St Petersburg in 1842 by Gustav Fabergé. He was of French descent and had moved to Russia in the 1830's to train as a goldsmith. It was Gustav's son, Peter Carl Fabergé (born in 1846) who led the firm to worldwide renown, winning the favour of the Imperial Romanov family in the 1880's and the adulation of the world with the award of the Grand Prix at the 1900 World Fair in Paris.
in January 2007 the Fabergé name was reunited with the Fabergé family. Tatiana and Sarah Fabergé, great granddaughters of Peter Carl Fabergé, together with Mr John Andrew, make up the Fabergé Heritage Council which guides the unified Fabergé in its pursuit of Fabergé's original values, philosophy and spirit. Dr Géza von Habsburg, one of the world's leading Fabergé experts and authors, serves as Fabergé's Curatorial Director.
The reunited Fabergé unveiled its inaugural and highly acclaimed "Les Fabuleuses" high jewellery collection on 9 September 2009 at Goodwood House in England. On 9 December 2009, Fabergé opened the first Fabergé boutique since 1917 in Geneva, Switzerland. In November 2011, after a 96 year hiatus, Fabergé returned to London, opening a boutique in Mayfair's Grafton Street.  
Today, under the artistic direction of Katharina Flohr, Fabergé traces the legacy of excellence in creativity, design and craftsmanship to bring about a new era of endearing and enduring personal possessions and gifts for discerning clients.
Contact
Contact: Action for Children media team on 020 3124 0661 or mediateam@actionforchildren.org.uk or 07802 806 679 (out of hours)

Sunita Sharma – London & Partners ssharma@londonandpartners.com / +44 7920 759018