London Marathon to break more World Records as part of World Record London
This Sunday the 2012 Virgin London Marathon will see more records broken in the capital as part of World Record London – a series of 20 record breaking attempts for London this year.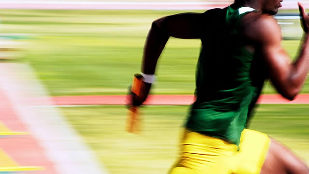 Guinness World Records has announced that over 100 runners participating in this year's Virgin London Marathon will attempt to break a world record.  The selection of records being attempted are wackier than ever, with 38 different record categories represented; ranging from the Tallest Costume to Complete a Marathon to the Fastest Marathon Hula Hooping.
Leading the official record attempts on the day will be inspirational mother of two, Sasha Kenney from Wrexham.  The 34 year-old will attempt to set a new record for the Fastest Marathon Hula Hooping (Record to beat: 6 hours). The largest cheer of the day may go to the Casserley brothers from Woodmansterne Surrey. Tom (31) and Billy (27) will attempt to set a new record for the Fastest Marathon in a Two-Person Pantomime Costume (Record to beat: 5 hours).  Dressed as 'Bonzo the horse' they will attempt to negotiate the 26.2 mile course in a record breaking 5 hours.  
All the Guinness World Records being attempted at the 2012 Virgin London Marathon are part of World Record London, which will see the most exciting capital in the world attempt over 20 Guinness World Records to make London a multi record-breaking city. To celebrate this magical year for London, the World Record London campaign is highlighting unique and one-off events available to Londoners and everyone visiting the capital between now and July 2012.
Gordon Innes, CEO, London & Partners, says, "The London Marathon is a highlight in London's annual sporting calendar and cements the city's reputation for hosting world class sporting and cultural major events. The event is hugely inspirational with spectators lining the streets, cheering on the runners and soaking up the electric street party atmosphere. This year will be particularly special as it will trail blaze the way for other big celebrations such as the Diamond Jubilee and the London 2012 Olympic and Paralympic Games that are yet to come – there is no better time to be in London."
To check out what's coming up as part of World Record London and get involved visit www.visitlondon.com/worldrecordlondon
Notes to Editors

Other records being attempted at this year's marathon include:
• Fastest marathon hula hooping
• Fastest marathon carrying 20lb pack
• Fastest marathon run by a  parent and child
• Fastest marathon in a two-person pantomime costume
• Fastest marathon by a linked team
• Fastest marathon wearing a gas mask
• Fastest marathon dressed as a cartoon character
• Fastest Marathon in a wedding dress
• Fastest marathon dressed as a vegetable
• Fastest marathon dribbling a football
• Fastest marathon in a fireman's uniform
• Fastest marathon in a suit
• Fastest marathon running with an egg and spoon
• Fastest marathon on crutches
• Fastest marathon on stilts
The London Marathon, run annually since 1981 through the streets of London, UK, raises more money for charity than any other single sporting event in the world. A record total of £31 million ($48.7 million) was raised in April 2002, the last year for which figures were officially calculated by Guinness World Records.
London & Partners is the official promotional organisation for London attracting and delivering value to businesses, students and visitors. Our remit is to drive leisure and business visitors as well as bidding to secure major events in London, we can unlock the city for overseas businesses who want to set up or expand in London and we promote the capital's world class universities to international students.
About Guinness World Records:
Guinness World Records (GWR) is the global authority on record-breaking achievements. First published in 1955, the annual Guinness World Records™ book has become one of the biggest-selling copyright titles of all time, selling 120 million copies to date in 22 languages and in more than 100 countries. The internationally renowned brand is now also available across a number of platforms – GWR's global television shows are watched by 250 million viewers annually; digital media and online record-processing services attract more than 50 million visitors a year; and the live events team annually entertains and inspires 1.5 million people around the world. GWR receives more than 1,000 applications each week and has a specialized team of multi-language record managers and adjudicators who travel the globe to verify official record attempts. GWR also has a commercial division (Guinness World Records Corporate) that offers accessible record-breaking business solutions to other organizations and brands.
Contact
Contact:
London & Partners press office - +44 207 234 5710 / press@londonandpartners.com