Healthbox to launch first business accelerator in London
The Mayor of London, Boris Johnson, today greeted Healthbox's decision to base Europe's first healthcare accelerator in London.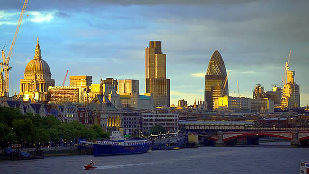 Founded by US venture capital firm Sandbox Industries, Healthbox supports healthcare entrepreneurs by providing early stage businesses with seed capital and connections to organisations and individuals from across the healthcare spectrum including private and public providers, investors, retailers, business experts and national health stakeholders.
Boris Johnson said: "It is vital that entrepreneurial individuals who have had their light bulb moment, get the support they need to progress their business. Healthbox is all about nurturing innovative people, helping their ideas to develop into expanding businesses and creating jobs for Londoners, so I am thrilled to welcome them to the capital. Their commitment recognises London is Europe's science and tech capital, with access to premier academic centres, hospitals and the largest cluster of life science businesses. This is what I will be broadcasting to the world during Games-time to attract even more investment into London."
Healthbox will tonight kick off its search for health tech start-ups that have the potential to bring real change to healthcare delivery by hosting the first of a series of European wide awareness events in London.
The final selection round will take place in September when 10 teams of entrepreneurs will secure an initial £75,000 of seed capital, access to Healthbox's mentors and wider industry network, as well as use of their London offices. Healthbox's European programme has already attracted applications from London, Germany, Argentina, Denmark, Greece, Ireland and Scotland. 
Commenting on the launch of the accelerator programme in London, Nina Nashif, Founder of Healthbox, said: "London was the obvious place to come to be part of the UK's world-renowned academic institutions, science and tech tradition as well as being a gateway to the rest of Europe. It is the natural seedbed for new, passionate entrepreneurs looking to grow their ideas. We are looking forward to working with some amazing people." She continued, "Healthcare has traditionally been a challenging sector for innovation because by its very nature it has been risk averse. Healthbox has developed a new ecosystem and culture for stimulating change by bringing together early-stage companies with strategic organisations, individuals and investors who mutually benefit from working together on new ideas that transform health. We believe in the power of having a global network for exchange of ideas and learning."
Firms supporting Healthbox's European programme include healthcare heavyweights Bupa and Serco as well innovative digital companies such as Zone Digital. Mentors will include individuals from Care UK, Novo Nordisk, Dell, Deloitte and DocCom.
Enda Madden of Cara Health, a Dublin based organisation that was one of the ten startups selected to be part of Healthbox's first programme in Chicago commented: "Healthbox is great news for health tech startups in the US and Europe. They deliver on helping you gain traction in your target market, connecting with the best mentors and developing the right strategy to achieve your company's vision".
Cara Health has developed a cloud-based system with machine learning capabilities to identify patients at high risk of re-admission using patient and caregiver self-reported health status. They have pilot sites in the UK and Ireland and are now expanding into the US with Healthbox's support.  
Healthbox was supported by London & Partners in its decision to launch in London.
Notes to Editors
About Healthbox
Founded in 2011 by business incubator and venture capital firm Sandbox Industries Healthbox   is   Europe's   first   business   accelerator   focused exclusively   on   supporting   innovation and entrepreneurship in healthcare. The programme brings together organisations from across the healthcare spectrum, including private and public providers, investors, retailers, business experts and NHS stakeholders, to form a dynamic hub of entrepreneurship with unrivalled exposure and access to the healthcare sector.
To confirm your attendance at the event, please RSVP at rsvp@healthboxaccelerator.com or to find out more information and apply to the London accelerator programme please visit the Healthbox website: www.healthboxaccelerator.com. You can also follow the Healthbox Twitter feed – @health_box.
Contact
Healthbox
For further information and interviews, please contact Alice Osborne at ZPB Ltd on 020 7018 1124 or alice@zpb-associates.com
London & Partners
For further information, contact Toby Hall – 020 7234 5710