On the countdown to Christmas...London gave to me
Faster than Marley's ghost, we take you on a tour of all things festive this season in London: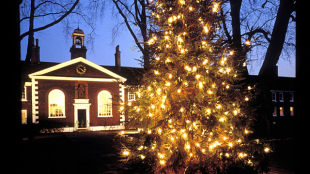 Deck the Halls
Start the day by taking inspiration from the Geffrye Museum's Christmas Past exhibition. Each year, the museum's 11 period rooms are decorated in authentic festive style, evoking forgotten celebrations of Christmases past.
Children of all ages can take in the Christmas decorations in Covent Garden Market including the giant Advent calendar. Built entirely from Lego bricks and situated in the Market building. Each door will be opened at 4pm daily in  the countdown to Christmas.
Get your skates on
Time for your best Torvill or Dean impression as you take a turn on the ice at Somerset House. This season's highlights include a luxury pop-up shopping mall called the Christmas Arcade, Skate School and Penguin Club for the children. Even if you're afraid of the ice you'll still be able to take in the atmosphere over a hot chocolate at Tom's Skate Lounge - a beautiful setting for a spot of people watching.
There is nothing better than to press your nose against the window of a shop in awe of what might be inside. Full steam ahead on your Christmas shopping journey at the Liberty Express; the Christmas shop on the fourth floor is not to be missed. Selfridges and John Lewis are also at the top of our Christmas list.
Getting in the festive spirit
Escape to central London's largest rooftop bar – Vista has been transformed into a Winter Wonderland for the festive season. Complete with an igloo-style domed roof creating a cosy Christmas haven, outdoor heaters to protect against the elements, and blankets on hand for extra snugness.
For festive glitz and glam -  a chance to see 'those sparkling red shoes' along with a whole host of other A-list costumes from the Golden Age of cinema at the V&A's Hollywood Costumes exhibition until January 6.
The Southbank Centre Christmas Market on Queen's Walk is a treasure trove of potential gifts. The canopies of twinkling lights transform the site into a stunning, magical and festive area for you to eat drink and be merry.
Ideas for even more festive fun can be found at www.visitlondon.com
Notes to Editors
Contact