London to host first World Islamic Economic Forum outside Asia
The Mayor of London Boris Johnson and his promotional organisation London & Partners have welcomed the announcement that the World Islamic Economic Forum will be held in London in 2013, the first time the major international conference has been held outside Asia.
The 9th annual WIEF conference, which will attract more than 2,000 delegates from about 85 countries, will provide a major economic boost to the capital, exposing new markets to the attraction of London as a business hub, driving international investment in the capital and helping to create jobs for Londoners.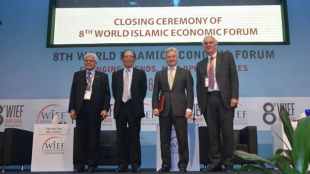 Previously held in Malaysia, Kazakhstan, Indonesia, Kuwait and Pakistan, the forum aims to bring together Muslim and non-Muslim communities through business, promoting opportunities for collaboration for social and economic progress. The forum is committed to helping communities with the greatest needs benefit by supporting big and small companies, entrepreneurs and start-ups.
Conferences of a similar size to WIEF, which will be held at ExCeL over three days in October 2013, can bring an economic benefit to their host cities up to £10 million. The announcement that it would be coming to London was made at the closing of the 8th WIEF conference, which has been taking place in Malaysia this week and was attended by the Deputy Mayor for Planning Sir Edward Lister.
The Mayor of London Boris Johnson said: "It is a great honour that the World Islamic Economic Forum has chosen our great city as the venue for its first conference ever to be held outside a Muslim country. We look forward to welcoming its delegates next year and will do our upmost to ensure their 2013 Forum is a great success. Our guests will find a city where they can easily conduct business during their stay and which has so much to offer visitors when they are not working which is why London is consistently proving to be the conference and event capital of the world."
The Mayor is committed to exploring new and emerging markets from around the world and exploiting London's export potential, as well as helping overseas firms set up and invest in the capital. Over the next 18 months he will be taking part in a series of trade trips designed to promote the capital to international business leaders.
Notes to Editors
About the World Islamic Economic Forum (WIEF) Foundation 
The WIEF Foundation, a not-for-profit organisation based in Kuala Lumpur, organises the annual World Islamic Economic Forum, a world-class business platform showcasing business opportunities in the Muslim world, and runs programmes of the various initiatives of the Foundation that strengthen people partnership and knowledge exchange between Muslim and non-Muslim communities across the globe.
True to its commitment to 'Build Bridges Through Business', the WIEF Foundation also formed the WIEF Businesswomen Network (WBN), WIEF Young Leaders Network (WYN) and the WIEF Education Trust (WET) to focus on initiatives such as roundtable discussions, leadership programmes, business networking forums, and even creative arts festivals. For more information, visit www.wief.org or www.8thwief.org. 
Contact