GPS Capital Markets opens London office
GPS Capital MarketsLimited(www.gpsfx.com), a leading corporate foreign exchange (FX) brokerage firm, has been approved by the Financial Services Authority (FSA) to operate as an Authorised Payment Institution and has officially opened its European Head Office in London.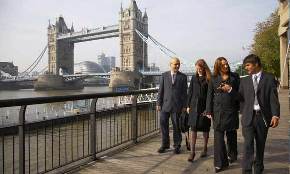 Founded in 2002, GPS Capital Markets has grown into one of the US's leading independent providers of foreign exchange management services to mid-size businesses with international operations or supplier networks. Its clients will typically be from the manufacturing or IT sectors and of a size where they would not have their own internal full time foreign exchange Treasury department/function.
"With our unique blend of FX hedging, payment processing, exposure management and treasury management services, we help companies reduce risk and strategically navigate through volatile foreign exchange challenges," Managing Partner of GPS Capital Markets, Jason Langston, said. "With this new facility, we are even better situated to help our clients in the EU strengthen their position in the market."
GPS Capital Markets has offices in Salt Lake City, Boston, Phoenix, Los Angeles, and Dallas. In Europe, the firm already provides several global companies with strategic foreign exchange services. It seeks to expand its clientele in the region and strengthen its strategic consulting and support.
"The opportunity to become part of the London landscape is an extension of the tremendous success GPS Capital Markets had initially with global firms headquartered in the United States," said Nigel Green, Head of FX Sales, GPS Capital Markets Limited. "Managing foreign exchange risk is crucial for any company with international interests and we look forward to providing more companies in the EU with the unmatched service and uniquely tailored solutions that only we can deliver."
GPS Capital Markets has been supported by London & Partners, the official promotional organization for London, and UKTI in setting up their operations in London. The new office for GPS Capital Markets Limited is: Third Floor, 20 King Street, London, United Kingdom, EC2V 8EG.
Notes to Editors
About GPS Capital Markets
GPS Capital Markets provides corporate foreign exchange services that help companies manage their foreign currency risks and execute foreign currency transactions. Founded in 2002, GPS brings together a senior management team rich in international banking experience from the world's leading financial institutions. It combines competitive exchange rates with a host of tailored international financial solutions. For additional information, visit www.gpsfx.com or call (01)801-984-1080.
About London & Partners
London & Partners is the official promotional organisation for London. Our company attracts and delivers value to business, students and visitors. London & Partners is a not-for-profit public private partnership, funded by the Mayor of London and a network of commercial partners.
Our remit is to drive leisure and business visitors as well as bidding to secure major events in London, to unlock the city for overseas businesses who want to set up or expand in London and to promote the capital's world class universities to international students.
Our intention is to work in partnership with organisations in London and across the world to deliver our goal - that London be globally recognised as the best big city on earth.
For more information visit www.londonandpartners.com.
Contact
Press contact:
Springboard5
Tim Rush
801-208-1100
tim.rush@springboard5.com
GPS
Jason Langston
800-459-8181 / 801-984-1077
jlangston@gpsfx.com