Condé Nast Traveller India announces London as the favourite Overseas City at Readers' Travel Awards 2012
London was voted the favourite Overseas City by Indian travellers, followed by Dubai as the runner up. The London Hilton on Park Lane was also awarded the best Overseas Business Hotel.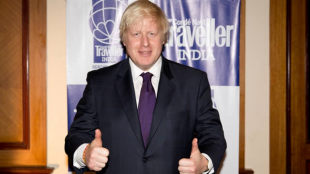 Speaking on the occasion, Boris Johnson, Mayor of London, shared, "I want to thank all the Condé Nast Traveller India readers, for once again, choosing London as their favourite overseas city that has the youngest, most dynamic and creative population in whole of Europe."
Commenting on the success of the awards ceremony, Mr. Alex Kuruvilla, MD, Condé Nast India, said, "Having introduced the prestigious global Readers' Travel Awards last year and set a benchmark in excellence for the travel industry, I feel that Condé Nast Traveller India has outdone itself this year. We are proud to host the most credible awards for the discerning luxury traveller, and spearhead growth in the luxury travel space in India."
Ms. Divia Thani Daswani, Editor, Condé Nast Traveller said, "Condé Nast Traveller Readers' Travel Awards are widely acknowledged as the most prestigious awards in the travel industry because they are voted for by our discerning readers, who understand, appreciate and ultimately consume luxury travel products and services. This year we have received an even greater response, given the increased circulation and reach of the magazine, and the growing appetite for luxury travel. I believe that a magazine needs to not only provide the best information, but also needs to listen to its readers. At Condé Nast Traveller we take votes and feedback seriously and create our product to make sure that it reflects what our readers truly want."
Notes to Editors
CONDÉ NAST TRAVELLER READERS' TRAVEL AWARDS 2012 WINNERS
Country - Thailand
Overseas City - London
Indian City – New Delhi
India Leisure Destination – Goa
Emerging Overseas Destination – New Zealand
Emerging Indian Destination – Coorg
Overseas Business Hotel - London Hilton on Park Lane
Business Hotel in India - The Oberoi, Gurgaon
Overseas Leisure Hotel - Taj Exotica Resort and Spa, Maldives
Leisure Hotel in India - Park Hyatt Goa Resort and Spa
New Overseas Hotel - The St Regis Bangkok
New Hotel in India - Grand Hyatt Goa
Boutique Hotel in India - Devi Garh Fort Palace, Udaipur
Hotel Loyalty Programmes - Taj Inner Circle, Taj Hotels Resorts and Palaces
Airport - Singapore Changi Airport
Airline for Travel outside India – Emirates
Airline for Travel within India – Jet Airways
Cruise Liners - Royal Caribbean International
Specialist Tour Operator - Thomas Cook
Overseas Hotel Spa – CHI, The Spa at Shangri-La Hotel, Bangkok
Hotel Spa in India - Kaya Kalp - the Royal Spa, ITC Mughal, Agra
Destination Spa - Ananda Spa at Ananda in the Himalayas, Rishikesh
Excellence Awards 
Taking Brand India Global: Taj Hotels Resorts and Palaces
Taking Brand India Global: Department of Tourism, Government of Kerala
Regenerating Tourism: Jammu & Kashmir
Regenerating Tourism: Japan
Promoting Cultural Tourism: Jaipur Literature Festival
Promoting Cultural Tourism: India Art Fair
About Condé Nast:
Condé Nast International, a division of Advance Publications, sets the benchmark for multimedia publishing excellence.  Condé Nast International currently operates in 24 markets, publishing 124 magazines, over 75 websites and over 150 tablet and Smartphone apps under iconic brands such as Vogue, GQ, Glamour, Wired, Condé Nast Traveller, and Vanity Fair.  Recent launches include Vogue in The Netherlands, Condé Nast Traveller in India and Russia, GQ in Brazil and Turkey, Allure in Russia, AD in China and India and Glamour in Brazil.
About Readers' Travel Awards:
The Readers' Travel Awards (RTA) were instituted by Condé Nast Traveller (CNT) in the United States in 1988 and the UK edition has been conducting the Readers' Travel Awards for the past 14 years.
Contact
Condé Nast Press Office| Yasmin Ranijiwala I yasmin.ranijiwala@condenast.in 
Manasi Golechha | 022 66119000 |manasi.golechha@condenast.in 
Perfect Relations | Anupriya Singh|09920555850 | asingh@perfectrelations.com