Two of India's fast growth financial services companies to establish London operations
Two of India's fastest growing financial services companies, Axis Bank and Indiabulls Financial Services, today announced they are setting up in London. The news came as the Mayor of London, Boris Johnson visited the Bombay Stock Exchange, where he invited Indian businesses aiming to compete successfully in the global market place to come to London and capitalise on the huge opportunities it offers to growing companies.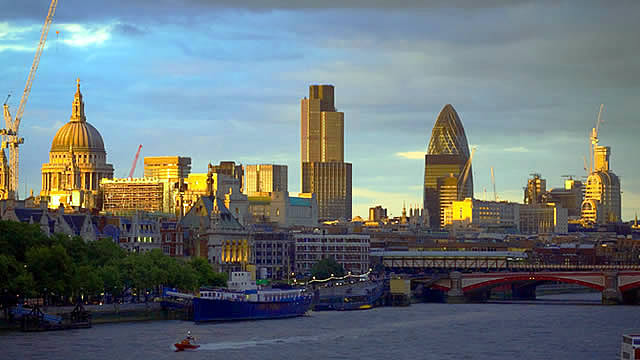 The banks' arrival in London follows the lead of other major Indian firms, including Union Bank, Punjab National Bank and ICICI Bank. Already home to more than 300 international banks, London is the perfect destination for Indian financial firms. Located in the right time zone, with a highly skilled workforce to boost growth, a London base delivers jobs and wealth back home.
For ambitious Indian companies, the London Stock Exchange is another huge draw, with 73 Indian companies currently listed in the world's premier financial market, more than on any other exchange outside India. This gives them access to innovative and cost-effective borrowing solutions to grow and compete. Those already listed in London raised almost $3 billion in 2010 and 2011 compared with $53 million on the NASDAQ and NYSE combined in the same period.
As part of his five-day trip to India to encourage investment in the capital, the Mayor today called on the Indian government to cut the red tape that severely restricts both its private and state owned companies from listing on overseas stock exchanges like that of London. In the case of state owned companies it makes them more dependent on state resources which could be directed into other government programmes such as regeneration and infrastructure improvements at home. If more companies list on the London exchange the cost of capital in the market reduces helping to generate growth in both countries' economies.  
The Mayor of London Boris Johnson said: "Our city offers enormous opportunity for Indian companies to prosper and it's great to see two more top Indian names setting up shop in London. I believe the time is ripe for India to deregulate and free up its successful public and private sector companies so they too can benefit from London's financial capacity and expertise. As well as helping to reduce the burden on the Indian taxpayer, it will also help boost the competitiveness of London's capital market to the benefit of every company listed here. Cutting away this red tape is a win win for both India and London's respective economies. I am also pleased to be launching India's own low carbon index here today, a fine example of how sharing expertise can have marvellous benefits for us all."
The Mayor met with senior business figures at the Stock Exchange to discuss trade with London and launched the Bombay Stock Exchange Low Carbon Index. The BSE Carbonex, one of the first of its kind amongst the emerging economies, is an excellent example of UK-India collaboration. It builds on lessons learned from the UK experience with an approach suited to the Indian context. It should also help to accelerate corporate reporting on emissions and climate strategies, within the context of India's commitment to low carbon growth. The launch today demonstrates how sharing expertise can benefit both our economies.
Axis Bank will open its London office, the first subsidiary outside of Asia, early next year. Founded in 1994 it has emerged as one of India's leading banks providing wholesale and retail banking services across India.
Cyril Anand, Chief Executive of Axis Bank UK operations, said: "London has the right mix of potential wholesale and retail business to make it the ideal location for our first international subsidiary. As importantly, it provides us with a robust regulatory environment which will allow Axis to build on its strong corporate franchise internationally. We look forward to establishing a significant presence in the city."
Indiabulls Financial Services, part of Indiabulls Group - an energy, real estate and financial services conglomerate - plans to provide Non Resident Indians and Person of Indian Origin mortgages for properties in India.  The development follows Indiabulls Real Estate Limited setting up office in London earlier this year.
Ashwini Kumar Hooda, Managing Director, Indiabulls, said: "We look forward to expanding our UK operations into the financial services arena. We see significant commercial opportunities in opening up the India property market to a UK based audience."
Axis Bank and Indiabulls Group have been supported by London & Partners in establishing their presence in London. Combined, the two firms will initially be employing 30 staff, and both intend to significantly expand their headcount in London in the coming three years.
Notes to Editors
1. The Mayor is on a five day visit to India, accompanied by a delegation of top London business people, to promote London as the destination of choice for investors and international trade. He will be taking part in a series of high-level meetings with Indian business leaders, senior politicians and investors in the key business hubs of Delhi, Hyderabad and Mumbai.
2. The visit is part of a wider series of trips Boris Johnson is planning to key overseas markets in the next 18 months, including China, Brazil and the Middle East. The aim is to attract foreign investment, promote export, create jobs in the capital and build on the huge exposure London received as a result of hosting the 2012 Olympic and Paralympic Games. 
3. Indian banks who have already set up in London include the State Bank of India, Bank of Baroda, ICICI Bank, Syndicate Bank, IL&FS, Kotak Mahindra, Punjab National Bank,  and Union Bank
4. London's financial sector employs 335,000 workers and contributes to 22% of the UK's GDP.
5. Axis Bank was the first of the new private banks to begin operations in 1994, after the Government of India allowed new private banks to be established. The Bank has more than 1700 branches across India and one of the largest ATM networks in the country (over 10000). The Bank has strengths in both retail and corporate banking and is committed to adopting the best international industry practices in order to deliver excellence.
6. Indiabulls Financial Services, part of the Indiabulls Group – an energy, real estate and financial services conglomerate - has developed into one of India's leading Mortgage Finance Companies. On receipt of the relevant approvals, the company will initially be providing Home Loans to Non Resident Indians (NRI's) and Person of Indian Origin (PIO's) for purchase of residential properties in over 2700 approved projects being developed by leading developers of India. The development follows on from the Indiabulls Real Estate Limited setting up office in London.
Contact
Please call the Mayor of London's press office on 020 7983 4070 /email mayorspressoffice@london.gov.uk.