London benefits from Indian tourist boost
The number of Indian tourists choosing to visit London grew by nearly a third this year, the Mayor of London Boris Johnson revealed today. The figures were announced as two of India's top hospitality firms confirmed they are significantly increasing their investment in London.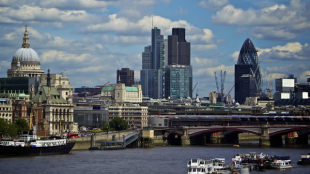 According to figures from the Mayor's official tourism and investment agency, London & Partners, the number of Indian tourists is now at a five year high, with 145,000 visitors in the first half of 2012 - up 28 per cent from 113,000 in the same period last year.
London currently attracts around 26 million visitors every year generating some £12 billion in revenue for the city. Over the last three years visitor numbers from India and the wider Asia region have risen dramatically, with spend from Asia now accounting for almost 10 per cent of total tourism expenditure.
London is a key location for India's expanding leisure businesses seeking an international platform, since the significant business and leisure travel into the capital has led to hotel occupancy levels consistently over 80 percent for the last five years.
Leading hotel operator Lalit Suri Hospitality today announced that it had acquired the heritage building, St Olave's, near Tower Bridge for £15 million. A further £15 million will be invested in restoring and developing it into a five star luxury hotel. Work on the 70 room boutique hotel is due to begin early next year, and it is expected to open late in 2014, creating 100 new jobs.
The Bird Group, one of the largest diversified business conglomerates in India, invested in the purchase of the Royal Park hotel near Hyde Park early last year and have since upgraded it from a 4 star to a 5 star establishment. The group is now keen to invest further to acquire new properties in London, and has created a property management company in London to deal with its own properties and those of third parties.
Addressing an audience of senior Indian businesspeople in Delhi today, the Mayor outlined what makes London the best big city in Europe both to invest in and visit.
The Mayor of London, Boris Johnson, said: "London's boundless opportunities, both as a vibrant international destination and a phenomenally well-connected business and investment hub, are ripe and plentiful - especially for surging emerging economies like India's. As well as wooing record numbers of tourists from India, London is also attracting leading Indian firms in the leisure and hospitality sector, creating jobs and growth for the capital ."
Dr Jyotsna Suri, Chairperson and Managing Director of The Lalit Suri Hospitality Group, said: "The economics of London make it a must-have hotel location for Lalit, especially given that the city's hotels have sustained an overall 85 per cent occupancy for the last 15 years. The project also realizes a life-long ambition of our Founder Chairman Late Mr Lalit Suri who deeply loved London and wanted to bring his signature style of hospitality to the city. Six years ago, he chose London for his resting place. I announce with great pride that Lalit London will be the first of our international properties to become operational."
Following an extraordinary summer in which billions around the world watched London's incredible 2012 Games and the Queen's Diamond Jubilee celebrations, London & Partners recently launched its "See it for yourself" campaign globally to convert those viewers into visitors. In April this year London was also voted the World's Best Visitor Destination in the 2012 Traveller's Choice Destinations Awards from TripAdvisor, the world's largest travel site.
Gordon Innes, CEO of London & Partners, said: "As the images from the Olympics and Diamond Jubilee celebrations presented, London is constantly evolving, drawing in visitors both to its celebrated landmarks and to its vibrant new creative and commercial districts. With our global connectivity, we will continue working hard to ensure London remains the destination of choice and international business hub for leisure and commercial travellers alike."
Tourism between London and India is, however, a two way business. Last year around one million Britons flew to the Indian city of Mumbai, the home of India's Bollywood film industry. This trend is expected to continue, as Virgin Atlantic launched a daily service to Mumbai last month and the International Air Transport Association predicts that UK-Mumbai traffic will rise by six per cent each year until 2015. Virgin, which already flies daily to Delhi, expects to carry more than 140,000 passengers a year to Mumbai.
The confidence expressed in London by Lalit Suri Hospitality and the Bird Group follow similar investment by India's Tata Group into 51 Buckingham Gate in 2011 and the earlier £470 million acquisition of Grosvenor House by Sahara.
Notes to Editors
The Mayor is on a five day visit to India, accompanied by a delegation of top London business people, to promote London as the destination of choice for investors and international trade. He will be taking part in a series of high-level meetings with Indian business leaders, senior politicians and investors in the key business hubs of Delhi, Hyderabad and Mumbai.
The visit is part of a wider series of trips Boris Johnson is planning to key overseas markets in the next 18 months, including China, Brazil and the Middle East. The aim is to attract foreign investment, promote export, create jobs in the capital and build on the huge exposure London received as a result of hosting the 2012 Olympic and Paralympic Games.
Lalit Suri
- Lalit Suri Hospitality is a leading hospitality group in India. In July 2012 Lalit Suri announced that it had acquired the heritage building, St Olave's, near Tower Bridge for £15 million. A further £15 million will now be invested in restoring and developing it. The 70 room boutique hotel is expected to open before the end of 2014.
- The design style of the hotel is contemporary but influenced by Indian heritage.
- London will be Lalit's first international hotel to be operational and will employ circa 100+ staff.
- Lalit has 9 existing hotels in operation in India and a further 7 under development
- There is also an emotional connection for Dr Suri. Her husband, the founder of the Lalit Suri, always wanted to establish a Lalit hotel in London and when he died six years ago the family chose London as his resting place and planted a tree in Hyde Park in his memory. In addition to being a respected businessman, her husband was also a Member of Parliament in India.
- For further information on Lalit Suri - www.thelalit.com
The Bird Group
- Bird Group is one of India's fastest growing business conglomerates with interests in Travel Technology, Aviation Services, Hospitality, Luxury Retail and Education. In March 2012 it acquired The Royal Park Hotel (Westbourne Terrance) and upgraded from 3 to 5 star hotel – 30-40 employed.
- For further information on The Bird Group, www.bird.in.
Contact
For media enquiries please contact the Mayor of London's press office on 020 7983 4070 or email mayorspressoffice@london.gov.uk. Numbers not for publication.

For out of hours media enquiries please call 020 7983 4000.