London unlocks international students' potential
London's universities have launched a new initiative with international students who will become ambassadors for London. 30 lucky international students were presented with a symbolic key to the city to unlock the yearlong programme of activities that demonstrate why London is the world's best study destination. The chosen students from the USA and India will take part in a series of learning, networking and behind-the-scenes tours which will give the students unprecedented access to the city's iconic organisations and attractions.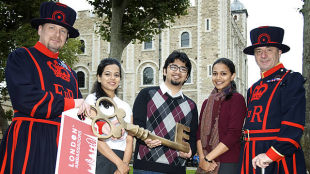 The programme launched by the London Universities International Partnership (LUIP), and supported by London & Partners, is designed to help the student ambassadors discover the unrivalled opportunitiesthat studying in such a multicultural, vibrant and creative city like London can offer. They will be communicating their experiences to a wider audience in the USA and India, online through their own blogs, tweets and videos.
Gary Davies Chair of LUIP comments; "London is the world's top higher education study destination with over 110,000 international students from 210 countries; it has 9 universities in the world top university rankings more than any other city in the world. But international students studying here get more than just a universally recognised qualification; our ambassadors will be able to experience first-hand the advantages studying in a global city rich in cultural heritage brings. We look forward to them sharing these experiences of London in real time through their blogs and other social media to a global student population."
The chosen ambassadors will benefit from a programme that includes behind the scene tours of classic London icons and museums; a 'boot camp' on leadership and entrepreneurship; a chance to experience what it is like to work in London's preeminent creative and finance industries and an opportunity to meet Fortnum and Mason's international buyer for a tea tasting. The students will have a crucial ambassadorial role on their return home as successful alumni and will continue to promote London back to their own country in partnership with the Mayor of London's international promotional agency London & Partners.
MD Adil Hossain studying for a MA Development and Rights says; "I am from a small village in West Bengal in India so to be in London and chosen as a student ambassador means getting unending avenues to realise my dreams. London is a bustling international city and by experiencing the many facets of the capital including access to the many big organisations working in the sector of development, I am sure I will have the opportunity to expand my horizons and develop my critical thinking."
David Kroeker Maus, from Minnesota studying for a MA Environment and Development says; "I am thrilled to be chosen, I hope after graduating to foster innovations that make our cities more liveable and dynamic so relish the opportunity to meet the leaders and thinkers that are shaping London. I am also delighted to have the chance to network with the other ambassadors from the London Universities and hope they will develop in the future to be important professional contacts."
The ambassador's inaugural session was a master-class led by Katy Howell, CEO of social media consultancy, immediate future. Katy is a recognised authority in social communications helping a wide range of prestigious clients adopt, integrate, and use social media.
Katy comments; "Social media offers a personal and intuitive way for international students to reach audiences around the world with their views and opinions on London. The ambassadors will learn a new skill set as well: understanding how they can use social media to increase their connections and communicate their own messages. It will be an adventure too, as there is nothing quite like tweeting, blogging and posting for nurturing creativity and establishing your online personality."
Notes to Editors
A list of the subject areas being studied by the London Ambassadors is at Annex 1
An Indicative Programme of Events is at Annex 2
The London Universities International Partnership is made up of 16 universities in partnership with London & Partners. Since its successful launch at the House of Lords in March 2012 it has already had a major impact with its social media campaigns. 28 million Chinese followers witnessed the 'This is London Showcase' on Weibo, as part of a social media campaign in China andover 40 million followers witnessed the event on Tencent  (QQ) Weibo. The showcase aimed at communicating whatLondon has to offer both as a world leading study destination and as a global city for tourism and business, generated a total following of 104,058 for the official Weibo sites in just 10 days.
The ambassador programme is part of a wider series of initiatives aimed at promoting the benefits of a London based higher education.
Members:
Brunel University
City University London
Goldsmiths University London
Kings College London
Kingston University
London South Bank University
Queen Mary University London
Royal College of Art
Royal Veterinary College, University of London
Trinity Laban Conservatoire of Music and Dance
School of Oriental and African Studies, University of London
St George's, University of London
University of the Arts London
University of East London
University of Roehampton
University of Westminster
The Partnership aims to:
Showcase London as a world-class study destination and the world's knowledge capital;
Establish collaborations, in each key market, with  stakeholders, partners and businesses;
Raise the profile of London's universities and all their world -class activities and facilities 
Lobby regionally and nationally to raise issues that  affect international students;
Share resources and research ;
Access a range of key London bodies to work collaboratively to promote London as the best city in the world
For more information visit www.luip.co.uk
London & Partners is the official promotional organisation for London. Our company attracts and delivers value to business, students and visitors. London & Partners is a not-for-profit public private partnership, funded by the Mayor of London and a network of commercial partners.
Our remit is to drive leisure and business visitors as well as bidding to secure major events in London, to unlock the city for overseas businesses who want to set up or expand in London and to promote the capital's world class universities to international students.
For more information visit www.londonandpartners.com  
Katy Howell, CEO of social media agency, immediate future. Katy helps brands adopt, integrate, and use social media. With over eight years' experience in social media and 25 years in sales & marketing, she is a recognised authority in social communications: speaking at events around the world and carrying out training for the major marketing professional qualifications. Katy has worked with a wide range of industries with prestigious clients including; Indesit Company, Selfridges, Staples Europe, BT, Diageo, HSBC , NSPCC, JD Williams,  and Sony Music. You can check out more of what she does on the following:
www.linkedin.com/in/katyhowell
Annex 1
LUIP London ambassador 2012 Study Areas
University
Country
Course
Kingston

USA

 

India

MSc Sustainability Environment and Change.

 

MA Magazine Journalism

Goldsmiths

USA

 

India

MA Critical and Creative Analysis

 

MA Development and Rights

Westminster

India

 

USA

LLM

 

PR /Journalism

Royal Veterinary College

 

USA

 

India

4th year BVetMed

 

MSc in Control of Infectious Diseases

Kings College London

India

 

USA

MSC Forensic Science

 

MA Environment and Development.

Queen Mary

USA

 

India

BSc Business Management

 

LLM

School of Oriental  and African Studies
India
MA Social Anthropology of Development
St Georges University of London

India

 

 

USA

Foundation in Medicine, Biomedical and Health Sciences

 

Medicine. Year 1

Roehampton

USA

 

India

MA Creative & Professional Writing

 

BA International Business (final year)

London South Bank University

USA

 

India

 

BSc (Top-up) Baking Technology Management

 

BEng (Hons) Chemical and Processing Engineering

Brunel

India

 

USA

BSc Product Design

 

BSc Product Design (year abroad)

University of East London
India

MA Photography

 
Annex 2
LUIP ambassador's Indicative Event Programme
October 17       
Ambassadors Programme launch event at London & Partners the Mayor of London's International Promotional Agency, plus a Blogging Masterclass
November
Diwali reception at Indian High Commission
November

Entrepreneur's Boot Camp, Delivered by: Siân Prime, Director, MA Creative and Cultural Entrepreneurship Institute of Creative and Cultural

Entrepreneurship Goldsmiths, University of

London The entrepreneurial bootcamp will

be a half day session of activities to help

you to develop an understanding of the

value of entrepreneurial approach. Sian

Prime will work with you to give you a range

of different techniques to help you know

how to move from having a brilliant idea to

making an impact with it, and how you can

translate thinking, knowing and ideas into

new types of opportunities for yourself and

society.

November

Thanksgiving reception at the US Embassy

 

December

A tour of the Palace of Westminster (Houses of Parliament) as the guest of a Peer of the realm

 

December

Christmas Party, a chance to try out your ice skating skills outdoors at one of London's most famous historical buildings

 

January
Tea Tasting at Fortnum and Mason, and an opportunity to meet the international buyer for one of the oldest suppliers of food and wine to the royal family
February (and June)

Back stage at the London College of Fashion MA Catwalk Fashion Show (February) or BA Show (June). A Chance to see just what goes on behind the scenes at these world trend setting Fashion shows.

 

February
The top "Top 10 blogger" Ambassadors –  get an opportunity  to  find out the engineering and management challenges of running the iconic London Underground plus a tour of one of the war time underground stations
April
An Architectural tour of London ancient and modern
May

Be a trader for a day; find out what it is like to work in London's preeminent finance centre. The Bloomberg terminals located at the 'Financials Market Suite', Westminster Business School, give you access to the same real-time financial market data, analytics and software used by city traders to make fast-paced investment, trading and financial decisions to trade virtually.

 

June

Made in Brunel Design Show, witness over 150 innovative and award winning engineering and design creations at this influential show