Improvements to London's official tourism website ensure it is now even easier to discover – and share – the magic of the capital
London & Partners, the official promotional organisation for the capital, has unveiled a new and improved visitlondon.com website, aimed at domestic and overseas visitors.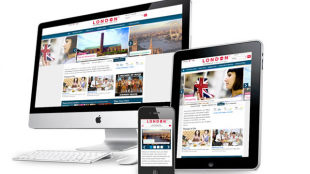 The new-look visitlondon.com, which aims to provide the best guide to the city, has been refreshed with a clearer and more engaging layout. There's a simple navigation with just five main sections, easy-to-use drop down menus and improved search functionality. 
The new Discover London section gives first-time visitors a better online experience, with inspirational features and tools for planning their visit to London.
Responding to the ever-increasing appetite to share what's on and where with friends and family, enhanced social media interactivity has been at the forefront of changes. The updated website allows for simpler integrated use of Facebook, Yahoo, Google and Windows Live log-in, letting visitors share content more easily. In addition, visitlondon.com's Facebook, Twitter and blog feeds are displayed across the site.
For those on the go, the website is now fully optimised for mobile and tablet devices. Other highlights include secure booking options, more offers and competitions, and better promotion for commercial partners.
Julie Chappell, Director of Digital at London & Partners, said:
"We are thrilled to unveil the new visitlondon.com to the world. The website receives more than 2 million visits each month, a figure that increased during the London 2012 Games, with 226,000 visits on the day of the Opening Ceremony alone. We are hoping to build on this success with the launch of the newly transformed website. We hope the new visitlondon.com will convey London as a dynamic, diverse and magical city, which visitors will want to see for themselves."
Notes to Editors
Contact