Mayor announces RideLondon passes 25,000 applicants as passion for cycling soars
More than 25,000 people have registered for the RideLondon 100 bike ride in just five weeks since applications opened when it was launched by Mayor of London, Boris Johnson last month. The news follows the remarkable success of the London 2012 Games which has already led to a peak in interest in cycling, and suggests the cycling trend is set to continue.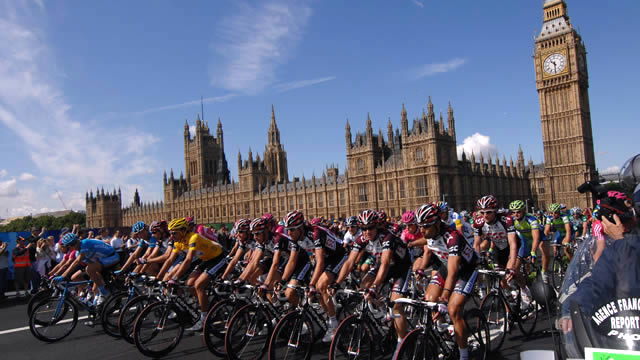 The RideLondon festival of cycling will give amateur, clubs and the world's elite cyclists four different cycling events to take part in over the weekend of the 3rd / 4th August 2013. The events range from RideLondon 100 – a 100 mile challenge ride, RideLondon Freecycle - an 8 mile central London route on closed roads for up to 70,000 people including families, RideLondon Grand Prix for Elite Women, Juniors and hand-cyclists the RideLondon Classic which will see the men's elite take to the roads of London & Surrey on what is expected to become part of the UCI's official race calendar.
The Mayor of London, Boris Johnson, said: "Londoners are cycling in record numbers and helped  by a raft of improvements there are now more than half a million journeys made by bike every day. The inspirational performances of British road and track cyclists this summer have done even more to encourage people to get on their bike, as the fantastic demand for RideLondon is showing . This cycling festival will have something for everyone, the lycra-clad professionals, the daily commuter, and families on a fun day out. What's more, RideLondon is a living legacy of our glorious summer by utilising our wonderful Olympic Park."
Hugh Brasher from London & Surrey Cycling Partnership, said: "After the incredible achievements of our Olympic and Paralympic athletes, particularly the cyclists, we feel that they have naturally generated massive enthusiasm and inspiration for people to participate in this great weekend of cycling.   We expected a high demand, but even we were surprised by such a fantastic reaction to the opening of the entry ballot, and we feel this is a great start to one of our primary goals to make this the world's largest charity fundraising cycle event.  Furthermore, the current figures show that over half the registrants have never previously ridden in a cycling sportive, so we are especially pleased that this event seems to have struck a chord with new participants to this type of challenge".
The ballot for places for RideLondon 100 will shut when a total of 75,000 have applied.  People who are unsuccessful in the ballot may still be able to take part by cycling for a charity dear to their heart, as many major charities will have a set number of guaranteed entry places in the RideLondon 100. The charities will then allocate these places to riders on the basis that they will raise an agreed amount of money for the charity. For more information potential participants should visit www.RideLondon.co.uk
Ben Plowden, Director of Planning TfL Surface Transport said: "The success of Team GB and Paralympic GB in the velodrome has increased the popularity of cycling in London and across the UK. The RideLondon weekend will have an event for everyone, regardless of age or cycling ability. RideLondon FreeCycle on Saturday 3 August will cater for families and new or occasional cyclists, whilst RideLondon 100 the next day will be suited to regular and club cyclists. RideLondon is a fantastic opportunity to try cycling in London and is a true legacy of the London 2012 Games".
Iain Edmondson, Head of Major Events at London & Partners the Mayor of London's promotional organisation behind the RideLondon event added: "This milestone shows just how much the public had been inspired by the Games. RideLondon is just one example of how London & Partners are developing plans to ensure the city remains the world's best big city for major events."
The two day festival of cycling will start with a mass participation family fun ride for up to 70,000 cyclists of all abilities. The eight-mile loop on closed roads around London landmarks. will provide a unique, safe, relaxed and inclusive atmosphere. The event will be broadcast exclusively by the BBC across all media platforms including TV, radio, internet, mobile and iPlayer.
The following day RideLondon 100 will start from the Queen Elizabeth Olympic Park and will be its first sporting event following conversion after the 2012 Games. The event will cover a similar 100 mile route as the Olympic road cycling course through central London via Richmond Park out to the Surrey Hills.
Exact detailed routes for the RideLondon events will be revealed later in the year taking into consideration learnings from the 2012 Games. The finish for all the RideLondon events will be on The Mall, subject to approval.
Notes to Editors
While the Mayor and his agencies will be the custodians of RideLondon, the event will be managed by the London & Surrey Cycling Partnership (LSCP), a partnership between The London Marathon Limited (owners & operators of the London Marathon since 1981) and SweetSpot Group Limited (operators of The Tour of Britain).
The RideLondon weekend will include:  


RideLondon Freecycle "COME ALONG FOR THE RIDE" - An 8 mile central London route on closed roads for up to 70,000 people.
RideLondon Grand Prix "EXPERIENCE CRITERIUM RACING" - Also known as Criterium Racing, this invitational city centre loop will provide a focus for the Women's Elite, hand-cycles and youth groups.
RideLondon 100 "RISE TO THE CHALLENGE" - A 100 mile challenge ride including charitable fundraising through London and Surrey via Richmond Park - expected to attract 20,000 riders in Year
RideLondon Classic "SEE THE GREATS" - Starting in the Queen Elizabeth Olympic Park and following part of the Olympic Road Race route this race will see the international men's elite take to the roads of London & Surrey on what is expected to become part of the UCI's official race calendar (announcement in September).


Registration for RideLondon is open. Go to www.RideLondon.co.uk and sign up to what promises to be one of the most exciting events to hit the streets of London next year.
LSCP, Transport for London (TfL) and London & Partners (the Mayor's official promotional organisation) will coordinate the significant technical requirements for the event and work in partnership with Surrey County Council, London Boroughs, The Royal Parks, London Legacy Development Corporation and British Cycling, who will each be integral to the delivery of the event.
This flagship event will form part of the Mayor and TfL's cycling programme. This includes Barclays Cycle Hire and Barclays Cycle Superhighways expansion across London, providing easy and secure cycle parking and wayfinding and investment in cycling in outer London via the Biking Boroughs programme, as well as working with London Boroughs to deliver child and adult cycling training courses.

RideLondon will provide a fantastic platform to help fulfil The Mayor and TfL's goal of encouraging more people to cycle more safely, more often. TfL anticipate tens of thousands of spectators and participants every year will take up regular cycling after each event. This will be achieved by creating massive engagement with participants, spectators and media alike.
In 2012, the Olympic and Paralympic Games has already allowed us to showcase London to a global audience and increase our ability to combine elite performance with wider participation events to inspire new generations to take up cycling.
RideLondon will allow those inspired during the Games to get involved whilst allowing the world's greatest cyclists to compete in front of national and international audiences.
For the inaugural RideLondon event, charities are being asked to apply through a ballot process for their allocation of entries. These entries will be allocated in September and the charities informed of their allocation no later than October. Unsuccessful charities in the first ballot will get priority entry in a second ballot to be held for 2014 as more entries are taken.
The London Marathon is proud to say that all its profits are given to The London Marathon Charitable Trust who help fund sport and recreation projects in London and areas where it organises events. Recent grants include £2 million awarded to the Lee Valley Velodrome for cycle legacy funding at the new Queen Elizabeth Olympic Park.
RideLondon forms part of a wider programme to increase levels of cycling in the capital; alongside cycle hire, cycle superhighways, free cycle training and a programme to make junctions across the capital better for cyclists. For more information visit: https://www.tfl.gov.uk/corporate/projectsandschemes/22780.aspx