Central Working and Barclays announce partnership in Tech City
 Central Working has secured funding from Barclays as well as a range of practical support services for businesses from the bank enabling Central Working to launch its third "club" in London. Located in Shoreditch, the heart of Tech City, the latest Central Working club is expected to help over 22,000 digital businesses during the next 5 years, which will potentially generate £350 million in combined revenue.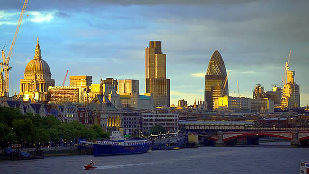 The partnership was announced by the Chancellor of the Exchequer, George Osborne, at the Global Business Summit on ICT held at the British Business Embassy today. The partnership was brokered by London & Partners and the Tech City Investment Organisation (TCIO), with the support of the Mayor of London.
Established in May 2011, Central Working provides invaluable tools to help small and medium enterprises grow their businesses. Hundreds of businesses have already capitalised on the benefits of the new collaborative approach championed by Central Working's existing clubs in Bloomsbury and at the Google Campus in Tech City. Their clubs provide collaborative environment and are already home to some of the newest, most exciting businesses in the UK.
CEO of Central Working, James Layfield, said: "I am excited by the support being provided by Barclays, the TCIO and London & Partners on this unique opportunity to help with genuine job creation. Central Working aims to create the ideal environment for growing businesses. We will help over 22,000 companies to grow over the next 5 years. Central Working aims not only to provide space for these fast growth companies, but far more importantly to nurture the talents of the people who run them by providing deep support and inspiration as well as the perfect environment to foster collaboration and peer development. The partnership with Barclays will enable Tech City companies to develop and to devote their time and energy to their core business."
Mayor of London, Boris Johnson, said:  
"London has the largest cluster of digital businesses in Europe and providing the right type of support so that the next generation of fast growth businesses can develop is key. The co-working spaces and services being provided through initiatives of this type will ensure the continued growth of this cluster - attracting investment and creating jobs for Londoners."
Shaygan Kheradpir, Chief Operating Officer, Barclays Retail and Business Banking, said:
"Our partnership with Central Working will provide a vital boost for thousands of digital start-ups. Tech City has the potential to become the digital capital of Europe but needs investment and engagement from the business community in order to unlock new growth.
"There are many entrepreneurs and start-ups with great ideas and ambitions about the future of digital and mobile technology. They will benefit from access to space, infrastructure and support as we help the next generation of technological innovators to fulfil their potential.
"This is an exciting opportunity for businesses to grow and reflects Barclays' commitment to supporting our digital industry."
Chancellor George Osborne said: "The Government is determined to make Britain the technology centre of Europe, with London's Tech City at its heart. London 2012 is the perfect stage to show how investors and entrepreneurs how much we have already achieved, and the exciting potential of what is to come. We are also proud to demonstrate the world-class innovation of the British tech industry, which is helping to deliver the most digitally-advanced Games in history."
Membership at the new Shoreditch club is being pre sold now from Central Working's website and they are expecting demand to eclipse the two existing clubs.
For more information, please visit: http://centralworking.com/shoreditchclub
Notes to Editors
About Central Working
Central Working provides a smarter, better way for businesses to grow. Central Working provides the ideal environment for growing businesses. We do this by providing businesses with the environment, community and tools they really need to succeed. We currently have 2 permanent clubs in Central London and a third planned for September 2012
We are passionate about business, our aim is to help 10,000 of them to flourish and we are already well on the way to making it happen. We are also ourselves an innovative and rapidly growing business. Our CEO, James Layfield, was voted Entrepreneur of the year 2012 and our business was cited as one of the UK'S top 100 start-ups 2012. See more at http://www.centralworking.com/
About Barclays
Barclays is a major global financial services provider engaged in personal banking, credit cards, corporate and investment banking and wealth and investment management with an extensive international presence in Europe, the Americas, Africa and Asia. 

With over 300 years of history and expertise in banking, Barclays operates in over 50 countries and employs approximately 140,000 people. Barclays moves, lends, invests and protects money for customers and clients worldwide.
For further information about Barclays, please visit our website www.barclays.com. 
About the Tech City Investment Organisation
The Tech City Investment Organisation (TCIO) was set up by UK Trade & Investment (UKTI) in April 2011 to support the growth of the tech cluster in East London; helping to make it Europe's Centre of innovation and the location of choice for tech and digital companies and investors. Our objectives are to: assist in securing Foreign Direct Investment (FDI) in Tech City; engage with overseas VCs and help them to set up or start evaluating deal-flow in Tech City; and support the cluster, and raise its profile internationally.
In November 2010, the Prime Minister set out the Government's ambition to help East London become one of the world's great technology centres. Government is helping in two ways:
Firstly, by ensuring that national policy promotes enterprise and growth. The Entrepreneur Visa, Seed Enterprise Investment Scheme and opening up Government procurement are three examples of action central Government has taken in direct response to concerns expressed by Tech City companies about access to talent and finance. No 10 is responsible for driving national policy; and
Secondly, by attracting inward investment, and supporting companies in the cluster who want to expand into international markets. TCIO was set up to do just that.
Venture-backed, high-potential companies have landed in Tech City as a result of our support, and we have worked to secure investment from leading international technology firms including Cisco and Intel. World-leading academic institutions like UCL and Imperial College, London are also setting up here. Alongside the start-ups and small businesses are leading international tech companies such as Google. A well-established network of incubators like Seedcamp and White Bear Yard provide early stage funding and support, and top international investors including Accel and Index are also here.
For more information, visit www.techcityuk.com, follow us at @techcityuk or contact us at pressoffice@techcityuk.com
About London & Partners
London & Partners is the official promotional organisation for London. Our company attracts and delivers value to business, students and visitors. London & Partners is a not-for-profit public private partnership, funded by the Mayor of London and a network of commercial partners.
Our remit is to drive leisure and business visitors as well as bidding to secure major events in London, to unlock the city for overseas businesses who want to set up or expand in London and to promote the capital's world class universities to international students.
Our intention is to work in partnership with organisations in London and across the world to deliver our goal - that London be globally recognised as the best big city on earth.
For more information visit www.londonandpartners.com