Yelp expands its operations in the UK
Yelp (NYSE: YELP), the company that connects consumers with great local businesses, today announced the expansion of their UK presence with the opening of their new sales office in London. Yelp has created 100 new jobs in London to help build their new sales and marketing teams. This announcement is a landmark moment for the expansion of Yelp's European operations as it moves to monetise its services in Europe for the first time.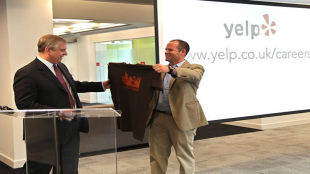 The Duke of York today met with Yelp executives at their London office as the announcement was made. "We are pleased that Yelp has decided to invest further in the UK and use it as the gateway to Europe as it continues to deliver on its impressive international expansion plans," said The Duke of York. "The UK continues to prove an attractive investment proposition for innovative companies, leading to job creation and skills development that will ensure the UK remains an engine of growth."

"The UK is filled with entrepreneurial local business owners looking for targeted ways to reach consumers; Yelp brings those businesses and consumers together in a unique way," said Jed Nachman, Senior Vice President of Revenue at Yelp. "In today's economic climate, providing consumers with relevant information that helps them make educated decisions on where to spend their hard-earned money is just as important as our role in highlighting and supporting great local businesses. We are excited about this next chapter in Yelp's evolution, especially as the UK becomes an important piece of our European expansion plans."

To oversee the new sales operations in the UK, Mr. Nachman has relocated to London from Yelp headquarters in San Francisco. He joined Yelp in 2007 to lead the company's sales team and has overseen rapidly growing sales, client services, and revenue operations groups across three offices in the US. Mr. Nachman will apply that wealth of experience to establish and drive further growth throughout the UK.

An array of unique advertising products are now available to local businesses and large brands looking to connect directly with Yelp's influential audience of approximately 71 million* unique monthly visitors.


Notes to Editors
* Source: Google Analytics, monthly average basis during Q1 2012
Yelp is in the process of recruiting its sales force that will be based in London and anyone interested in applying for the positions can find more information at www.yelp.co.uk/careers.

Contact
Check out Yelp.co.uk or visit the Yelp Official Blog (http://officialblog.yelp.com) to learn more about the company's international expansion efforts and iPhone and Android mobile apps.