Boris Johnson opens Telefonica's Wayra Academy for Britain's Brightest And Best Tech Entrepreneurs
London Mayor Boris Johnson today officially opened the 10th Wayra Academy – Telefonica's accelerator programme – established in London to help digital talent go global. The Mayor joined senior figures from O2 parent company Telefonica, in congratulating 16 of the UK's most talented digital entrepreneurs who have secured a place at the state-of-the-art Academy.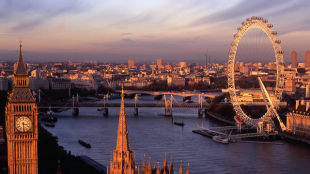 The budding success stories met by the Mayor included Pollarize.me, a polling application that lets people survey their friends and Epicurely, a social network for people who love food.  All the start-ups have taken ICT and translated it into an exciting range of new ideas, across a whole range of industries.  At Wayra UK, they will be supported to nurture their ideas and talent through the provision of financing, technology, mentorship and support.
Speaking at the opening of the Wayra Academy, Boris Johnson highlighted his ambitions for the tech sector, his support for young entrepreneurs and stressed the positive role that such accelerators can play in developing the future digital economy and driving economic growth and recovery in the UK.
The Mayor of London, Boris Johnson, said: "The Wayra Academy is a fantastic initiative that will harness precisely the kind of creativity and entrepreneurship we need to create jobs and drive economic growth. Home to some of the finest minds in innovation and design, London's digital sector has huge potential to create jobs for Londoners and grow the capital's economy. This is why we must do everything we can to help people who want to start their own businesses turn their ideas into reality. I wish all those who come through the Academy's doors the very best of luck as they nurture their ideas into fully fledged companies with the potential to offer vital employment opportunities for Londoners and a huge boost to our economy."
The London Wayra Academy has come a long way since March when Telefonica announced its intention to establish its 10th global Academy in the city:
An empty, 13,000 sq ft site has been completely transformed into a cutting-edge workspace with world-class incubation facilities

More than 1,000 applications have been received from a huge range of prospective tech-entrepreneurs

A three day, intensive selection process dubbed Wayra Week saw a shortlist of 30 start-ups pitch their ideas to an expert panel of judges

In line with Wayra's stated ambition to tap into a broad range of UK talent, successful applicants range from 20 through 50 years of age. 

The group also includes four projects which are led by current, or recently graduated university students
The opening of London's Wayra Academy and Telefónica's multi-million pound investment in its London-based Telefónica Digital business demonstrates a clear commitment to fuelling growth and innovation in each of its European territories.
It comes as Telefonica prepares to open the global HQ of its Telefonica Digital division in London next month and as the business prepares to bring together 10,000 of the continent's most talented tech minds for the world's biggest technology festival – a five day event called Campus Party – in Berlin in August.
The London Wayra Academy, which has been supported by the Mayor of London's official promotional organisation, London & Partners, will encourage growth, investment and job creation in the UK and London by anchoring UK digital innovators in the city. It encourages them to keep their talents in the capital by backing them with investment, mentoring, and technical expertise.
Uniquely for such incubator programmes, the academy provides global reach and potential to scale new businesses from concept to reality with access to a potential market of more than 300 million Telefonica customers worldwide.
At the event, O2 CEO Ronan Dunne re-asserted Telefonica/O2's ambition to boost entrepreneurial spirit in Europe both by opening more Wayra academies over the next 12 months and by launching Campus Party in Berlin: "Growth in Europe is predicated on nurturing the skills and talent of future generations. As a digital services business, our success depends on identifying and backing great ideas and unleashing the positive potential of young people and technology.  
We're well positioned to do so by bringing Wayra academies to Germany and Ireland in the next twelve months. Whilst initiatives such as Campus Parties and VC funds including Amerigo and Telefonica Ventures will keep us at the forefront of identifying, supporting and developing the infrastructure that is critical to the future of Digital Europe."
London is the 10th Academy in Telefonica's Wayra accelerator programme which globally has received more than 10,000 submissions and has already invested in over 100 start-ups. It follows the establishment of academies in Madrid and Barcelona with others set to open in Dublin and Munich soon.
Alumni of the global Wayra Academy network, include CogniCor, the smart complaint resolution service from the Barcelona Academy, who recently won the European Commission's Tech All Stars competition to find the best entrepreneurs from accelerator programmes, incubators and web camps from around the EU.
Campus Party Europe takes place from 21-26 August in Berlin as a 24-hour a day festival where 10,000 young technologists, hackers, developers, gamers and budding inventors – all equipped with laptops and sleeping bags – immerse themselves in a truly unique environment.  The so-called 'campuseros' will all gather at the historic Tempelhof Airport to share ideas inspiration and experience with some of the world's leading authorities on innovation including Sir Tim Berners Lee, Paulo Coelho, Yossi Vardi and senior leaders from the world of politics.

For further information about the Wayra Academy, visit http://wayra.org/en 

For further information about how to register for the Campus Party in Berlin, visit http://www.campus-party.eu/2012 .
Notes to Editors
Overview of successful start ups at the Academy:
Start-up
Overview

Hiyalife Ltd

A new social network to log, store and timeline your memories.

 

CloudBlocks

An 'app store' with tools for businesses to manage servers.

Chatterbox Analytics

A tool to help businesses identify and manage online brand advocates and to discover engagement
TaskHub
An online community hub and social marketplace to advertise your errands and odd jobs to neighbourhood service providers.

MakeLight Interactive

Turns people, via their mobiles, into pixels by creating a giant screen across the crowd at live events.

TrueView

A real-time dating app to update information and interact with other users without profiles becoming stagnant.

 

Minicabit.co.uk

A pre-pay, pre-book minicab platform.

Insane Logic (MyChoicePad)

The MyChoicePad is an app set to reduce the cost of classroom technology by brining language aids to smart technology.

Night Zookeeper

An educational game for families and schools, combining drawing and traditional play in a zoo building game.

Pollarize.me

A polling application that allows people to survey their friends across their social networks.

PixelPin

Pictures replace passwords with this secure pin model for mobile and web services.

Six3 Ltd

A platform to make it quicker, easier and cheaper for people to send and share video messages.

Blue Butterfly Digital Ltd

An app that allows you to instantly connect to wi-fi networks without fiddly registration processes.

2ndSight

An innovative Smartphone platform that enables blind people to effectively use mobile touch screen technology.

Epicurely

A social network to connect people who love food with each other allowing users to build their own online chef persona and gain recognition for their cooking talents.

Touchline Solutions

Using smart phone technology to combat the problem of queuing.
About Wayra
Wayra is a Telefónica Digital initiative whose main aim is to promote innovation and identify talent in Latin America and Europe in the fields of Internet and new information and communication technologies (ICT). Its global project acceleration model helps entrepreneurs develop, providing them with technological tools, qualified mentors, a cutting edge working space and the financing required to accelerate their growth.
Already present in Argentina, Brazil, Chile, Colombia, Spain, Mexico, Peru, the UK and Venezuela, Wayra's calls for projects have received more than 10,000 applications from new digital businesses, making it the leading global platform for identifying technological talent in the ICT world. Its academies in Bogotá, Mexico City, Buenos Aires, Lima, Madrid, Barcelona, Caracas, and soon to be opened in Sao Paulo, Santiago de Chile, London and Dublin, currently host 100 acceleration start ups.
In March Telefonica announced 'Telefonica Think Big' – a 2015 commitment to a set of initiatives that will help promote entrepreneurial spirit in Europe, and put technology innovation at the heart of business transformation. Wayra is a key part of this commitment, supporting the best technology start-ups, which will in turn play their part in stimulating the growth of next generation Europe.
About Think Big
Wayra  and Campus party are part of a Think Big initiative.  Think Big is about fresh ideas - about looking at problems differently, and using technology to improve the world around us.  We divide our Think Big initiative into two areas, people and planet.